Walking around in the hills is my favorite past time. And this time in Jagatsukh I walked at least for 8 hours in three sessions. I should actually say I was on the road for 8 hours because for most of the time I would stop and click pictures. I don't know why the landscapes affect me the way they do. My best guess is that they put things in perspective, that I appear as a dot somewhere (or not even that) in the larger scheme of things!
But I guess the people who live here would take the beautiful mountains completely for granted? I have heard many say though that they cannot take the heat of North Indian plains and would stay in their own villages in the mountains.
I guess they are lucky who have a gurgling stream flowing so close to their homes? Also this is not one of those villages where you have to carry a LPG cylinder for 11 kms to your house.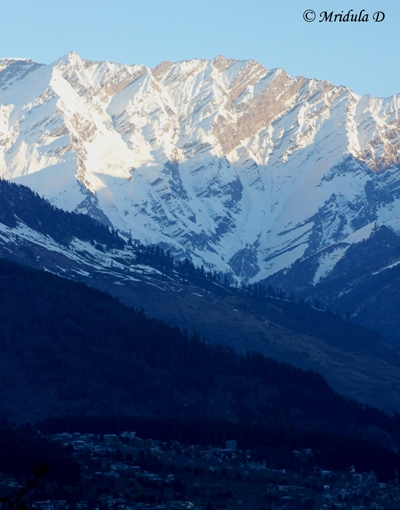 Majestic Mountains
I read somewhere on the internet that nature is not a place to visit, it is home (OK I dug up the reference and it is Gary Snyder) and this phrase is just stuck in my memory. Because for me, as of now, nature is a place to visit. I hope this will change one day.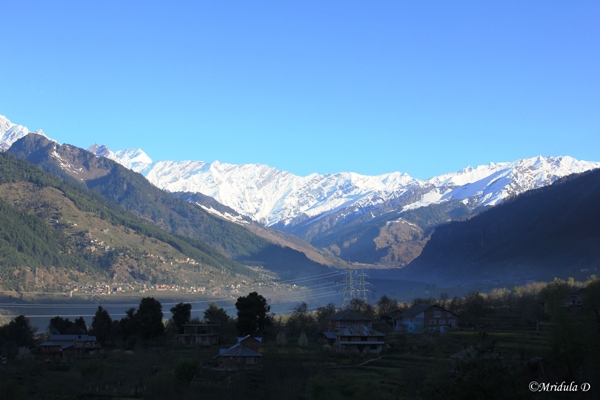 Electric Wires and All!
If you look closely at the picture above you can see electric wires in this landscape. Well it was there. There is a debate in the photography circles whether it is fine to edit such elements. To begin with I use only Picasa and I would not know how to edit it. And secondly I firmly believe that if there are wires there are wires, why give a false impression about the place? I would like it if they were not there but they were there and I clicked it as it was. And this is just my view. I have no fight if someone wants to edit them. But in this world of over edited pictures it is difficult to keep expectations realistic about a destination.