This monsoon I saw a different side of Rajasthan. I visited Lakshman Sagar and Suryagarh, both for a second time. My original invitation was for Pushkar Resorts but when I was given the choice to revisit Lakshman Sagar (near Pali in Rajasthan) I readily agreed. My first stay there was fabulous and I was happy to go again even though I was spending just one night there
If you are staying at Pushkar Resorts, Lakshman Sagar is about two and a half hours away. Both the properties belong to the Sewara Group and instead of doing just one you could consider doing both. On the way to Lakshman Sagar is a famous Kachori shop at Barra. Your driver is bound to know it. Ask him to stop and do try out the Kachoris. They are really good and I am told that the shop is open 24 hours.
Colorful Rajasthani Turbans
On the way to Lakshman Sagar there is a small railway station called Haripur. The railway crossing was closed this time. So, while we waited for the train, I had to click the men in these colorful turbans. The colors people wear in Rajasthan, they are so vibrant and in such a stark contrast to the landscape. And they look just right out there. Ambica and I also got down to click sheep grazing nearby.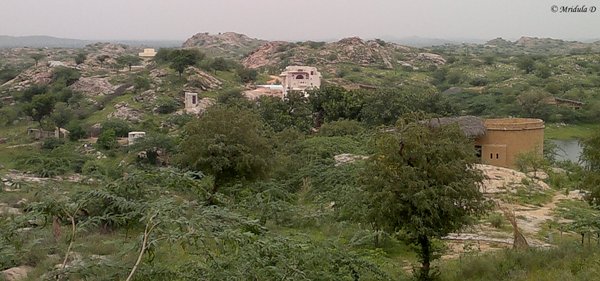 Lakshman Sagar in Monsoon
After my two recent trips to Rajasthan in the monsoon I am convinced that there is a special magic to monsoon in Rajasthan. Lakshman Sagar was all decked in green.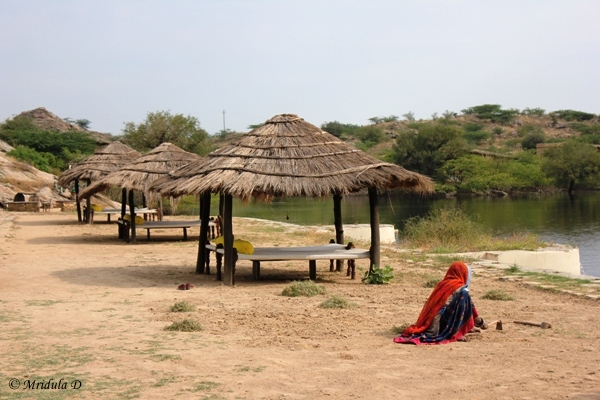 Lakshman Sagar in October
To give you a comparison this is how it looked in October last year. It was still very beautiful but even Rajasthan changes color in the monsoons.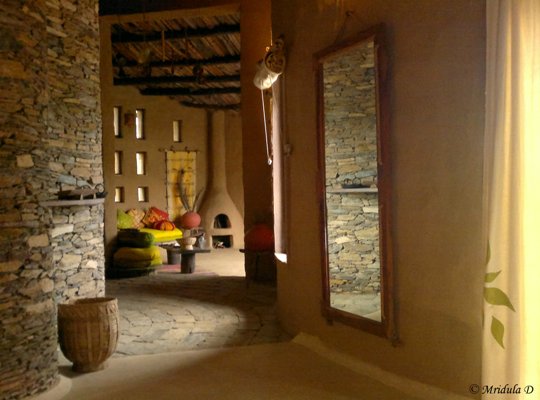 Rooms at Lakshman Sagar, Rajasthan
My room was still as beautiful as I remembered it from my last visit. But as I was staying only for one night I did not spend much of the waking time within the room. There are 12 cottages within the 32 acres of property. That is lot of space to soothe my frayed city senses.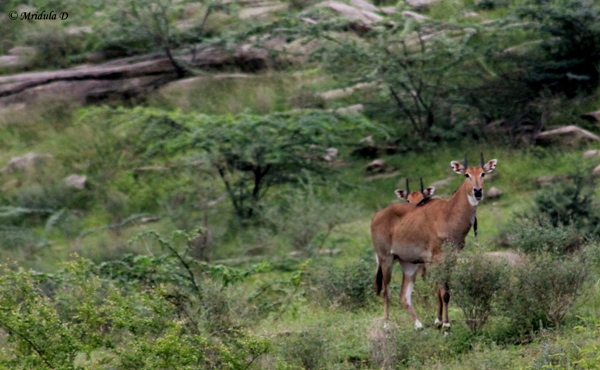 Antelopes at Lakshman Sagar
We actually spotted a herd of five antelopes at the far end of Lakshman Sagar, even though I managed to get only two within the frame. They were happily munching on the abundant greenery all around them. This was really a special site.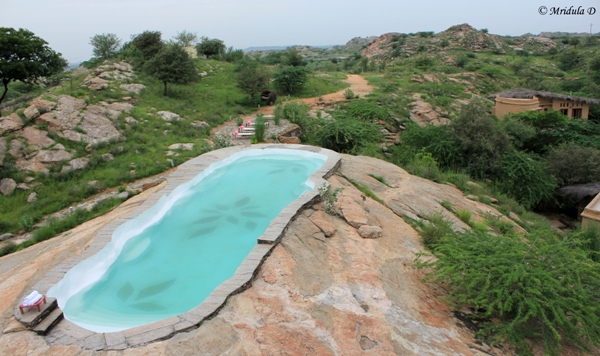 The Swimming Pool at Lakshman Sagar
This is the main swimming pool at Lakshman Sagar. Other than this the cottages have their own splash pools. But can you imagine that in my two visits I never managed to get inside the main pool. Maybe I will go back again one day and then I will make sure that I swim to my heart's content.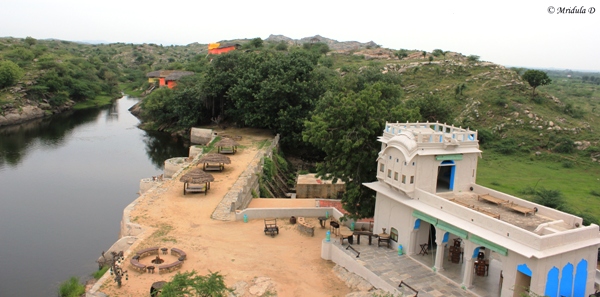 Lakshman Sagar, Rajasthan
The building on the right is the main dining area. It is an original structure from the hunting lodge of the Maharaja of Raipur which has been converted into the hotel. There are charpoys on top of it. Last year I never went to the roof of the blue restaurant. I was content with spending time within the pink one. After sunset Ambica and I went up to the roof of the blue restaurant this time. We were quietly lying on the charpoys. There was a heavenly wind blowing and I was not moving a muscle. The she spotted a train moving slowly in the far distance. It was dark. All we could see was the lights moving slowly. And what a lovely sight it was! Both of us got down reluctantly in the end to have dinner. The food is simple but superb. They always have a local Rajasthani dish in the meal. I am really fond of their rabodi ki sabzi.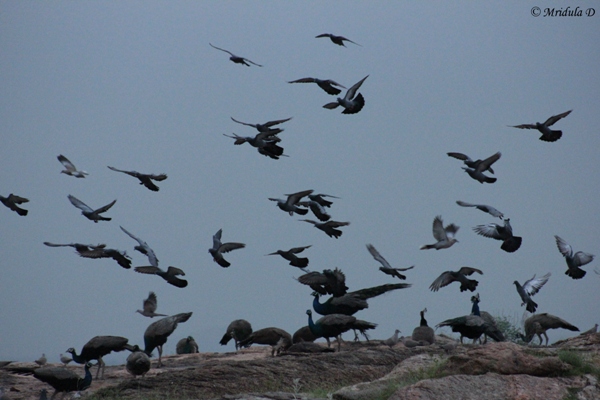 Peacocks and Pigeons
The staff was largely the same and it was good to see them again. They really feed you well and take good care of you. They told us that the security guard goes around the village collecting feed for the birds. So Ambica and I were out at the dawn to see the birds pecking at the food dropped for them by the security guard. He is a local gentleman and was happy to have us around. So many peacocks and pigeons come to the feeding spot near the nag devta's temple. If you can drag yourself out of the bed at 6.30 am or so, this is a sight not to be missed.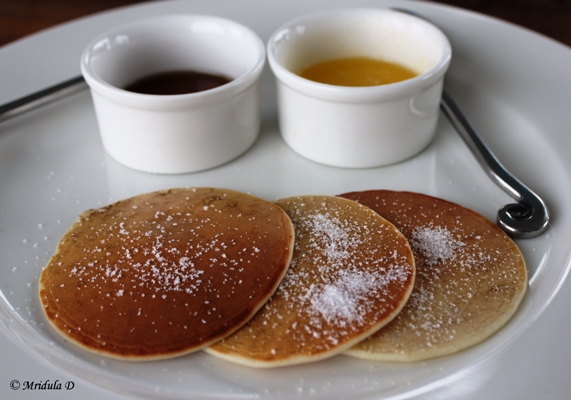 Pancakes for Breakfast, Lakshman Sagar, Rajasthan
After watching the birds go about their breakfast, it was time to head for breakfast myself. I gobbled all the pancakes with lot of honey and butter. They remembered that I am a tea person and it was available for me in abundance. However, soon after breakfast it was time to leave. Lakshman Sagar is a special place, it is just what we (specially small town people like me) miss in our city lives.