When I heard from Lakshman Sagar about a possible invitation to their property I was quite excited as I liked what I saw on their website. We settled for 9th to 12th November as the dates for the visit. I now had to find train tickets to Ajmer just before the Diwali week. I got Jammu Tavi AII (AII is the station code for Ajmer) while going as Shatabdi was completely full. Lakshman Sagar can be reached via Ajmer or Jodhpur. I picked up Ajmer because the chances of getting a train ticket in Shatabdi were greater just before the Diwali week. I was not too happy as I wanted to go by Shatabdi.
But with hindsight I can say it was better that I went by a sleeper train rather than the chair car. I boarded the train really early in the morning. And as usual it was a scramble to get out of my daily routine. I was quite tired and it was a blessing that I was able to sleep till Jaipur, solid 4-5 hours! After that I could sleep no more! This would have not been possible in Shatabdi.
At Ajmer it took me a few minutes to find the pickup. I thought I was well rested but once on the road I started dozing off again. The road to Bewar is being constructed and there is traffic coming from both the sides almost continuously.  That means the driver has to be extra careful while overtaking and I had a safe driver who was in no hurry.
While I dozed off at one point he asked me if I would like to eat Kachori and I readily agreed. I only had a bread cutlet in the train and it was not too good. The Kachori was lip smacking good. I was told that it is a really famous shop and is open 24 hours! We reached Haripur in a sort while after this and Ashish, the hotel manager was waiting with his open jeep to take me to the resort.
It was around 3.30 pm now and when I was asked if I would have lunch first, I readily agreed. They serve Indian food which always included Rajasthani style vegetables. I would always have second helpings of it. The staff fussed that I hardly ate anything though in the city I am not known for a particularly small diet. If they would see what some of my friend's eat they surely would have freaked out. And I ate the sweet dish every time it was on the platter!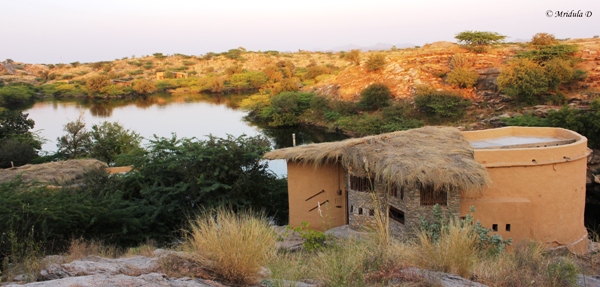 After a late lunch I headed to my room promising to come out for tea later in the evening. At that time I was still tired and I rushed to the bathroom to clean my face. I rushed out again to get my camera first, the face wash could wait.
I enormously liked the stone they used for a sink and stone they used for the tap. There is no bath tub but then I am anyway not a big fan of it. And instead of a bath tub there is an outdoor splash pool attached to every villa.
I lazed around for an hour and when I headed out the sun was already low.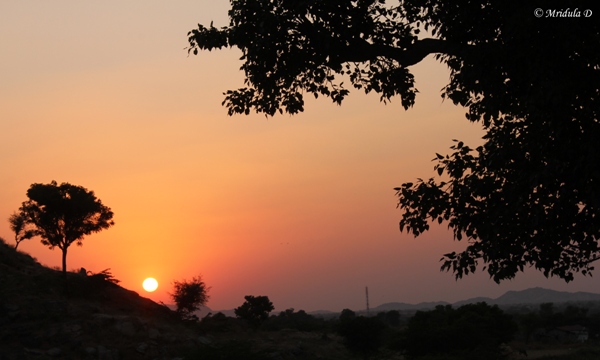 I went to the top of the pink restaurant (I am naming it such, easier than saying janana and mardana every time and explaining it too) and had my tea there. Lakshman Sagar used to be a hunting lodge. It was built in 19th century by Takhur Lakshman Singh. Today it has 12 comfortable rooms and two restaurants. The restaurants originally used to be the resting places for women and men (known as janana, pink in color and mardana, blue in color) of the hunting party. The new rooms blend in the surroundings and as far as the eye can see, there are vast open spaces. It is the perfect antidote to the hectic busy life many of us lead.
I stayed in the pink restaurant till it was almost dark. After an early dinner I retired to read a book (no TV at the place and I like it) and felt rested. The next day we were going to the nearby villages and to Raipur city later in the evening.