When I was leaving the Kumarakom Lake Resort, I told Sanjay, "thank you for such a wonderful holiday, it was so beautiful, it was almost unreal!" Since then I have been wondering why I enjoyed my stay so much! I actually closed my eyes and the reasons started popping up one by one. I wrote then all in the random order as they emerged in my thoughts. And that is what I share with you today.
1. Are you sure you want to talk about all this?
When I reached the resort I was somewhat tired. Even though it was a 8.10 am flight, I had to wake at 5.00 am. The flight to Kochi was via Hyderabad. Then there was metro construction going on in Kochi so it took us a lot of time to get out of the city.
But I am so used to working on the trips that I automatically start asking questions. Asa Abraham, the PR manager asked me, "are you sure you want to talk about all this? We will discuss it tomorrow." After a while when I again slipped into the questioning mode she firmly told me, "you relax, you must be tired." And I was bundled off to a sunset cruise and then after an early dinner to my room. That really set the tone for the rest of the trip!
2. People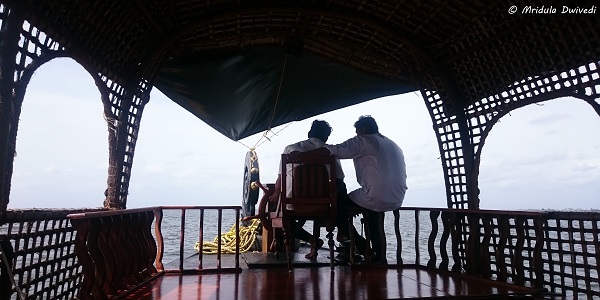 Ask anyone at the Kumarakom Lake Resort for how many years they have worked with the property and chances they would tell you something like 10 years, 15 years, 7 years or so. People work there for a long long time. And that reflects in the way they treat guests. My guess is that the resort keeps the employees happy, and the employees, in turn, keep the guests happy.
3. Heritage villa with a pool or when I had the whole pool to myself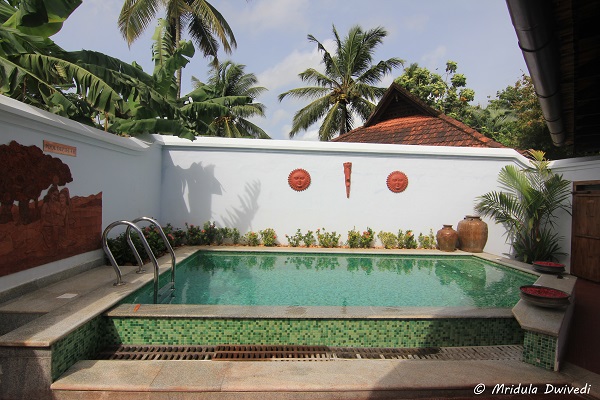 I had a luxury heritage lake view villa with an attached plunge pool. In other words, I had a whole private pool to myself that was enclosed within the four walls of my villa, an ultimate luxury for me. I could take a dip in the pool at midnight if I wanted. It was also a first for me. In fact on this trip there were many firsts and there were many having the whole things to myself!
4. Having the whole houseboat to myself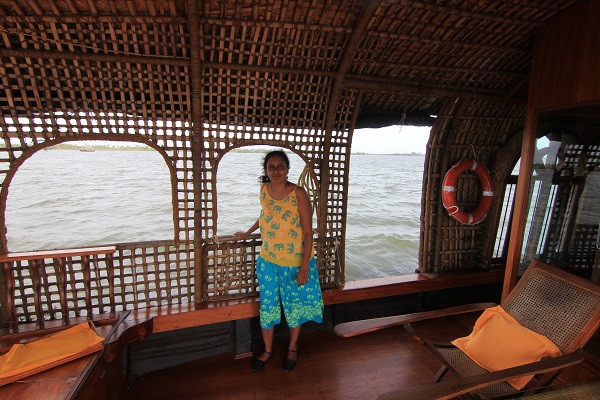 Even though I have been to Kerala before, it was my first time on a houseboat. And then I had the whole big houseboat for myself. I went on a lunch cruise. Chef Deepak and his team prepared a lavish Kerala meal for me accompanied with a beer! My first experience on a houseboat has been out of this world! The weather was awesome and I hardly ever budged from the deck!
5. Having the whole canoe to myself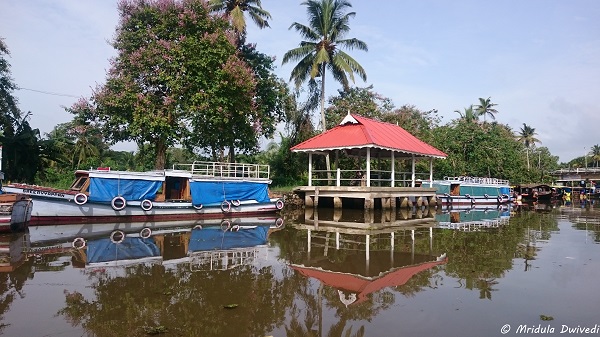 Before going on a houseboat I went on a canoe ride through the backwaters. A canoe can enter narrower canals than the big houseboats. On my ride, early in the morning, you guessed it right, I had the whole canoe to myself. I sat on the chair for the first fifteen minutes. Then I asked if I could go sit at the front of the boat? When I was told yes, I remained there, firmly sitting on the front of the boat for the rest of my journey! It was a fabulous trip.
6. Food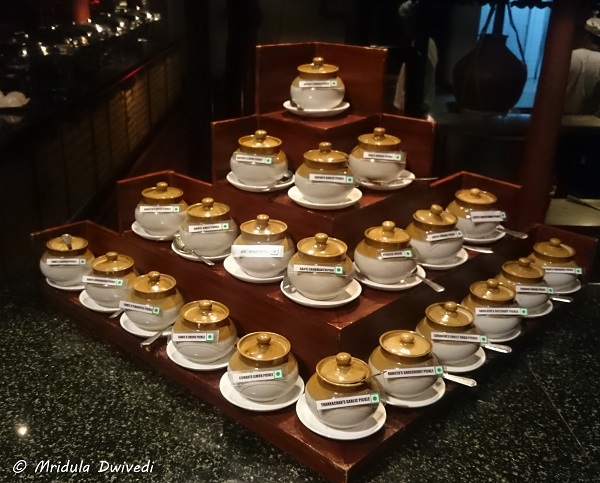 At lunch and dinner in the main restaurant, they had 22 bottles of pickle! Need I say more? Well, I will say a little more, we had a staggering variety of South Indian food but they made sure that there were continental and North Indian food available as well. In fact the buffet was so nice that I never ordered anything out the menu!
7. Prince Charles's Room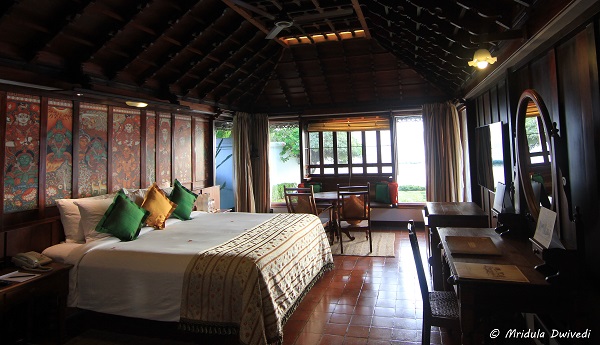 Prince Charles celebrated his 65th birthday at Kumarakom Lake Resort. I was told that for his entire team 20 rooms were booked in all. He and the duchess stayed at the presidential suites. And the room is actually fit for royalty! Among other things, it has its own private infinity pool!
8. The Infinity Pool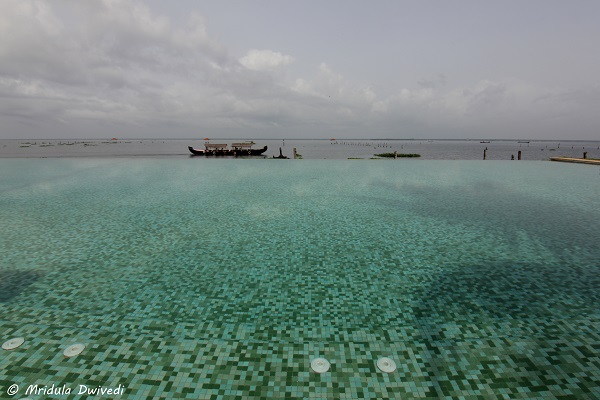 That brings me to the common infinity pool. My room was the closest to it and I went for swimming every day. I have decided that if I have a pool access and if I have time, I am going to work out on my trips! Otherwise there is no chance of me ever getting fit! And it helps to stay motivated if the pool is set in such scenic surroundings!
9. Beautiful Backwaters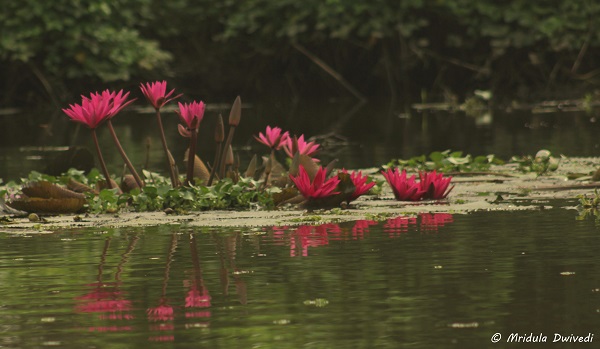 You can view the Vembanad from the various corners of the resort. It is a befitting backdrop to a very beautiful resort. In fact while I was swimming in the infinity pool, I could see local fishermen go past in their boats!
10. Heritage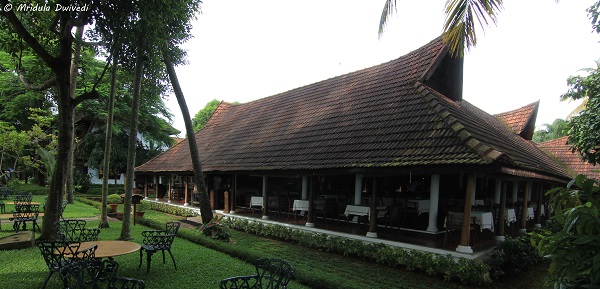 I asked people how old was the resort? They told me it opened in 2000. So I concluded that it was 15 years old. And yet it looked much older and that puzzled me!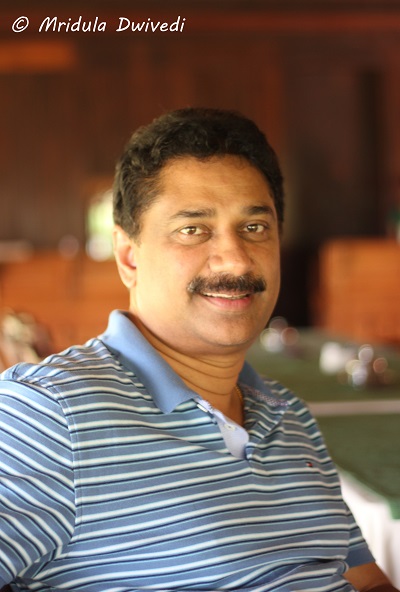 When I met the owner Mr. Paul P John he mentioned that his team bought many old Kerala houses, dismantled it piece by piece and then many such pieces were used to build the resort. The main restaurant was the house gifted to the martial arts teacher of the King of Travancore. I then understood why the place looked much older than 15 years!
11. Ambiance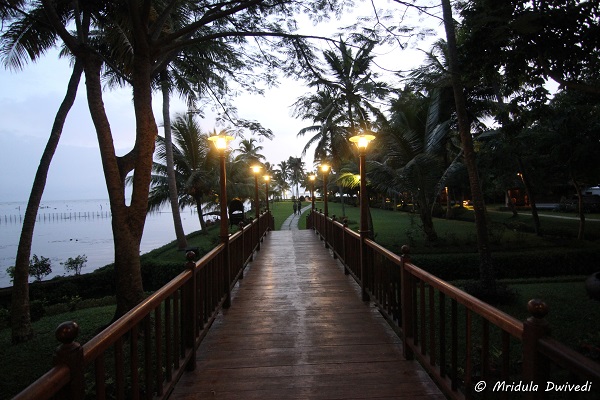 The resort is constructed such that it gives the feel of being in a backwater village with coconut trees, water lilies, bridges and canals. You will find hammocks and benches to sit and relax! You can go fishing within the premises itself with Kavi, who was happy to teach even the smallest kid!
12. Meandering Pool Villas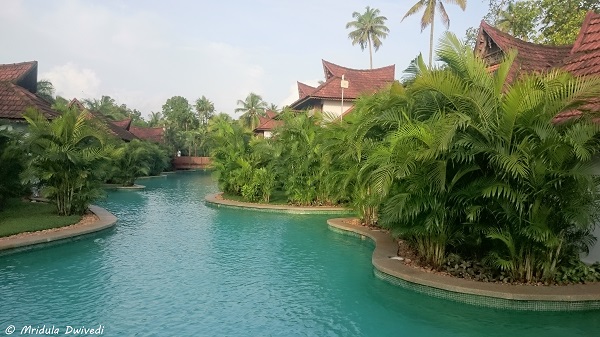 Even though I did not stay in a meandering pool villa I loved what I saw! You would step out straight from your room to the meandering pool and go where ever you pleased! I was told that the families and kids loved it. But I was happy with my own private pool!
13. Ayurvedic Massage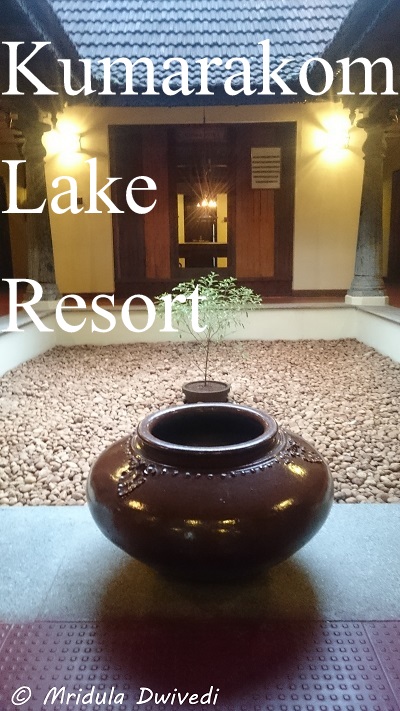 Ayurmana the ayurvedic spa at the resort is a bliss. I went in for a rejuvenating massage and it was truly that, one hour of complete rejuvenation!
14. Towel Art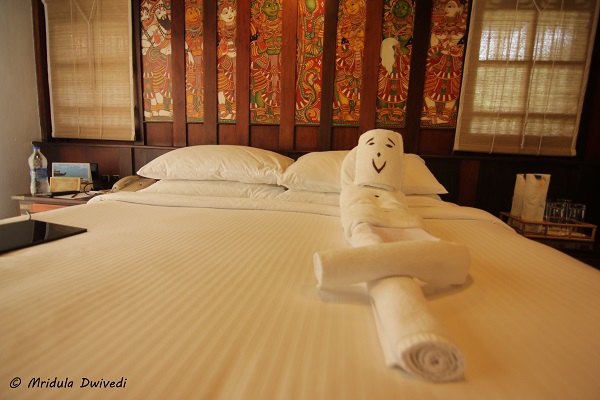 The first day I had two swans in my room. They were beautiful but I was alone. But the next day I had good company, there was this perfectly relaxing towel art on my bed! That completely blew me away! I even clicked a silly selfie with it, I liked it so much! It exactly defined my holiday.
15. Open Bathroom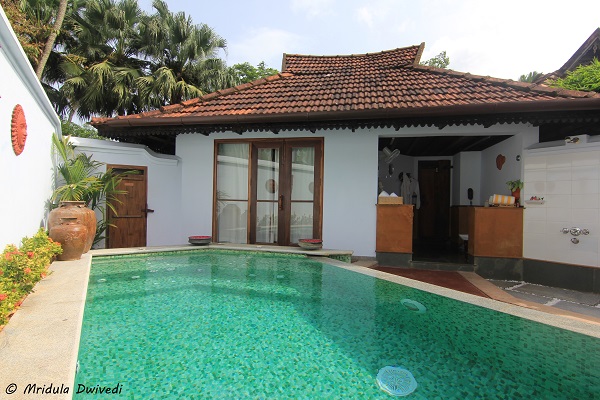 Most of the accommodations (except houseboats and luxury pavilion rooms) have semi open bathrooms. The shower was close to the pool, enclosed by the four walls but no roof. And I loved it too.
So this is a short summary of my stay at Kumarakom Lake Resort. I of course have much more to say!
PS. I was invited by the Kumarakom Lake Resort on this luxury holiday!