I know this is a long post but I present Kuldhara Village in Jaisalmer, Rajasthan as a part of Skywatch Friday.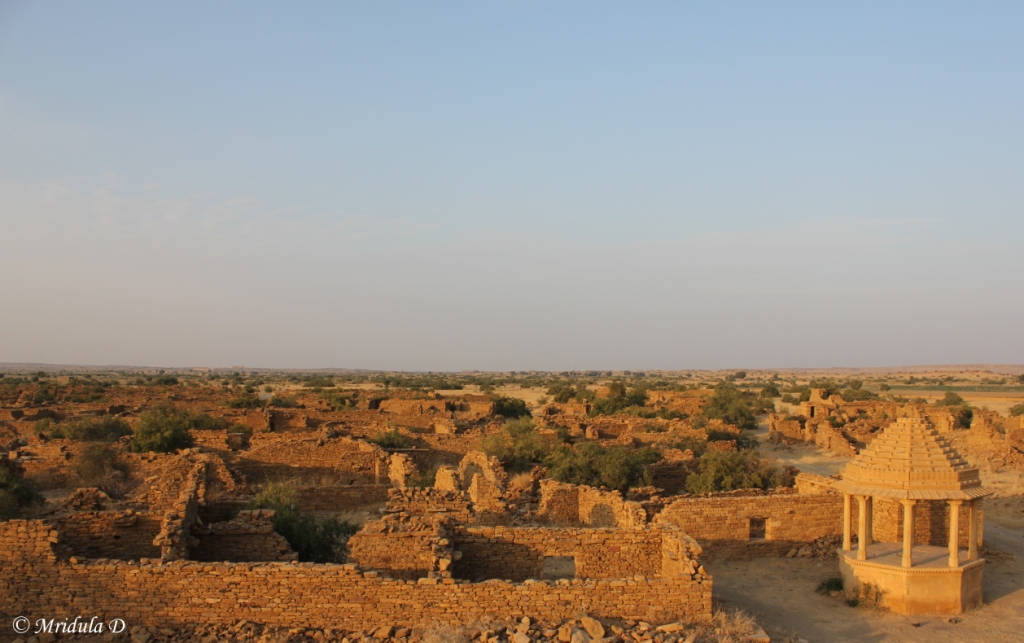 I managed to stay for 2 nights and 3 days at Jaisalmer courtesy Suryagarh Hotel. I was quite excited about the sand dunes in Jaisalmer but I had not even heard of Kuldhara Village before. Legend is that Paliwal Brahmins used to live in the village Kuldhara and they were quite a prosperous lot. The Samant or the King (various people stress one or the other) was giving them a tough time by charging high taxes. Push came to a shove when the ruler developed an eye for the Paliwal Chief's daughter. The Paliwals decided to vacate Kuldhara overnight along with 84 other villages and Kuldhara is an abandoned village till date.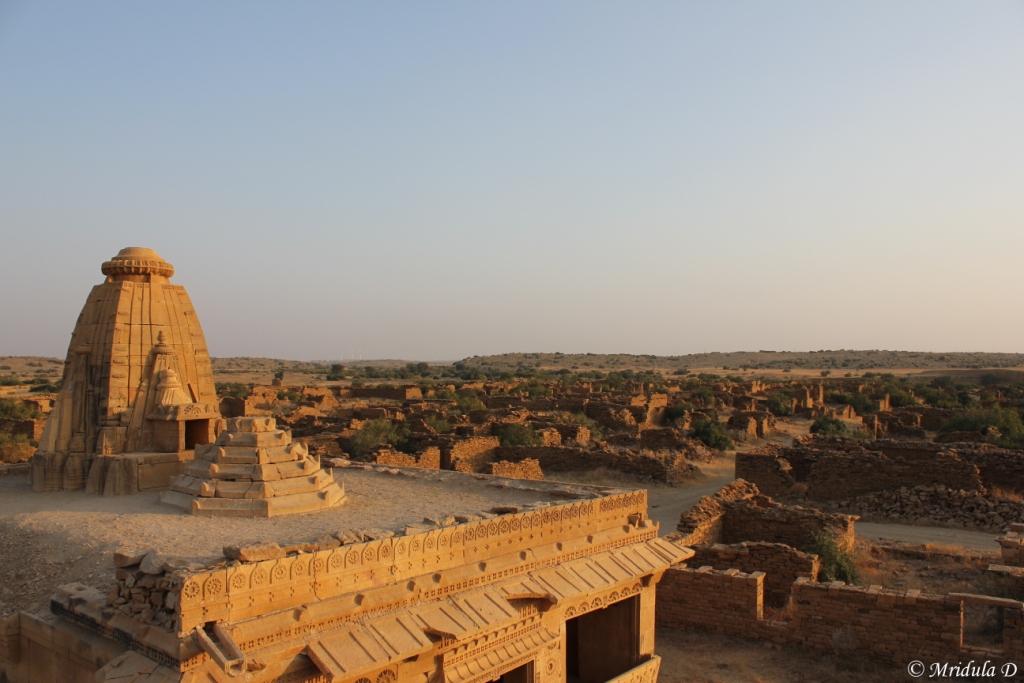 There is hardly any account of the place on the net (apart from a few other blog posts) about the village and the stories that the locals tell has minor variations to it. Also the time period when this happened cannot be predicted with certainty. It is said to have happened in 1825 or so. It amazes me how poor we are at keeping records of our history even as late as 1800. Coming back to the present, the entire area is in ruins apart from this temple that has now been renovated.  Both the pictures of the ruins have been clicked by climbing up a few rickety stairs of an old house in the area.
There is an entry fee of Rs 10 per person and Rs 50 per vehicle. There is one old man who lives here as the caretaker. The legend also has it that anyone who tries to live at Kuldhara dies in mysterious ways because the Paliwals cursed it when they left.
Our guide for the evening was none other than the owner of Suryagarh and a former Gladrags model Manvendra Singh Shekhawat. He mentioned that after Bombay he found Jaialmer really different and explored the nearby places while the hotel was being made to keep himself engaged. Jaisalmer was quite a transition from being, as he said, "a party boy."
He knows the area well and takes a lot of pride in showing it. He took us beyond the village to the ruins that you can see in the picture above. When we asked what it was he said it was a graveyard. On a closer look we found inscriptions on the pillars and pictures too. So I said it cannot be graveyard because of that. He then mentioned that the two Chattaries (the bigger structures) are usually found near the graveyards.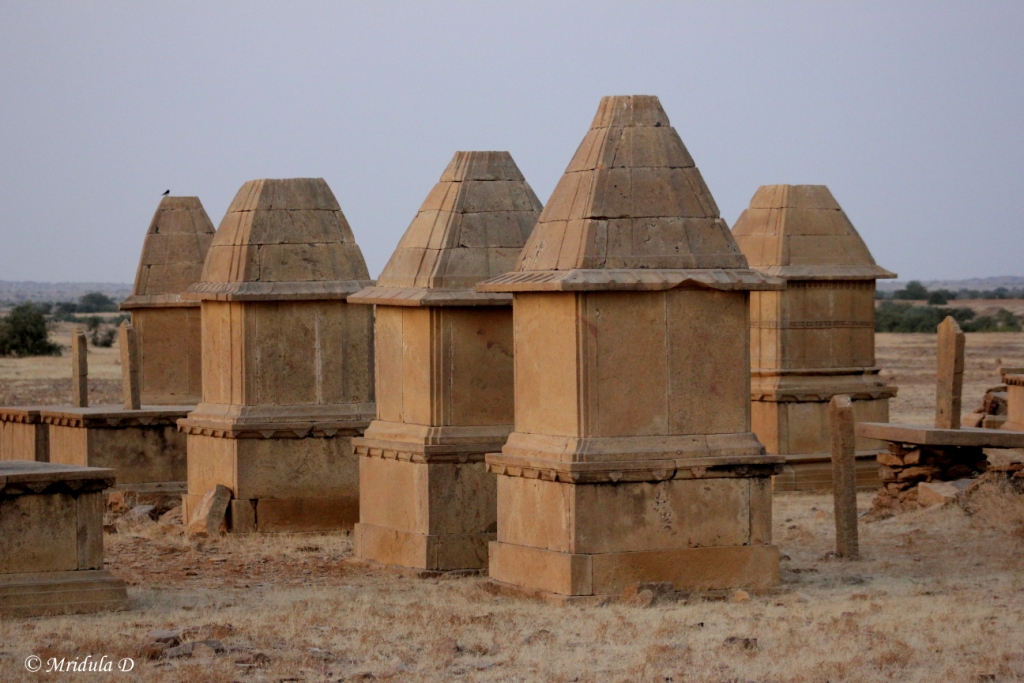 Here is a closer looks at the pillars found at some distance from the village ruins. There was no one apart from our group at this place. And we could not have found it if Manvendra would not have taken us there. He also pointed out to a green patch and said it is full of water whenever it rains. When I asked him if he regretted giving up modeling he said not really as he managed to get closer to the nature only after coming to Jaisalmer.
These are the writings and figures drawn on most of the pillars near the Kuldhara village in Jaisalmer. Another member of our team, Pallavi wondered if these could be actually Hindu burial grounds? I had hoped that maybe an internet search would give me some answers but that is not the case, so will leave you with speculations that we had.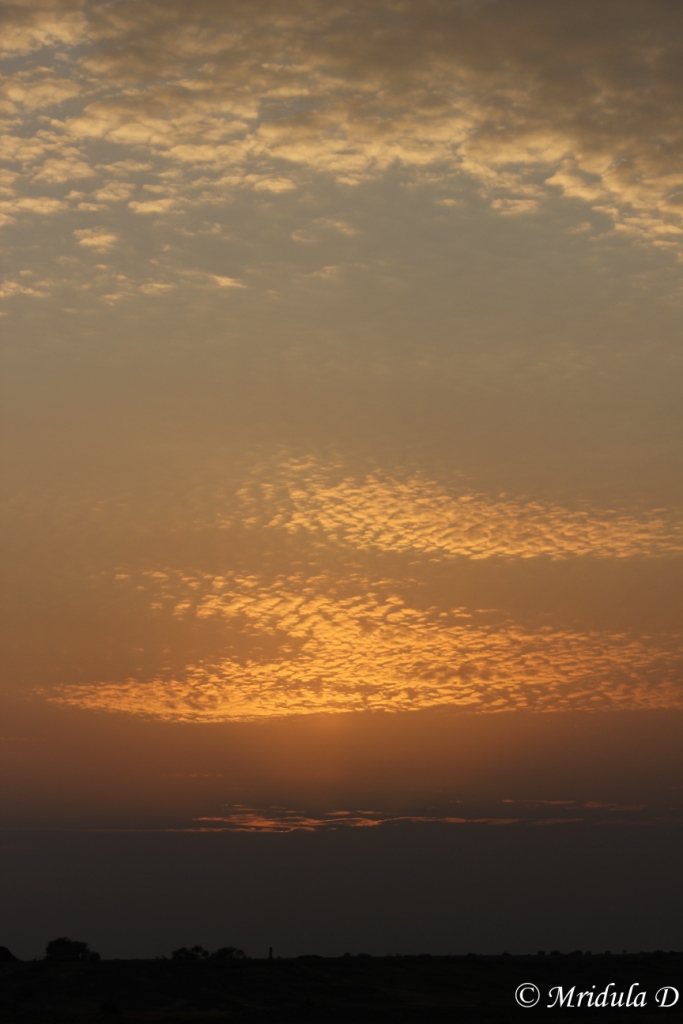 Finally, the sun went down and it was time to head back to the hotel. There was only one other vehicle in this complex and the people were somewhere out exploring the ruins. So it was all peace and quiet at Kuldhara and I was left wondering what really happened to this village.