I have to say I am not much of a culture person. But boy I am glad I went to Greenix Village (which is right across my hotel, Fort House) in Fort Kochi for a cultural evening. It was beautiful beyond all my expectations. The shows are priced at various levels. If you wish to watch only Kathakali it costs around 250 rupees( in 2013) but I bought the ticket for the entire show with camera fee. It cost me 500 rupees. I am glad I decided to watch the entire show. It was a mesmerizing evening.
The evening started with the makeup of a Kathakali dancer. This is open to the ticket holders. It started at 5.00 pm. Part of the make up the artist did himself and part was done by another person. At this point we could move around and click pictures to our heart's content. Just one small word of caution, if you go on the stage to click the artist in his mirror, do remember to remove your footwear. You go on stage barefoot.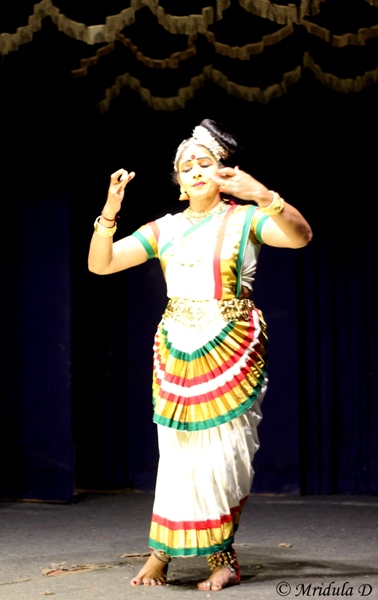 Mohiniyattam at Greenix Village, Kochi, Kerala
Initially we were seated seated around a stage that was covered but it was not an auditorium. But then the rains started and the venue was shifted to the auditorium. I was quite worried that the light would not be enough but it was fine in the end. I did not use flash with my 50 mm lens.
The first show was Mohiniyattam. I will be upfront and say that I know very little of these ancient dances. And yet I enjoyed the performance. Before each performance they ran a short commentary about the dance. For Mohiniyattam they said it was a lot about mudras, and eye expressions. And the dancer could indeed speak with her eyes and face without ever uttering a word.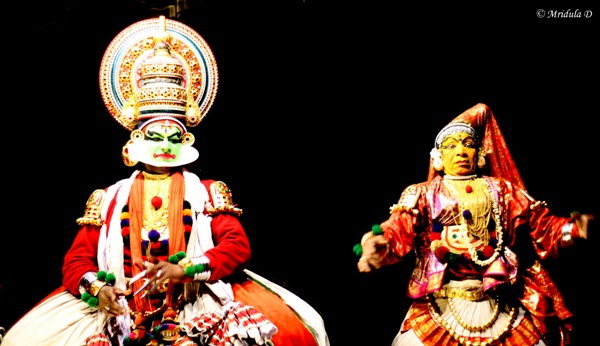 A Kathakali Performance at Greenix Village, Kochi, Kerala
Both the dancers in this performance were male, the one dressed as female as well. The episode was from Mahabharata. Before the main performance the person dressed as female demonstrated the various moods of Kathakali and he was so good, so damn good that I forgot to click pictures and watched the performance. And that is some feat! He would depict the various emotions like anger, happiness, love etc to perfection. To the frequent public applause he would always bow with folded hands which was so endearing. The main performance was also enchanting, the accompanying music creating a pulsating atmosphere.
If you have bought the tickets only for Kathakali you leave the auditorium after Kathakali. Kathakali performance was followed by a display of Kalari also know as Kalaripayattu which is the ancient martial art of Kerala.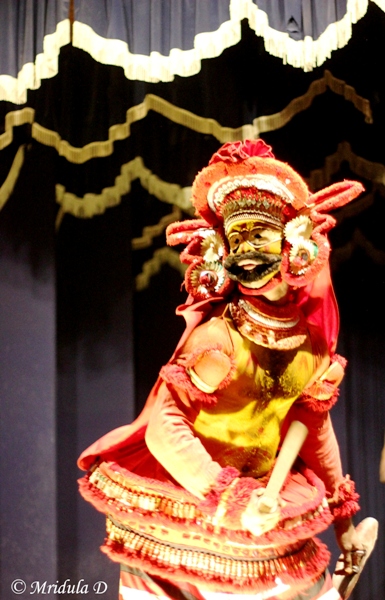 Theyyam Dancer, Kochi, Kerala
The final performance was of Theyyam. It was done by one by just person but energy he brought to the hall! In fact it was so vigorous that I thought that my daughter might get scared. In the final stages, when the dancer moved the audience, the smaller kids indeed were scared! Theyyam has a religious significance. If you would ask a local they would say the authentic dance is from a particular region. But I would say see it at Greenix if this is your only chance to watch it.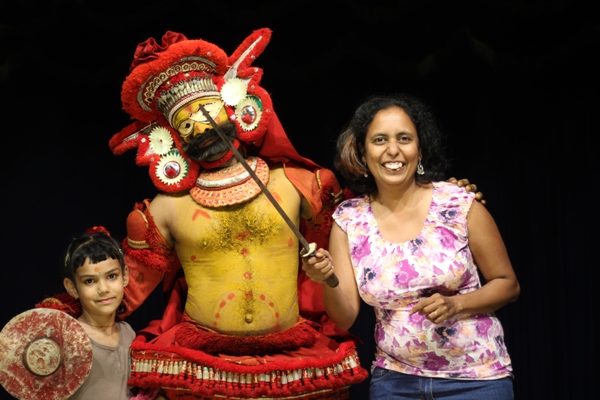 Photo Opportunity, Greenix Village, Kerala
Finally they invite the audience to the stage if they wish to get their photos clicked. So, there I was along with the small girl who was scared during the performance.
The dances that I got to watch were so beautiful. I would say go and watch them even though they are meant for tourists. I was completely blown away by the cultural performance at Greenix at Fort Kochi. Amazing and that when I am not much into being cultured!