The journey to Manali may be a little tedious but nothing extraordinary. We started from home at 4.00 pm from Gurgaon for Vidhan Sabha metro station. Chhavi, my neighbor, her daughter and I were traveling to Manali from Delhi. I usually book tickets on Manali Mail but I could not get any tickets this time. So, I went with Indo-Canadian.
When we reached Majnu ka Tila, one of the pickup points in Delhi, there were at least 10 Indo-Canadian buses. My ticket mentioned a time but no bus number. No one picked up the phone on the number provided in the email. The people in the first Indo-Canadian bus coolly told us, "Your bus has already left." I have traveled way too many times on this route to pay them any attention. But that is how the supposedly premium bus service operators deal with you.
We walked a little ahead and one Indo-Canadian bus agreed that we could board it. What I figured out is that there are many buses of the same company leaving one after the other. You could board any bus that you could muscle in.
Once we were inside the bus, the air-conditioning was a welcome relief from the Delhi heat. The kids settled down next to each-other. They had a gala time till they could keep their eyes open. Once they were sleepy they wanted to go back to their own seats next to their mothers!
We had a late dinner at Rajpura at 11.30 pm. Chhavi and I had half an Avomine, the anti-nausea medicine after it. After that we slept for the most of the journey. We reached Chandigarh in the dead of the night. The people boarding said the bus was 2 hours late by now. Even though I was sleepy, I realized that the bus kept standing at their Chandigarh office for a long time. That did not auger well for an early arrival at Manali.
When I woke up next, at 6.30 am, the bus was moving next to the beautiful Beas River. That made me hopeful. But when we went through the Aut Tunnel in the next few minutes, my heart sank. That meant we were still a long way from Manali.
We still made reasonable time. But just before entering Manali we hit a traffic jam. Chhavi was already restless. She kept telling me she was hungry because she had a packet of chips with her that my neighbor bought. I was a bit scared as she has vomited in the past after eating chips in journeys. So I told her she can't eat chips.
About half a kilometer before the private bus stand we decided to get out as walking would be faster than just sitting in the traffic jam. I have always been able to get an auto in the past after walking a short distance. There was so much traffic all around, even walking was a pain. There was not a vacant auto in sight. In the end we walked all the way to mall road and the main bus stand. The kids walked eating chips, I gave in after all.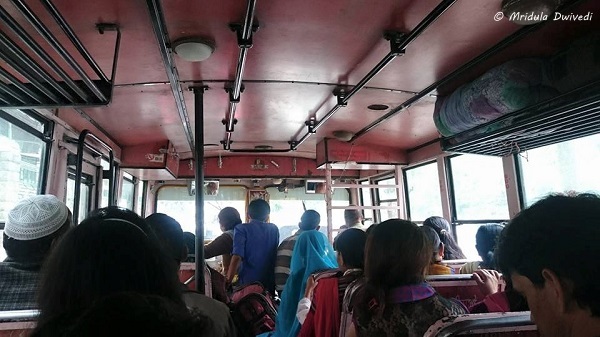 We got into a local bus to Jagatsukh, which is at a distance of 6 km. I was thinking that we would be soon home now. It was past 1.00 pm. We didn't get any breakfast. But there was a huge traffic jam to get out of Manali as well. It took us more than 40 minutes to get out of the jam and get on the way to Jagatsukh.
In those 40 minutes the kids were truly downcast and restless. There were six foreigners sitting in the same bus going to Naggar. But once the bus was out of the jam after like forever, the driver accelerated and for the kids it became a joy ride! The foreigners would get equally surprised by the twist and turns of the bus!
The person sitting next to the kids asked about their vacation plan. They happily chimed about their trekking plans.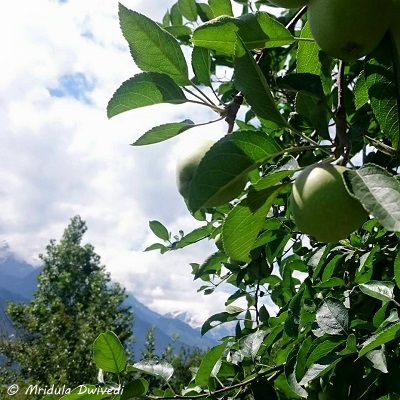 Once I reached Ramakant ji's home, all my tiredness vanished after seeing his apple tree and the mighty Dhaulahdar beyond it. If everything goes according to the plan we are heading out on a kiddies trek tomorrow!