For today's sky watch I once again fall back on the mountains, my first love. My last visit was to Jagatsukh near Manali and I share two pictures from there. Manali is overrun with tourists now but just go away a little from the main town and you will find places like Jagatsukh!
I like small and peaceful places a lot. And Jagatsukh scores very high on both, small and peaceful. Here children as small as 5 year old still roam on their own in the neighborhood and parents don't worry that something would happen to them. Everyone knows everyone else in the village and it is a safe place for kids to roam and play!
I remember when we went there in October 2011 for the first time and my daughter was not in front of my eyes. I assumed she was with my husband and suddenly I saw my husband also walking towards me. I almost panicked and asked him where she was? In big cities we hardly ever let kids get out of our sight! He laughed and said they are all playing together nearby and it was fine. He had been to Jagatsukh a few times before. It took me some time to get used to the idea really!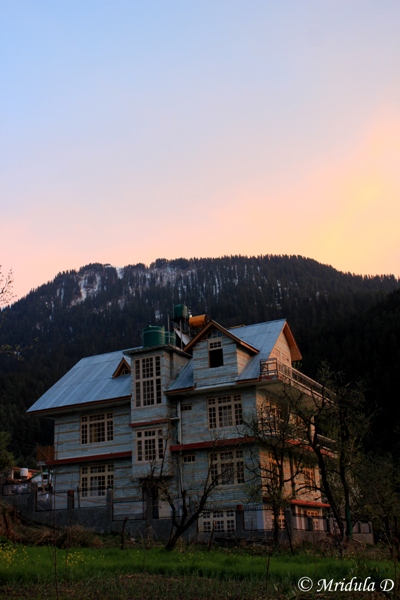 A House at Jagatsukh, Himachal Pradesh, India
And this was one beautiful house in the region. We often day dream that we want to retire to a small place and I would love to live in a place like this. Not this big a house but the place, the mountains and the peace and quiet! Maintaining this big a house would be such a task! What do you think? Where do you want to retire to?
This post is part of Sky Watch Friday. Do check it out.