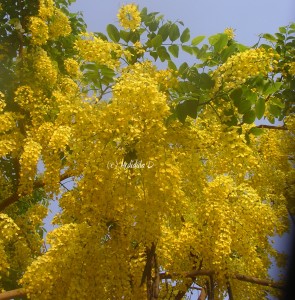 The picture and the matter of this post are somewhat unrelated. The only relation between the picture and the post is bright and sunny, that is how the flowers look to me. That is how my outlook is these days, now that I have finally completed my grading for the semester.
How I feel about grading? Rather than trying to talk about it myself, I will quote from 'What I Talk About When I Talk About Running' by Haruki Murakami. On page 67-68 of this book he says
Even now, whenever I run a marathon my mind goes through the same exact process. Up to nineteen miles I'm sure I can run a good time, but past the twenty-two miles I run out fuel and start to get upset at everything. And at the end I feel like a cat that's run out of gas. But after I finish and sometime has passed, I forget all the pain and misery and am already planning how can  run an even better time in the next race.
And this he wrote after running in marathons for twenty plus years! Now I do not have a teaching experience of twenty years yet but I can take a bet that I will feel the same way about grading copies after I have accumulated 20 years of experience!
No, the parallel is not between how he feels fine up to nineteen miles! I do not like grading from the word go itself. It is not even about how he forgets the pain and plans about running again, I never look forward to grading copies, period.
The parallel I see is between how his feelings do not change towards running a marathon even after running for twenty years. He always goes through the same cycle!
My cycle feels like this, I drag myself to pick up the first few copies, grade them hesitantly wondering if I am being consistent or not. Then I somehow force myself to reach the middle of the pile (and by this time I start hating almost everything) and then I tell myself that after the half way mark the numbers are steadily going to decline. I almost can't believe it when I am at the last few but I also have a strong urge at this stage to slack off that I resist with all my might. And it is bliss when I am staring at the last copy I have to grade. After that I can look forward to doing things that I enjoy much more in my job. It has been eight years now and this is a consistent pattern.
I am glad to read there are others (and people like Mr. Murakami)  who go through the same cycle of feelings irrespective of the experience they accumulate. Next time when I pick up my pile for grading, I will try not to feel too despondent about my not being able to learn from experience!