Yesterday night after my daughter went to sleep, I took out my camera out of the bag so that I could transfer the pictures. It still had the aroma of spa oils. The bag and the camera also got to spend around two hours at Ishana Natue Spa at Saket, New Delhi. I have been to a few spas before but the ones are attached to a hotel. Ishana was my first experience (on invitation) of a stand alone spa. It is located in the Metropolitan Mall in Saket. At the main entrance, take a left and go to the first floor and there it is. It covers a big area so it is difficult to miss.
I was exploring their website and the following words caught my attention- "Nature has the unmatched ability to restore, rejuvenate and re-energize the health and wellness of its subjects." That rings so true. An we take it so much for granted as well.
I had a 90 minute session booked for me. The reception is a comfortable place. I was offered a glass of water on arrival and I needed it coming from Gurgaon. Once I was comfortably seated, I was shown the Spa menu. I was intrigued by their facial (I have never had one in my life) but in the end I opted for their Santisukh Tanquility Massage. The choice was dictated by the fact that I am ticklish and this one was suggested for people who prefer medium to strong pressure. That way if you are lucky you won't get tickled. Most of their therapies cost between 2000 to 3700 rupees barring the really long sessions.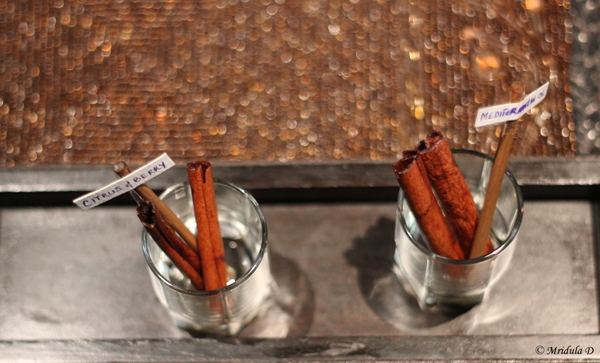 Oils at Ishana Nature Spa, Saket, New Delhi
At the reception they also asked me which oil would I like to use? I have mostly decided upon it by either the fancy names they have or by going with the fragrance. But here the lady at the reception said it would be better to chose according to the skin tone. Now that got me thinking, so what was my skin tone? Travel bloggers generally are not presented with such questions. She helped me out by saying, "ma'am try the one for the dry skin tone". And I think she had a point, I definitely do not have oily skin.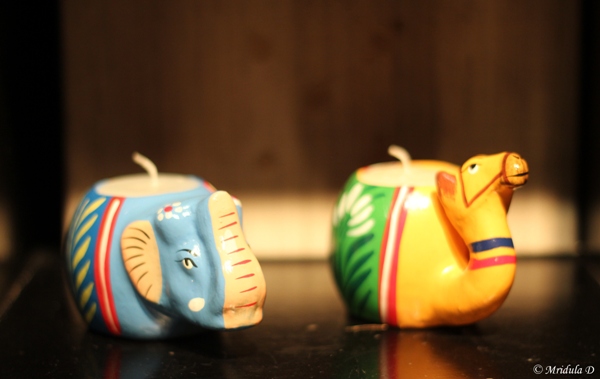 Ishana Merchandise, Saket, New Delhi
I then ventured out to their merchandise section and gave it a quick glance. I would have liked to spend more time but I would not to like to keep them waiting. So after clicking a few pictures I went inside for the therapy. The rooms are located alongside a narrow corridor. There is another seating area inside which is equally well decorated. The toilets are outside the spa rooms. The sauna and the shower is attached with the rooms.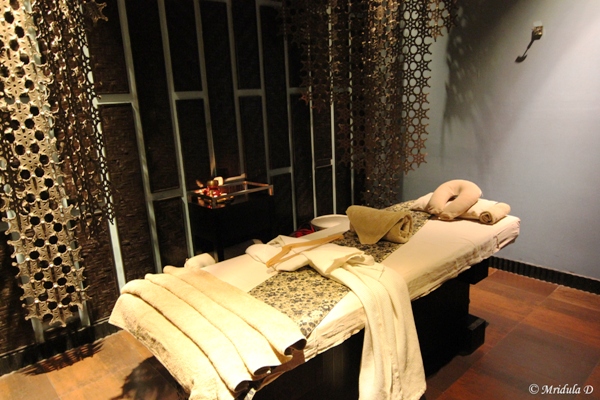 Spa Room at Ishana Spa, Saket
This was my room for 90 minutes. My therapist was Emy. She was soft spoken, concerned that I had a good experience but she also knew when to leave me alone to that I enjoyed my session. She started with a dry massage and later worked with oils. Other than telling her in the beginning that I am ticklish, I had very little to say otherwise. She was good at her job. After a long time towards the end of my session she asked if I would like to use the sauna too? I decided to give it a try.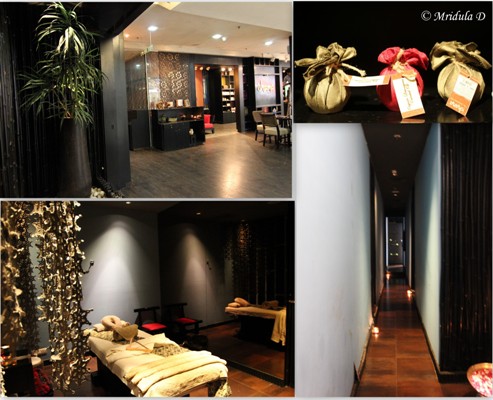 Ishana Nature Spa, Saket
Overall it was an awesome experience. Emy worked magic for me in those 90 minutes. I got out relaxed and happy. Once I was seated at the main reception I was asked for my comments on a comment card. They also served slices of apple and water. I was happy only with the water.
In their spa menu there were sessions that were 4-5 hours long. My first reaction was- who has the time? Even 90 minutes were my longest inside a spa and ultimate luxury. But then it also occurred to me that it was time spend on me. Have I become so busy that I consider 5 hours on personal care as simply not possible? Or 90 minutes as ultimate luxury. What do you say? I mean this time may not necessarily be spent in a spa. But what is the longest you spent on pampering yourself? Knowing what my honest answer would be , I will not even bother to put it down here for record.