I am not a frequent flyer and hence the headline of this post. For me flying internationally is exciting and fun. Going by my recent experienceinternational flight booking is not so much fun sometimes. My card was charged and no tickets were issued on a recent attempt! But let that not take away anything from the fun I usually have on international flights.
Most of my international flights have been of 10 hours or so and the attempt is not to sleep a wink! However there is something that is even higher on priority and that is getting a window seat. I will always do a web check in at the earliest hour possible so that I don't have to sulk throughout the flight! That out of the way there is hardly anything else that will bother me.
I have been on a flights with British Airways, Swiss, Virgin, Emirates, Sri Lankan Airways, Malaysia Airline to name a few. Missing from the list are a lot more likeSingapore Airlines, Cathy Pacific (I have been looking for tickets to Hong Kong), Air France (who would not like to go to France) and Thai.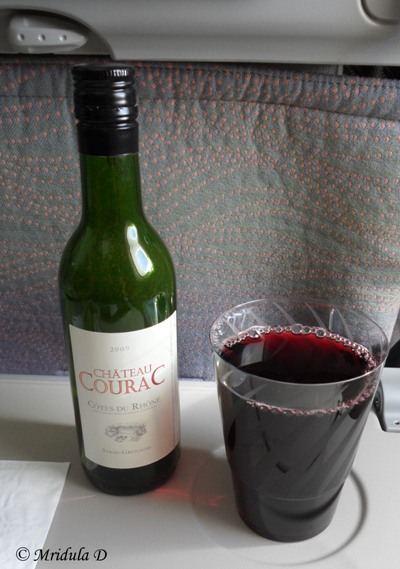 Wine- Goes Well with an International Flight
I love take offs and landings as they provide the best opportunity for taking pictures! Then I like to watch movies with a vengeance. I otherwise hardly watch movies but put me on a flight and I watch back to back movies till the time the flight has landed or till the time the entertainment system is switched off. Sometimes I watch the end of the movies that I could not complete on the return trip. Devil Wears Prada is an example of this. I could not complete it on the Delhi Kuala Lumpur leg so I completed it on the return journey! Though my first choice is for Hindi movies. I have watched Rock Star, Saat Khun Maaf, Vicky Donor, and many others on flights!
The other thing that I always do on a flight is to drink a glass of wine. Just a glass and no more. The cabin crew would narrate impressive and tongue twisting names and I would say red or white according to my mood. Though this interferes at times with no blinking during the flight rule! There have been occasions (particularly on return flights) when despite my best efforts I have dozed off for as long as 45 minutes. I remember this clearly while I was watching Pirates of the Caribbean: Fountain of Youth. I dozed off and woke up around 45 minutes later only to find that I could still pick up the movie plot effortlessly!
So what do you think? How do you spend time on long flights? Do you doze off like a pro?