I visited the beautiful Inle Lake in Myanmar as part of #escapers17. It is a super event organized by Scoot and Accor Hotels. It is one trip that I will remember for a long time for all kind of reasons! It was a trip where I caught a flight every day for about five days in a row! It was also a trip where we bonded and had fun.
I will focus on the Inle Lake and Novotel Inle Lake in this post, though I explored a bit of Yangon too. Inle Lake is a freshwater lake located in the Shan State of Myanmar. The local people are known as Intha.
The most distinctive feature of the fishermen of the Inle Lake is that they row with their legs standing on the boat! They are the star attractions of the lake! I think before tourism became popular they just went about their business but now the sunset pictures are entirely for the benefit of the tourists! No, I don't have a single one. It reminds me a little of Stilt Fishing in Sri Lanka.
The best way to get around the lake is by boat! In my experience, not too many boatmen speak English though. The tourist part is Ayaung Shwe where most of the accommodations and restaurants are. Our hotel Novotel Inle Lake Mayat Min is in the same region though in a more secluded part with direct access to water!
After closely observing my behavior, I have come to the conclusion that I like 'doing nothing'the most on a trip! Sitting in the boat and being in a state of limbo till we reached the next spot was probably my favorite pastime. But I was forced to come out of my happy daze frequently.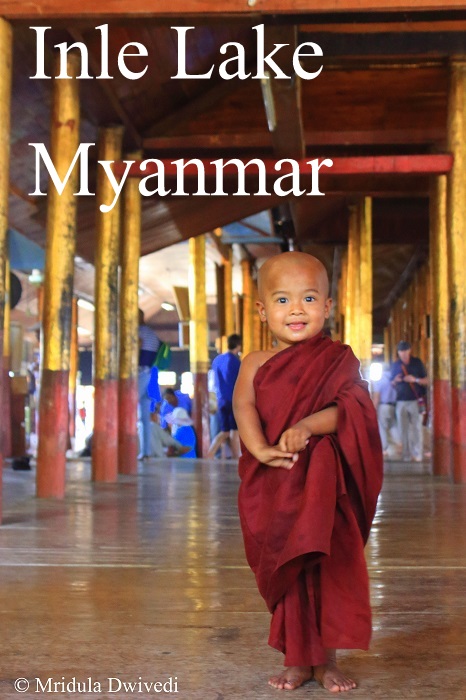 One of my first stops was the Jumping Cat Monastery (Nga Hpe Kyaung) on the Inlay Lake. While there are no jumping cats these days, cats are certainly there. They are well fed, prone to lazing around. For me the visit to the monastery was special because of the picture of the cutest lama I have ever seen! In Burma people pledge a certain part of their life to priesthood. It could be as short as 3 weeks.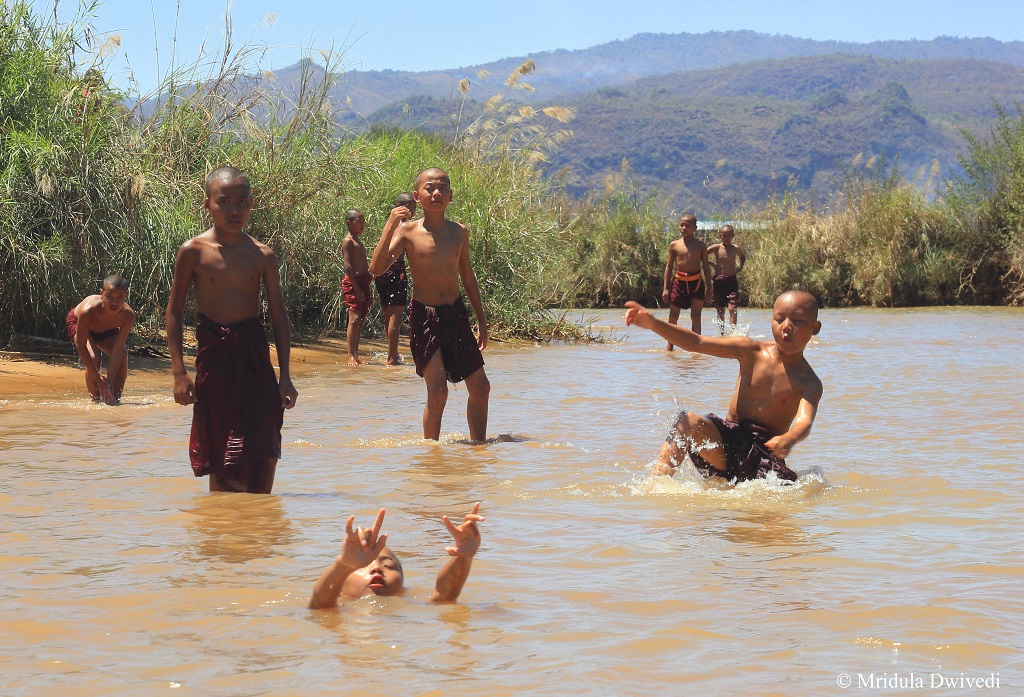 Even though it was not the racing season we got to witness a mock boat race on the Inle Lake. Later we were allowed on the boats to try our luck at rowing with legs. To our credit no blogger fell off in the lake!
One of the popular things to do at Inle Lake is to visit a cheroot making factory. This is combined with lotus weaving, iron smith and boat making factories. There is hardly any pressure to buy anything though. I rolled a cheroot and tried taking a puff too. But any kind of smoke doesn't agree with me. However, the cheroot was mild compared to Sheesha! I have concluded long ago that smoking is not my thing.
I came across weaving from lotus stems for the first time at Inle Lake. It is a labor intensive task. They made beautiful shawls from the lotus thread but for me it was too expensive to buy!
Our last stop was the Indein Village. It has an impressive collection of old pagodas which are being restored! It has a beautiful covered market too.
She sat by the road as we walked around the Indein Village. She looked so cool that I asked in sign language if I could click a picture. She agreed, at the end she signaled if I I would give her some money which I happily did.
I stayed at the Novotel Inle Lake Myat Min. It is a beautiful hotel right by the lake. You can go to the jetty and start your excursions right there. The jetty is also a great spot to watch sunsets. The first picture in this post was clicked there and the model is fellow blogger Mar Pages.
I also enjoyed a cultural evening at the hotel. There were fire dancers, elaborate costumes, and even we were invited to join in the dance!
We also got an opportunity to release the lanterns at Novotel Inle Lake. It was a first for me. I totally loved it!
My trip to Inle Lake was short but beautiful. I was amazed that I would get mobile data even in the middle of the lake! I hope I will go back one day and explore more of Inle Lake and Myanmar.
PS. I visited Myanmar as a part of #escapers17 team. The event was organized by Accor Hotels and Scoot along with other sponsors.