I decided to fly to Delhi Kathmandu Delhi with IndiGo because I got incredibly cheap flights with them in the summer of 2012. This story unfolded on the Kathnadu Delhi leg. I usually like to check in early for my flights and my Kathmandu Delhi flight was no exception. I was coming back home after completing the Everest Base Camp Trek in Nepal. While going into Kathmandu I didn't pay much attention to the amenities available at the Tribhuvan International Airport. Also my rucksack was the first to arrive on the conveyor belt so I made a hasty exit into the city.
While going back it was a different story. I checked in early and I had a lot of time to have a look around the Tribhuvan International Airport and there was not much to see. Anyway, I had a fabulous trek and I was in a good mood. I was reading a book and my flight was a while later. I could actually go home and have a late lunch or so I thought.
After a while I left the lounge area and went to the departure hall. It was quite bare but food was not uppermost in my mind at that time. But then my flight started getting delayed! And gradually I started getting hungry. I had spent all my Nepali rupees but that should not have been a problem after all they accept Indian rupees. But it didn't occur to me. So I didn't eat anything after the breakfast!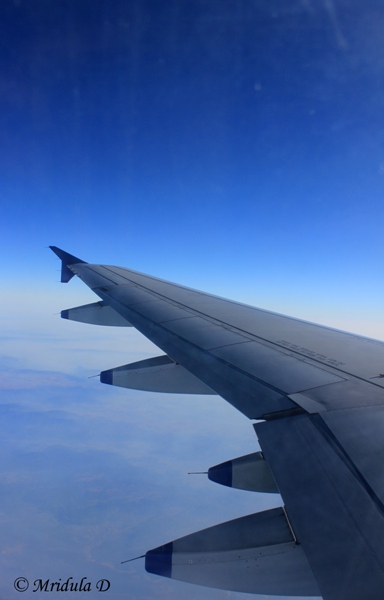 After considerable delay (which is a rare thing with IndiGo) I finally boarded my flight. I had the window seat and next to was a charming young girl from North East India who was studying at Delhi University. It was a bit easier to wait for the food as I was chatting with her. But by now I was really truly hungry. I was sitting in the middle of the plane and that means you get served last as they start serving from the front and the back of the plane. By the time the food cart came to me I was really truly looking forward to my mini idlis along with a cup of tea. I was also praying that they would not run out of the idlis.
In the end my turn also came. Thankfully they still had the mini idlis. But when it came to paying they won't accept a 500 rupee note! Both my neighbor and I had 500 rupee notes! Nepal does not consider 500 and 1000 rupee notes as legal tender so they are not accepted on a Kathmandu Nepal flight too.
Luckily I had 100 rupee notes in my bag in the overhead compartment. I asked the cabin crew to please pass my bag to me as I was really hungry and I wanted my food. They did so willingly. I took out the required amount, gave change worth Rs 500 to my neighbor and attacked my food. Mini idlis never tasted so good! I sometimes buy a packet of chips for my daughter as she likes the container a lot! Other than that I don't think I have tried anything else on their flights!
But I am not too happy with their tea pouch as I like to take my tea without sugar. They do warn you that the only tea they have is in a pouch with sugar. When it comes to drinking tea with sugar or not drinking at all, I will go with tea with sugar but I am not at all happy with it. I am flying with IndiGo again in December so let us see if they have tea without sugar this time! But overall I like flying with IndiGo for their punctuality and sensible approach. Tea with sugar is just a small thing.