In 2012 about 100000 Indians visited South Africa. According to Country Head, India for South Africa Tourism Hanneli Slabber India features in the top ten important markets for South Africa. When the tourism minister Mr, Marthinus Christoffel Johannes van Schalkwyk inaugurated INDABA 2013 he put 20 years of tourism in South Africa in perspective. He said-
"In 1993, the country received just over 3,4 million international arrivals. In 2012, we witnessed over 13 million international arrivals, of which some nine million were international tourists visiting our shores." adding that "But, of course, this did not just fall into our laps."
South African can offer a diverse range of tourism experiences ranging from adventure, culture, food, wine trails, marine to name a few but even then it would be difficult to dislodge the wildlife and the Big 5 experience from the prime position it holds. The Big 5 are lion, elephants, Cape buffalo, leopard and rhinos.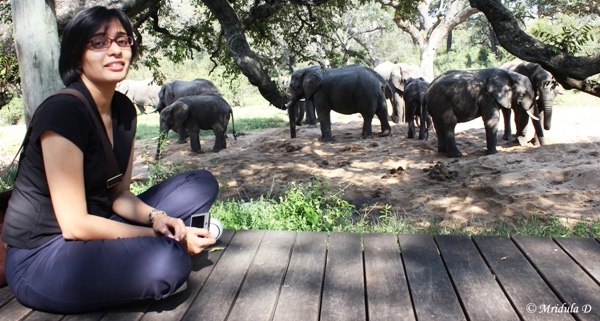 Up Close with Elephants at Tintswalo Safari Lodge, South Africa
At INDABA 2013 I interacted with many game reserves to know their opinion on Indian Tourists. It was family and food dominated our talks.
The lodges like Singita, Shamwari, Morukuru Family and Londolozi felt that when it came to Indian tourists family was important. The definition of family was also slightly different it could range from ages 1 to 60 or more. Initially many of the lodges had a no child policy. But most that consider India as an important market are opening their doors to families in a big way. There may still be an age limi for going on a safari but the lodges make efforts engage the kids while the adults have gone on a safari. Some of these programs involve interacting with local kids as well. Shamwari has a program for children as young as 4 and above.
The other most talked about theme in context of the Indian tourists was food and we can easily understand why. Not only they know about our vegetarian preferences they also talked about Jain cuisine. Some of the lodges may adjust the dinner time as we Indians tend to eat later in the evening. Also on offer is to enter the kitchen and make your own meal if you fancy at select lodges. For the Indian families that do not like to go for the early morning game drives, they would start the safaris later. So when it comes to tourism experience in South Africa customization seems to be the key! And this is just an add on to the bewitching wildlife experience in South Africa.