Chhavi and I decided to watch the India Denmark Davis Cup tie at the Delhi Gymkhana Club. All the prominent news stories remarked that the event is free. So, we arrived, only to be promptly stopped at the gate. The event is free, but the entry is through free passes. I clearly didn't have one. There was another gentleman stuck like us. We talked to the police telling them the event is reported as free everywhere! He denied it first. Then he called a senior who asked us to wait for five minutes. We waited patiently. Three young volunteers approached us and told us that the passes were available free of cost at Delhi Lawn Tennis Association's (DLTA) Office. But they had passes with them too and gave it to all of us!
At the security we were asked to leave our water bottles but camera, including DSLR, is allowed. After this we had no surprises. We were quickly seated and Ramkumar Ramanathan's match with Mikael Torpegaard was already in progress. My daughter had exam in the morning, so we knew we would miss some of the match!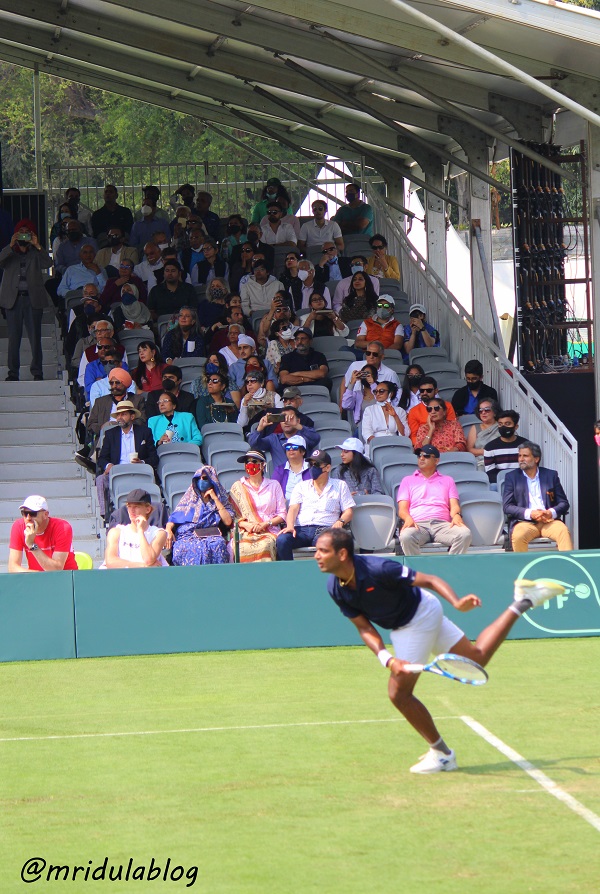 It was a pleasure to watch him live, I have only seen his clips on YouTube and his mixed doubles at Wimbledon on streaming. Ramkumar won his match in straight sets!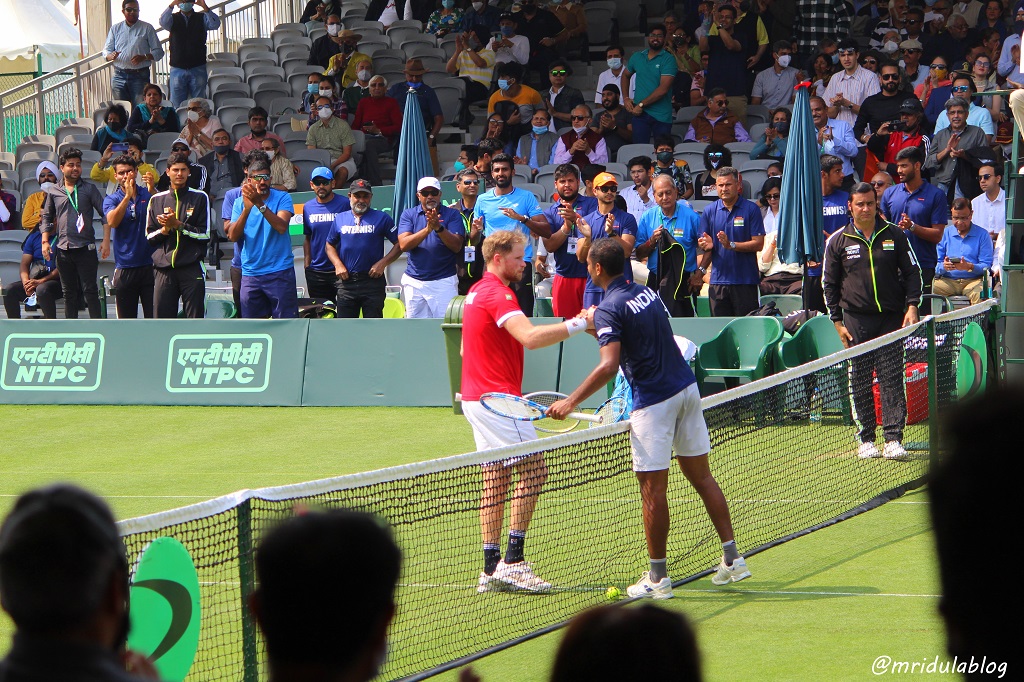 After Ram had a word with the legendary Vijay Amritraj, the court started getting prepared for the next match between Yuki Bhambri and Christian Sigsgaard. India was already leading 1-0 at this stage.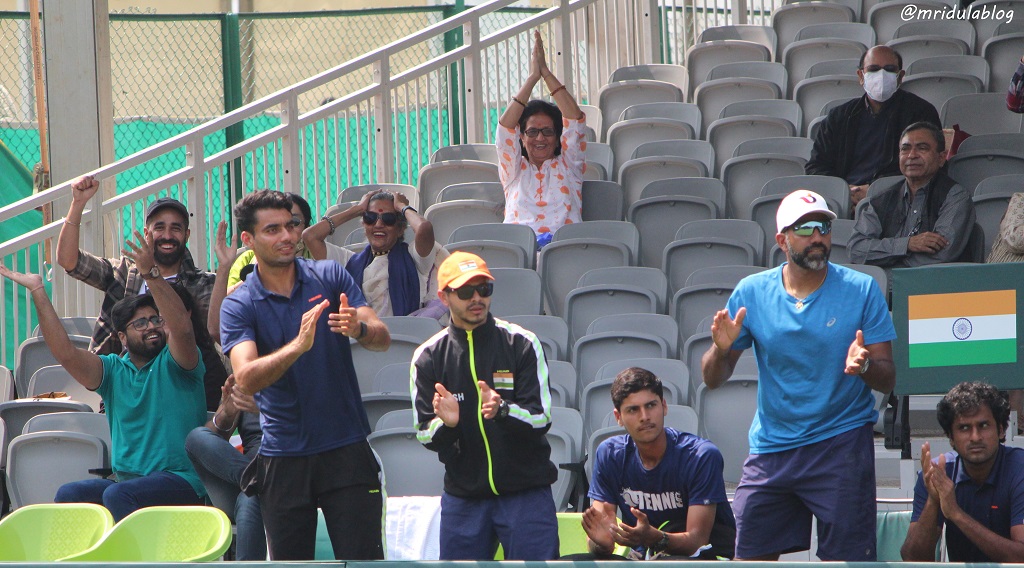 It was a pleasure to watch the stars of Indian Tennis at the venue. Rohan Bopanna (second from right) was vocal in his support for the team! Sometimes I wish there were more team events in tennis!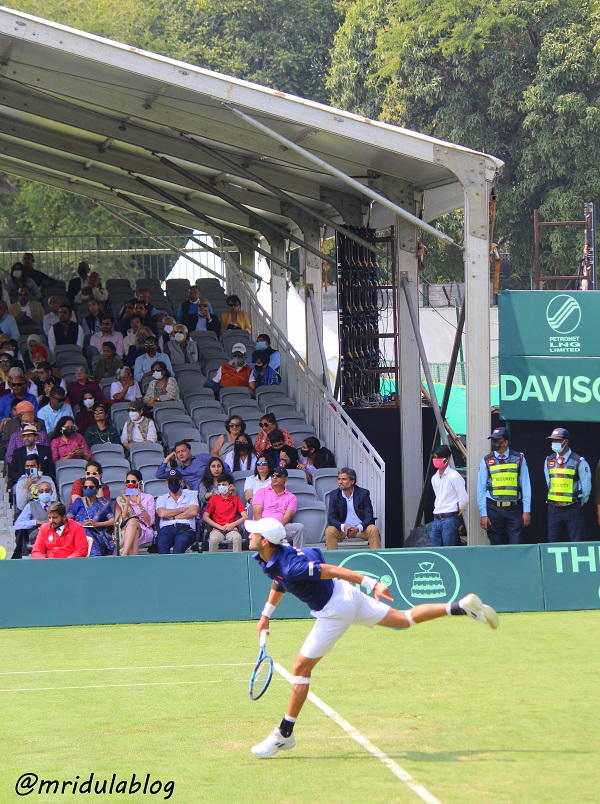 Yuki too was in fine form, he won the first set without too many difficulties. There were a few break of serves but our lad cruised through.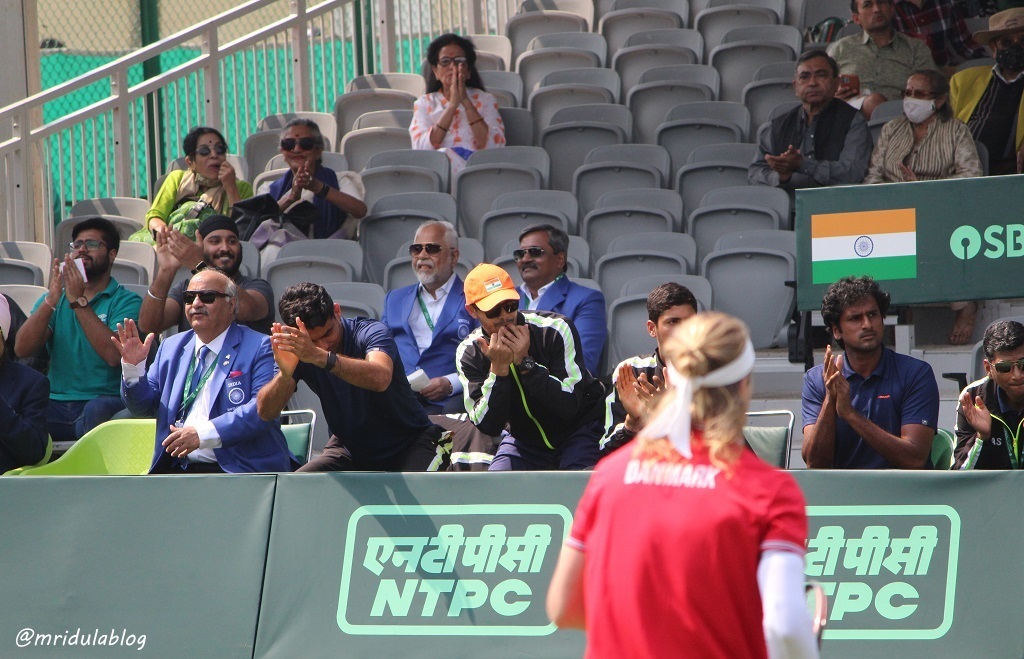 It was also fun to see the Indian team cheering their mates. The gentleman in the orange cap is Dr. Yash Pandey, one of the physiotherapist of the Indian team. I can vouch that his whistle can be heard above the crowd at the other end of the stadium.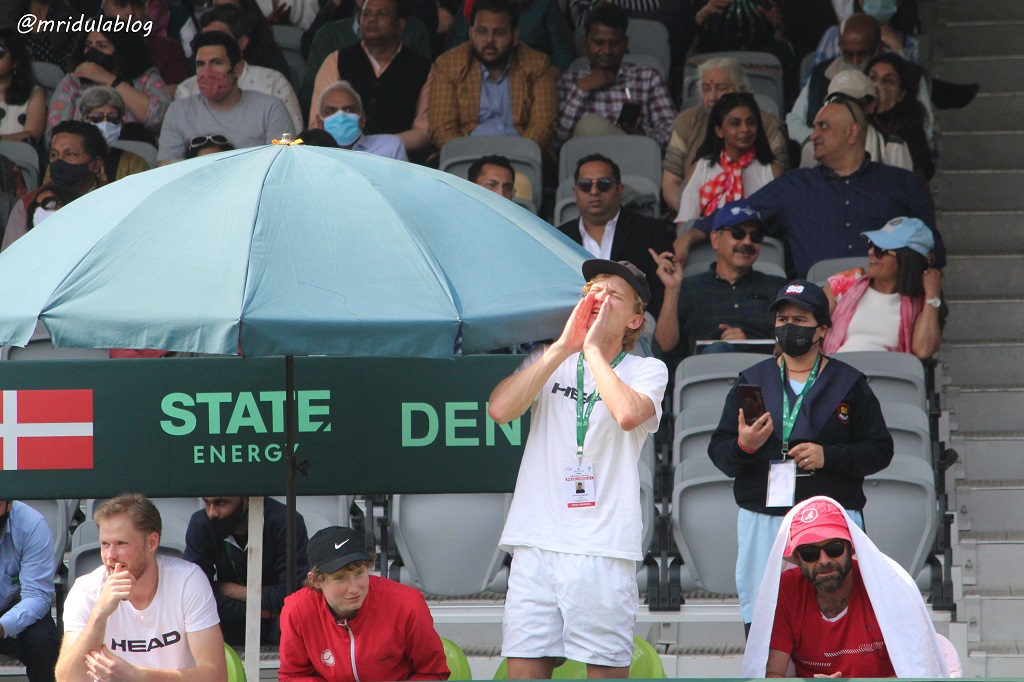 While the Indian team had the support of the whole stadium, the Denmark team was 5-6 member strong. I wish I knew the name of this young Danish player he also could be heard above the crowd throughout the stadium. His cheering would invite counter cheers and everyone had a good time!
Yuki quickly went up 4-0 in the second set. But what is tennis without a few twists and turns! After 5-2 lead, it suddenly got narrowed down to 5-4. It was Yuki's serve and he did manage to serve the match out comfortably.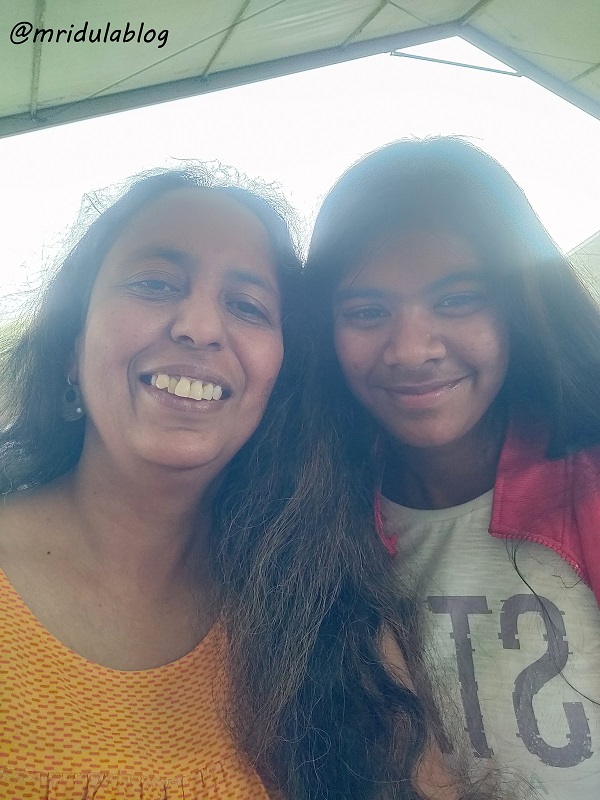 For Chhavi and I this was a great adventure! I have still watched a lot of live sport growing up, particularly badminton but this was a first for Chhavi. She was suitably impressed. It is another matter that she has played a lot of junior matches at the All India Tennis Association (AITA) level.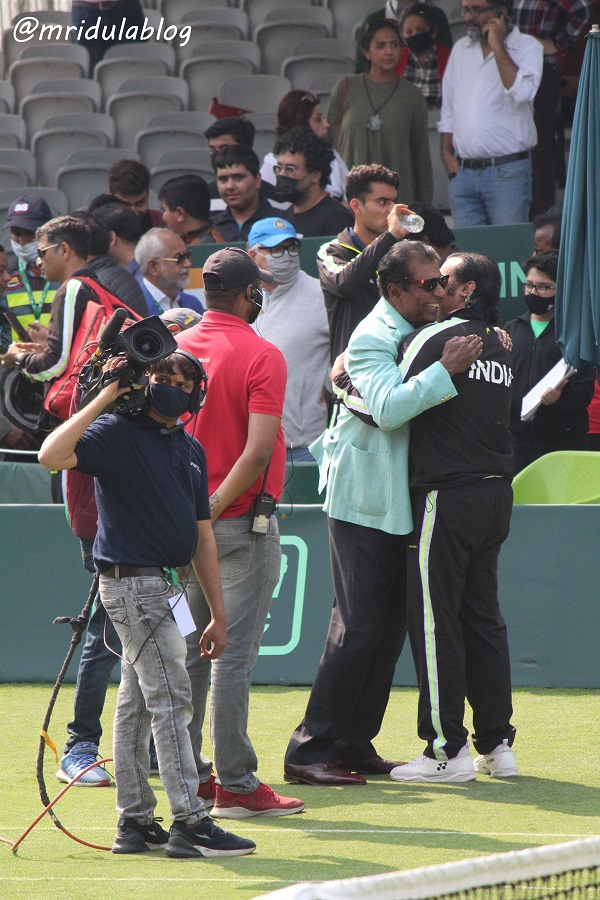 Getting a chance to see Vijay Amritraj in person was a high for me. I realized that I have watched a lot of tennis on TV but not so much live. I think it is time to change it. On the other hand I have watched so many AITA junior matches because my daughter plays there! I have to say it is tough to watch your child play! And it is super fun to watch professional matches!
We will try to go and watch Day 2 matches too. As I knew I needed passes for tomorrow, I went to the Delhi Gymkhana Club reception and asked the lady there if she had passes. Of course she didn't and neither did she know where could I get one.
View this post on Instagram
A gentleman in India blazer (I recollect this now) overheard the conversation and said he had a few to spare. He gave us two passes for tomorrow. We thanked him there and I wish to thank him again for coming to our rescue. I leave you with a reel of the day 1 of the India Denmark Davis Cup tie at the Delhi Gymkhana Club!
We managed to catch the crucial doubles tie on Day 2 as well. It was a pleasure to watch Rohan Bopanna and Divij Sharan in action today. They saved 3 match points to win!