I was thinking about my South Africa trip today, I actually think about it often. And what a wonderful trip it was! I had severe withdrawal symptoms till I went and trekked in Nepal. So I thought I have to post a few pictures from the South Africa Trip again. I hope I will go back there once again! It is one of the most amazing places I have ever visited.
I loved the experience of flying with South African Airways. There are airlines with better entertainment systems but the crew at South African Airways is quite good. I had black tea at night and the lady remembered my selection at breakfast too! I like such personal touches. Another one laughed with delight when I asked for Amarula for drink. While going to South Africa I had no clue about the existence of Amarula but it was the drink of my choice while coming back. Se, what can happen in just one trip!
Amarula tastes a little like Bailey's. It is the best thing to have on a cold evening. It will warm you up within no time! And I had enough movies me to last for the entire flight with them as well. My experience in the skies was wonderful!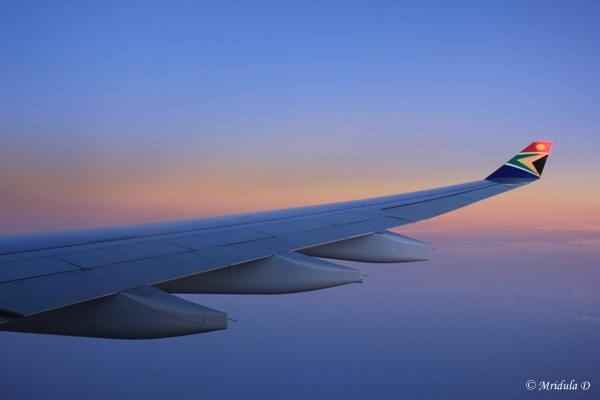 As the Dusk Sets in!
I am crazy about window seats and wing shots. And it was only after it became dark that my camera went in. I do watch a movie along with taking my pictures. And I do not like dirty plane windows as they mess up with the wing shots! You can see from the picture that these windows were reasonably clean. I had a great time by the window and with the movies on my flight from Johannesburg to Mumbai.
This post is part of Sky Watch Friday, do check them out.