When clouds play truant and hide all the mountain peaks what do you do? I tried to sit in a corner and take some people shots! Now I hardly ever do it. I am not sure if I will try it again but who knows? I am still a far cry from the fearless street photographers who shoot at close ranges. I was using a 75-300 mm lens to click the pictures from some distance. And I guess I am going to remain that way for a long time!
The trouble at Pokhara was that either it rained or otherwise it would be hot and humid. On one such hot and humid day the kids came with their ice creams and sat in a boat. This sweet kid caught my attention first! She was completely oblivious to me. She had no thoughts other than enjoying her ice-cream!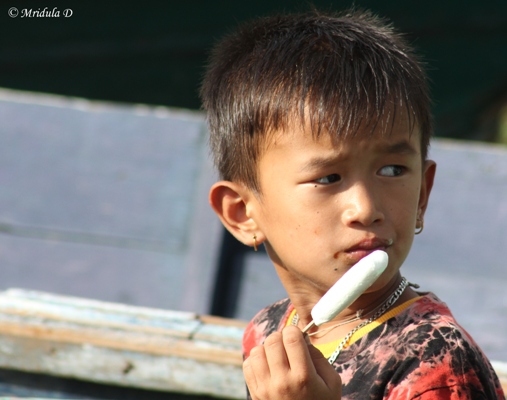 A Boy Eating Icecream, Phewa Lake, Pokhara, Nepal
Then there was this boy also busy with his ice cream. All of them seem to be waiting for someone. Then some adults walked in. And this boy without a word did something so unexpected! Watch out the next picture!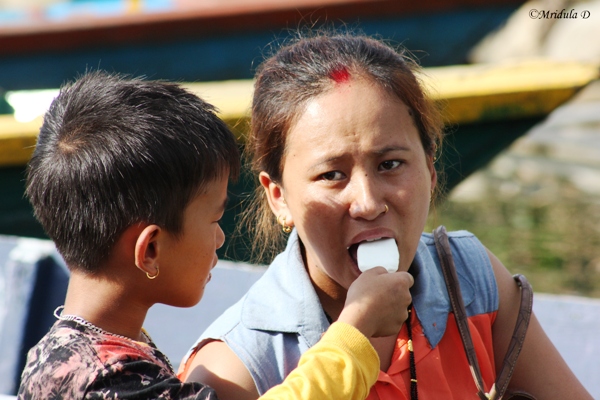 A Boy Sharing Icecream with his Mummy, Phewa Lake, Pokhara, Nepal
As soon as his mom came and sat next to him, without a word he shared his ice cream with her Though the mom took only one bite and then told the kid to finish it. That is what the moms do usually.
I sat there for a long time clicking pictures. I wish for better weather on my next trip to Nepal! On this trip all I got was the rains and I complain bitterly. hen there are high peaks, I want views and not rains!