My stay at Ibis Singapore on Bencoolen is about to end and I will remember it fondly. Singapore was my first trip abroad when I was a Ph.D. student. I was presenting a paper at Nanyang Technological University. Eighteen years later, I have quit my in academics and I am here as a travel blogger to attend #escapers17 on the invitation of Accor Hotels, Soot, Tiger Air and Asia Holidays.
I have stayed at Ibis before as a blogger (Ibis Delhi Airport, Ibis Budget at Makassar) and on my own (Ibis Budget in London). I have to say they maintain a standard and you can rely on them to find a comfortable room waiting for you on your arrival. Ibis Singapore on Bencoolen was no exception.
Location
Ibis Singapore on Bencoolen is located at 7-8 minutes' walk from Bugis MRT. To me being near to public transport is important as taxis turn out to be insanely expensive in the end. There are food courts and shopping malls around. Bugis has the Downtown line so you can directly go to the major attractions of Singapore.
The Room
I have a comfortable room and for a change I am writing my review sitting in the room itself. I stayed in 1006 at the 10th floor. As I have stayed with Ibis before I am familiar with the layout.
The bathroom is functional and clean. And by night when I have completely tired out myself, I can switch off the room lights right from the bed.
I also like that they place a lot of emphasis on reusing the towels and the linen. I need to find out more about their Planet 21 program. There is a working table in the room but I mostly worked sitting on the bed! I could charge all my gadgets easily.
The Room with Extra Benefits
If you are staying at Ibis you can book a room with extra benefits. It automatically gives you early check-in and late check-out.
However, what impressed me most is the pre-loaded phone called Handy. It comes with a local SIM which already has unlimited internet access. You can make calls to 27 countries (India included) both to the land line and mobile phone.
I used it in a slightly different way! I would turn its hotspot on and connect my own phone to it! And then I would use my phone as I use it anywhere. My family stays in touch with me via Data calls so I did not use the calling feature of Handy. So I did not buy a local SIM at all. I found Handy most useful because all I need was to turn the hotspot on and get connected via my phone!
Food at Ibis Singapore on Bencoolen
Being a vegetarian has become easier and I could find many choices at the Ibis Singapore as a vegetarian. I took many meals here and I could find vegetarian choices at all three meals, breakfast, lunch and dinner. At breakfast they have a bit of Indian options too. The bar cum restaurant has a 24X7 menu which is really useful. I was late one night. It is comforting to know that you will get food in your own hotel when you are dead tired.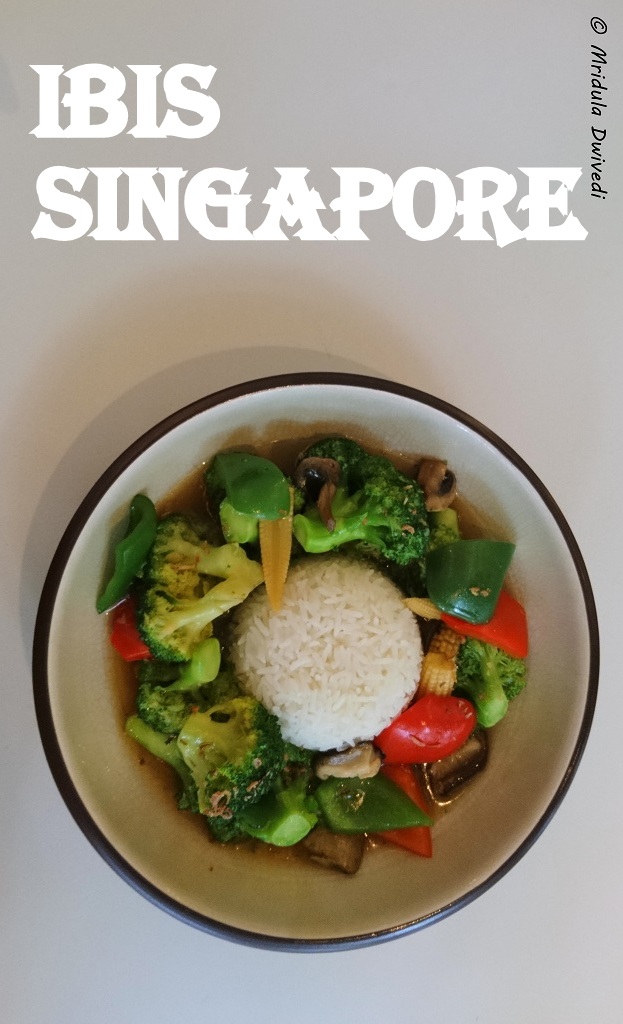 I quite liked the hotel. I would happily stay at the Ibis Singapore on Bencoolen again.
My trip to #escapers17 has been sponsored by of Accor Hotels, Soot, Tiger Air and Asia Holidays.