Holiday in South Goa with Kids was a fabulous experience! If you read this blog you know my kids are known as double trouble! Chhavi is my daughter and Vasu is my niece. Together they become double trouble. They have been to Hong Kong before Goa. While I was alone with them in Hong Kong, I had a lot of help in Goa.
We were staying in a serviced apartment in South Goa, quite close to Ramada Caravela Beach Resort. Fatrade Beach was at a walking distance. Luckily both my girls love water, so keeping them entertained was not a problem at all. However, from my experience I know that keeping their stomachs full is critical to the success of a holiday! We managed to do that as well.
All of us arrived at different dates. Seshadri and Chhavi arrived first. Next day Seshadri's parents arrived. Vasu and I arrived a day after that. And the last to arrive was Seshadri's college friend. On the first evening when Vasu and I arrived, all of us went to the Fatrade Beach. The girls got drenched within no time. I joined them merrily.
There is a beautiful side effect of playing in the water and being outdoors for hours on end! As soon as the dinner got over, the girls crashed to bed without any fuss! It was my task to tell them a bed time story! I would tell them a silly one, basically narrating the days events, only changing the names of the two little girls! They would giggle like crazy and go to bed soon! They knew it was their story and they would keep giving me suggestions along the way!
On day two, our agenda was the beach again! The kids got up quite early and they left for the beach with Seshdari and his friend. My in-laws were going for a city tour. So we left together, I for the beach and they for the city.
By now we had found a good shack to sit by while we took turns to keep an eye on the kids. They played like small cute wild animals till they could play no more! They went about 9.00 am and came about 1.00 pm.
Then it was time for lunch. The girls are experts at ordering and then not eating stuff. By the time we went back to the flat everyone wanted a siesta other than the two kids! My in-laws were back too and sleep was high on their agenda. So, I offered to stay up with the girls and take them to the beach in the evening again. In the meanwhile the sprinklers went on the lawns of the apartment complex and out ran the two, to get wet again!
That evening no one else was in a hurry to go back to the beach except the kids! Once there, the girls decided that they wanted to do parasailing and I reluctantly agreed! But they were so tired by the evening that they didn't protest much when I suggested we go home! Dinner was cooked by my mom-in-law. After an early dinner once again the girls were quite happy to go call it a day!
On our last full day in Goa my in-laws, husband and his friend went to the Cavelossim area. We girls hit the beach once again! By now our shack routine was perfect. The girls were known there, they knew me as their mom and we all knew what we liked to eat! As the day would go by, the girls would ask for French Fries and Chocolate Milk Shake. Sometimes they would ask for coconut water too!
Towards the afternoon I would have a beer with fried mushrooms. We would take turns to get wet! By afternoon we would go back in search of lunch!
On our last evening Vasu, Chhavi, Seshadri and I went to the Cavelossim Beach. The sunset that evening was amazing. The first picture in this post has been clicked at Cavelossim Beach in South Goa.
Even though we did nothing much other than hitting the Fatrade Beach in South Goa, it was an awesome holiday for all of us. The girls already can't wait to go back to Goa!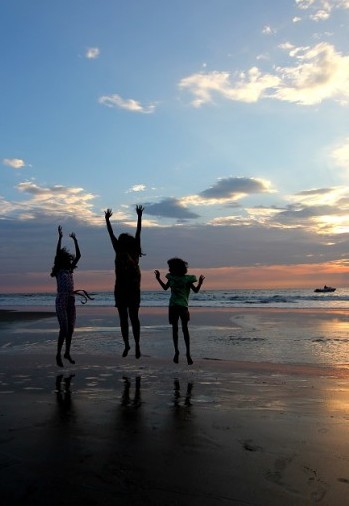 We would like to go back to Goa on a holiday again.