As we got down from the car Erick started loading the rifle. He took out three bullets and told me, one is for you, the second is for this lady and the third is for her. Then he turned towards the only male member of the group and told him, "I am sorry I have nothing for you, if trouble comes, you have to run!" The rifle was actually for protection, if need be, for our walk. We all hoped it would not be used and it was not.
When we were given the option to walk in the bush four of us took it. In South Africa bush is an apt name for their jungle as the growth is low and trees only a few. And how I am missing them now! Manyeleti Game Reserve and Tintswalo Lodge is always going to be special for me for it was my first glimpse into the South African wildlife.
The bush walk was the only time in our entire safari when we did not want to see any animals. But it was interesting to watch various pug marks and their characteristics. We also talked about a lot of plants and their use in African life and the feeling was quite similar to the way we talk about the plants and their medicinal values in India!
At one point Erick started going round in a circle. I immediately asked him, why was he doing that, making us behave like sheep? We all went round in the circle too! This trick has been played on me at a tour of Manchester United Stadium as well. So this time I was wiser. We all had a good laugh over it!
The walk ended at a pond where we counted 13 hippos! Erick first told the hippos loudly, "Open you mouth" repeatedly. When that effort failed to produce any effect he tried to mimic the hippos and I captured his efforts on a video.
Erick Calling Hippos
The hippos remained submerged for most of the times. But it was an absolute pleasure to watch them going about their business. Also we had coffee, tea and warmer things as well at the spot. What fun it was to have tea with the hippos on my birthday! I have seen their pug marks too and they are huge. I asked Erick if they attack humans and he said no, not unless we stood between a hippo and their water. Otherwise they eat grass and such stuff.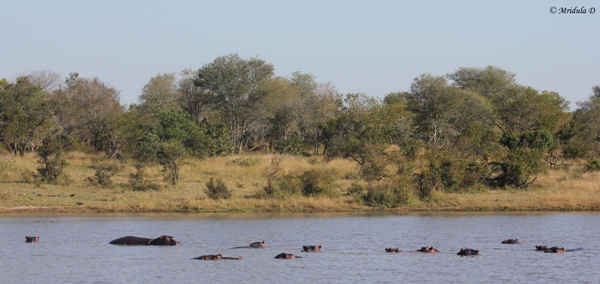 Submerged Hippos in a Pond, Manyeleti Game Reserve, South Africa
Usually at the end of a trip I am eager to go home. South Africa was an exception, it was 50-50, half of me wanted to go home and the other half stay back and explore the bushes.