The day we went Island hopping in Boracay I already had a lot of excitement. I indulged in snorkeling and cliff jumping already, I was not sure if I was looking for any more excitement. But when helmet diving in Boracay was offered I could not let it go .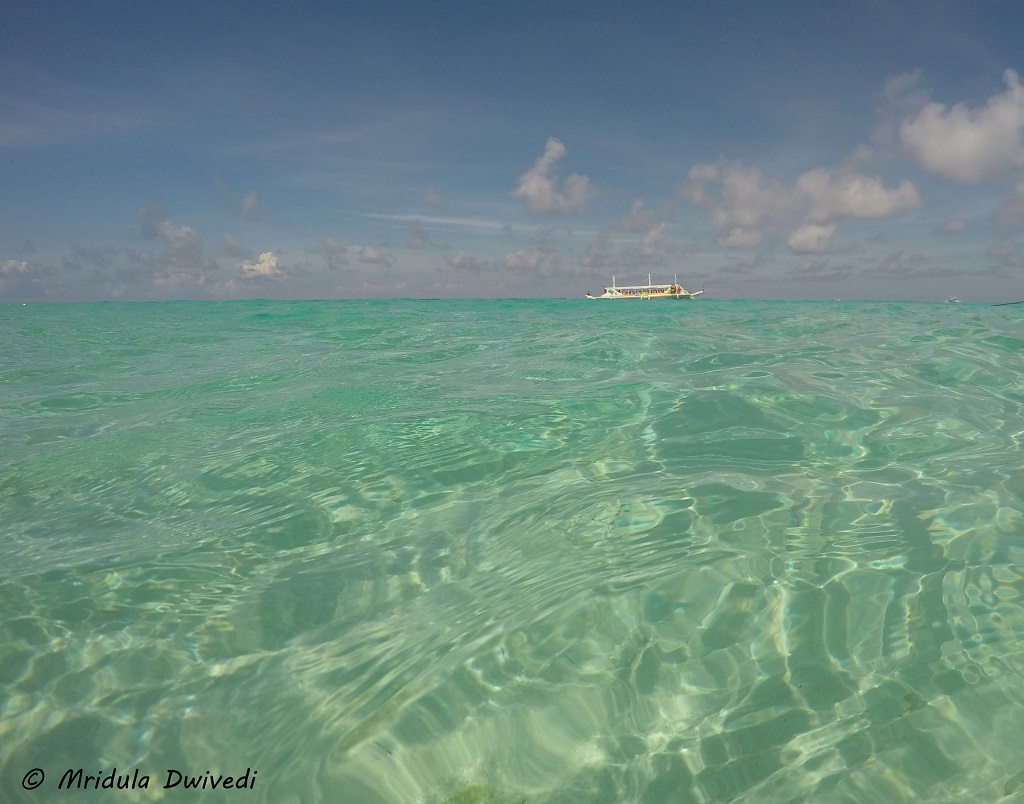 We went to the platform where lot of oxygen cylinders were kept. It looked like the Scuba Diving platform but we were doing helmet diving. To me helmet diving felt simpler than scuba diving.
In helmet diving they put on the heavy helmet on your head which is connected by a pipe to the oxygen cylinder and lower you down to the bed of the ocean. It is not very deep. Because of the pipe tied the oxygen cylinder you cannot go very far but it is still a lot of fun.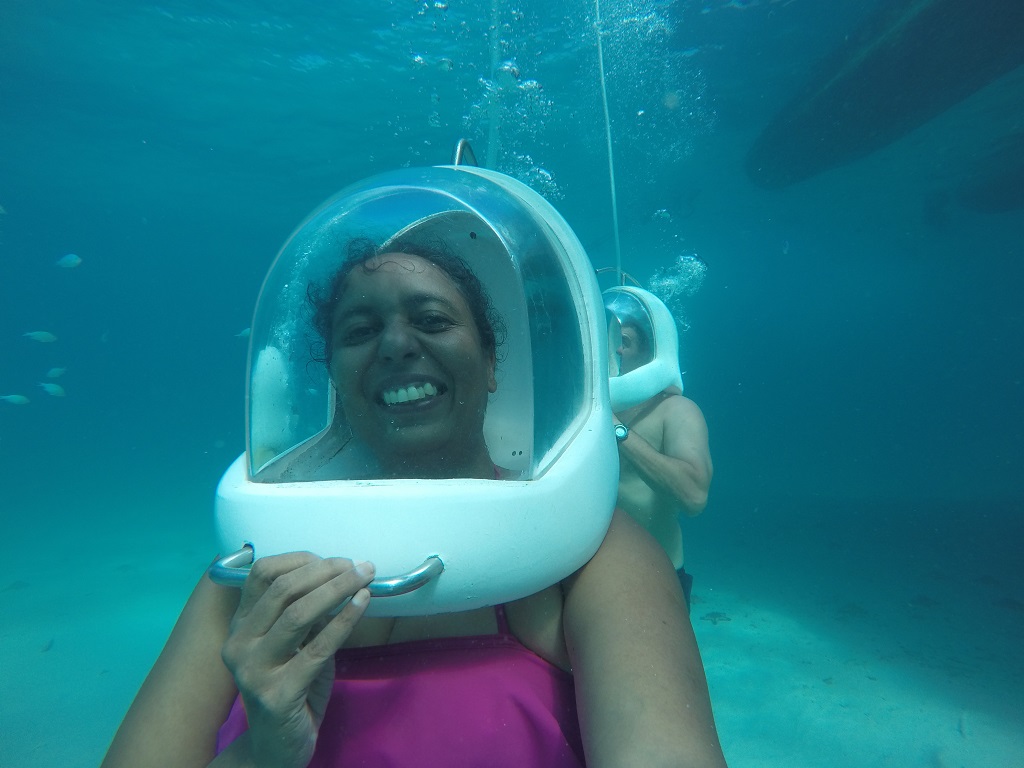 I found it definitely less stressful then scuba diving. The helmets are very heavy. They put it on your head just before you are going to get into the water so that you don't feel the weight. As I climbed down the stairs the ocean bed, I could hardly feel the weight.
I was not sure what was going to happen. There were two instructors who clicked pictures and made sure that we were safe. They explained the hand signals while briefing us on the platform because once inside, no one can talk! The main concern was pressure on the eardrums and how to equalize it! I did not feel any pressure while in the ocean.
We spent about 15 minutes connected to pipe on the bed of the sea. I could breathe easily. The helmets are loose and little water comes inside. We were briefed about it. They told us that it was not a cause of worry ,the water will not go higher up in the helmets.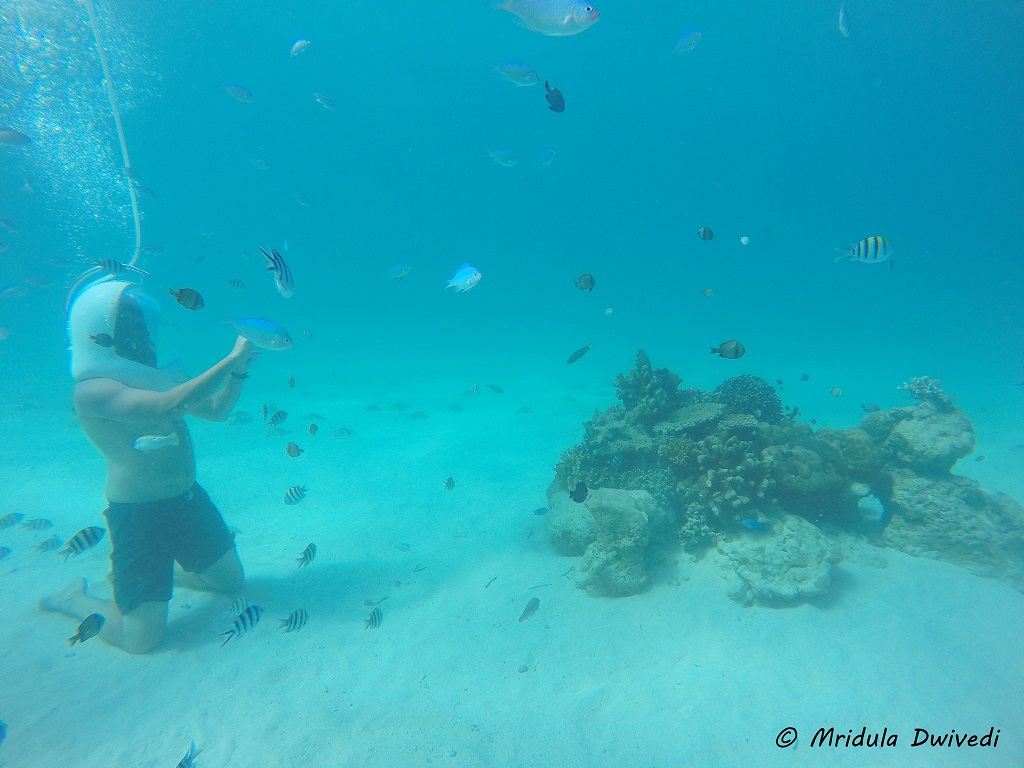 One of the instructors gave us fish food which we held in our hands and fish would come flocking to us! There was a bot of coral too near us.
For me the greatest excitement was using my GoPro that I won in Sri Lanka but I hardly ever put it to use. I took it underwater at Boracay and I am quite happy with the results. From now on I am going to put the GoPro to good use at least underwater!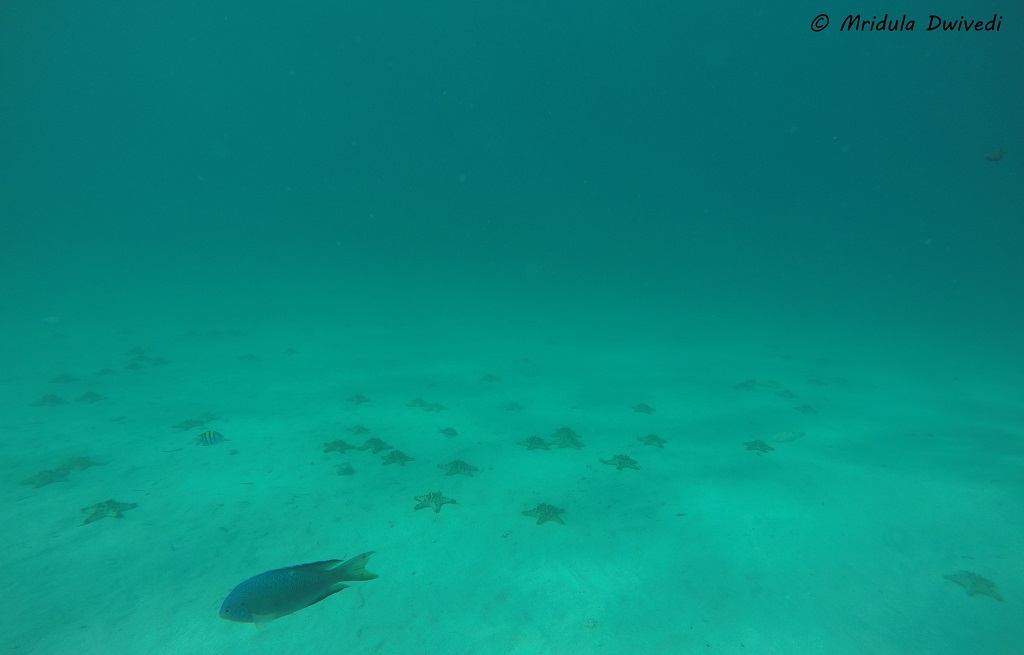 After 15 minutes I was happy to emerge out of the water. As I was climbing up the ladder to the boat they took out the helmet as soon as my head emerged. Helmet diving was the last activity of the day, I was happy to head back to the Lind which was my home for two nights. I was looking forward to a relaxing dinner and peaceful night after a day full of adventures.
PS. I was a speaker at TBEX and Boracay was the post TBEX FAM trip in collaboration with the Philippines Tourism Board.