What would you say if someone offered to take you on a night trail to the haunted places around Jaisalmer? Well there were a Fortuner full of women bloggers (invited by Suryagarh) agreed to give it a try, your's truly being one of them.
We were supposed to start at 11.30 pm but we were still at dinner till 12.20 am. I am getting old, by then I hassled everyone saying we should start or I would fall asleep right there! So, off we went a little past mid-night on a haunted trail! Locally it is also called the Chudail Trail.
We had our guide Paul and our driver Himmat Singh, both young lads. Himmat Singh is also a local. In all we made 4 stops and only twice they let us out of the car. The first stop was a village well towards Deda which is said to be a fight scene between the them king and the villagers. The king killed some villagers and threw them in the well. The well was supposed to be a good source of water and hence the fight. The well was then cursed by the surviving villagers and it remains so till date. They didn't even open the car doors when we reached there. Before our approach we waited for a snake to cross the dirt track. What an appropriate start to a haunted trail!
The locals believe in the legends firmly. We went around asking everyone at the hotel later on if they believed too. Karan the manager of Suryagarh said he did, he could sense something around. Manvendra Singh Shekhawat, the owner of Suryagarh said he was not sensitive enough to feel these things. I think we bloggers also thought it was not too spooky. And I was glad for it.
But getting back to the story- to lift the curse there is now a Shiva temple at some distance from the well. We stopped there too and Paul let us out. It was a small temple and the main facade could be approached after climbing some steps. There were a few trees nearby. A gentle breeze blowing. The only light we had was the glow that our cell phone screens cast. Nearby there were shivlings supposedly made by people who actually saw ghosts. If anyone would have made a sudden move I for sure would have jumped. But no one did, thankfully.
Being a gang of girls we wanted to sit at the temple steps for a while. After a few minutes Himmat Singh asked us to hurry up. He was at a short distance away, waiting near the car. When we ignored him for a few more minute, buts he called us back urgently, there was an edge in his voice. We could not ignore it and all of us got inside the car once again.
Then we visited a small unmarked place where women committed sati 300-400 years back. That is how we Indians define dates, with a margin of error for a hundred years at least! It was a place full of small discarded stones which once would have marked the memorials. At night, in the headlights of a car anything can look spooky. The place for sure looked spooky. But then Himmat didn't even release the lock on the car doors and turned back as fast as he could. We headed to our final stop, the abandoned village of Kuldhara.
Paul told us that they used to cover a few other places but some of the experiences were so intense that they stopped taking guests there. He also added that some of his foreign guests are interested in paranormal activity and they come specifically for this trail.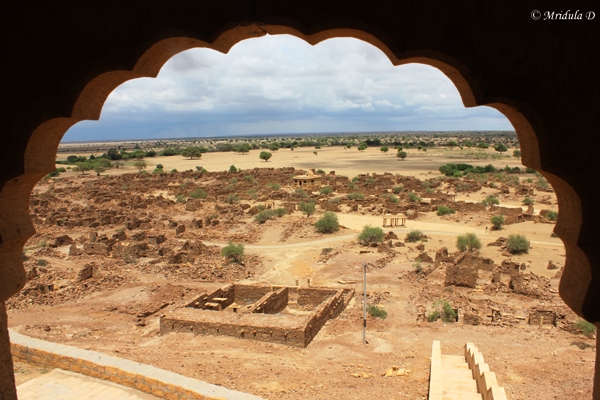 Khaba, one of the 84 Abandoned Village Arund Kuldhara, Jaisalmer
I have been to Kuldhara during day and I know the legend. That the king (or a powerful knight in another version) eyed a Paliwal Brahman girl. So 84 villages were abandoned overnight. But this time I got to hear new things. Like, before leaving the Paliwals killed the girl and left her body behind in a home and we were going to enter that house at night. Paul also added that one of his foreign guest sensed paranormal activity on his visit to this very house. He stopped them from entering the house as he could see a "do not disturb" sign and three shadows having a discussion.
After hearing this story I found it a bit spooky to enter the house. But we all went in and came out intact. There was a small room in the house where we could smell bats. It had stairs leading to an underground room as well. Paul said it was a storage room and he has been there during day time. We went to the terrace as well, which was our final act of bravery. It was past 2.00 am by now and I was glad we headed back.
I was so tired by the end of the haunted trail that I fell asleep as soon as I hit the bed. I think remembering it and writing it is giving me more unease than the actual trip!
PS. I did not take any pictures at night, so the pictures you see in this post are of similar sites and not from the actual haunted trail.
PPS. Whatever I narrate are legends told to me. Personally I did not experience anything beyond the normal night time fear.