Now that I have started thinking about food, I realized I actually quite enjoy going to Haldiram. There are two locations which I frequent. I go to the one in the MGF Mall, Gurgaon and the other being Shipra Mall in Ghaziabad. One is close to my home, the other is close to my sister's home.
There are two favorite items of mine, one is pani puri or golguppa. The second is kulfi without the faluda. I like to keep my kulfi simple.
Exit Street Golguppas and Enter Haldiram (for Me)!
I wish I had the stomach to eat golguppa from the street. But after bouts of jaundice early in life I am not willing to experiment at all. My sister tried to be brave. She gave up after two serious rounds of vomiting after eating goluppas from the street. We can easily eat not-water based street food (cut fruit is another exception) but when it comes to water we play it safe.
Enter Haldiram which is conveniently located from her place! It serves golpuppas that don't make us sick. There is only trouble with the place. If you go on weekends everyone else is there too, which makes it much more crowded than I like it.
Off Peak Hours at Haldiram
The solution is to go at off peak hours. The problem was I used to work and I would visit my sister only on weekends. That was the time when we braved the crowds. Rather I should say my sister, Alka, braved the crowds. She would stand in the queue and I would try to get a table. It was not too much fun but still we liked eating golguppas once in a  while.
But this time, right quitting my job, I ran to her house and sat quietly (my niece would disagree though) for one long week. We went to Halidram on a Monday, post lunch. It was such a wonderful sight to see empty chairs and hardly any queue at the counter.
We had the whole pack of six golguppas in peace. The bits of potatoes and chana with the green pani tasted much better! I ignore the red water they serve! Now that was some experience.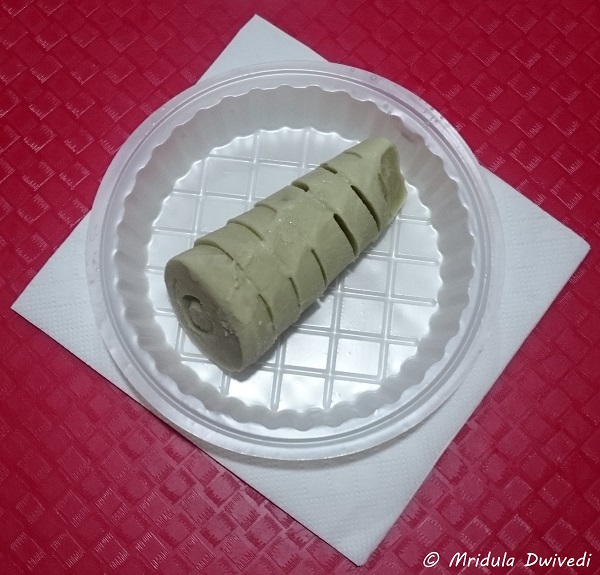 We followed it up with paan kulfi which we shared. Both of us have been swimming these days, so when my sister tried to eat less kulfi and let me have more I accused her of pushing more calories on to my side! That made her eat her fair share! Since childhood she has allowed me to eat more than my share!
What I like about Haldiram is their consistency, they hardly ever get things wrong. I like the taste too. And above all I like that I don't have to break my bank in order to eat there.
What I don't like is that everyone else seems to have the same idea which makes the place extremely crowded over the weekends. But now that I can indulge on a Monday, I guess I need to venture out more!
PS. This is a personal review and there is no association with the brand to do this post!
PPS. I write so many sponsored posts that I now have to put a disclaimer about the post not being sponsored as well! Kya din aa gaye hain!