When I visited Gulmarg in March, I was not expecting snow, though there was snow everywhere! Snow in March! Snow in India. And it was a fabulous experience. Actually snow in Gulmarg in March is quite common. This was the view from our gondola ride at Gulmarg. Isn't it fabulous?
I was lucky on the view as I stayed at a room with the view too! I have such a love-hate relationship with snow! I love it when I watch it sitting inside a cozy room but I hate to walk on it, particularly if I am wearing slippery shoes!
The fear started on a trek lone time ago! It was my first trek to Sar Pass and in all my wisdom I was wearing sneakers. And I slipped and slipped on snow and it was no fun! When everyone in my group could walk because of my bad shoes I would be usually slipping and skidding!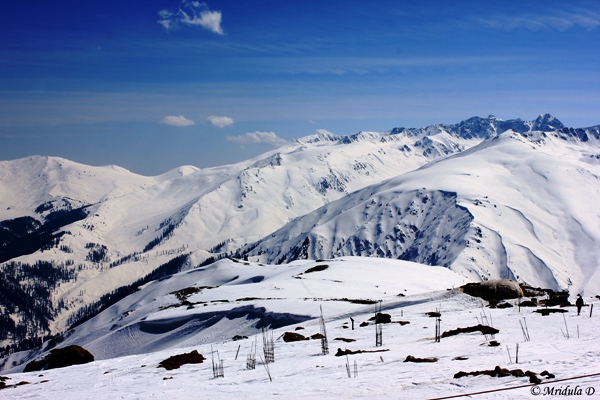 View from the Gondola Ride, Gulmarg
Even in Gulmarg while we were walking to the temple, I to hold the ropes on my way up! And I feel even more scared while coming down as it is more difficult to balance myself! And yet I love mountains.
I remember on this trip to Gulmarg watching the snowfall with a good cup or coffee or kahwa. Now that is truly bliss. What adds to the charm is that watching snow is a rare occasion for me. I live in the plains where it does not snow at all. Actually our winters are almost like an English Summer. So when I get to see snow it is truly magical!
I think it is more love than hate when it comes to snow! Now I have good trekking shoes and slipping is almost a thing of past! Yet the memory of slipping on snow on my first trek lingers!