Gulmarg Gondola is a Jammu and Kashmir state government initiative. I am sure it is aimed at giving an access to the slopes for skiing. But then it is available for a joy ride too. And we went for the joy ride.
You can find the details of the rope way and the ticket prices from the J&K State Cable Car Corporation Website.
In March the places was not too crowded though there were both tourists and Skiers. There were more skiers than tourists using the place. The Gondolas are self operating. When the doors open at the dock we need to step in and after that they close on their own. It would have been then times more fun if people would not have scratched the glass for writing their names and otherwise. I hated the scratches on the gondola glasses. And the litter left behind by tourists. It leaves me foaming at mouth.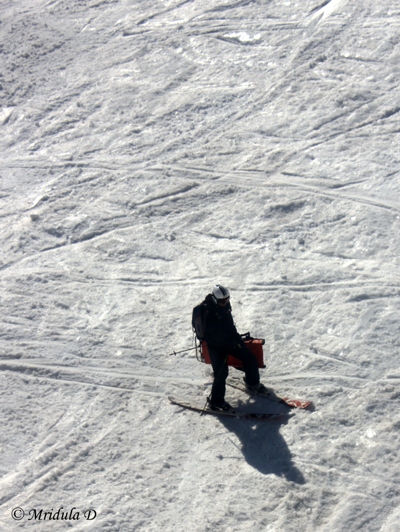 A Skiier at Gulmarg
We had Mudassar with us from the Khyber as our escort and he knew a lot about the region. He told us that a lot of the skiers came from Russia. Later at another hotel I also caught a glimpse of the famous Bill Barker who is said to know about Gulmarg more than even a local!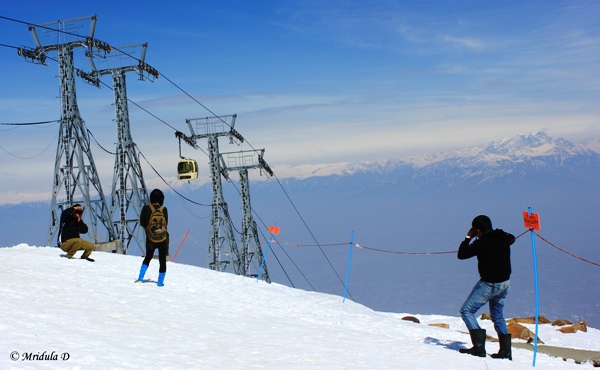 Aparwath, Level Two at Gulmarg Gondola
We did not spend much time at Level 1 (Kungdoor) but we did get out for quite sometime at Aparwath the level 2 of the Gondola ride. In this picture you can see Mudassar (sitting) clicking Neehar who is in turn being clicked by Ashwin and then all of them are being clicked by me. I wonder if we all were in someone's frame as well! A media trip means that there would be plenty of cameras and plenty of clicking.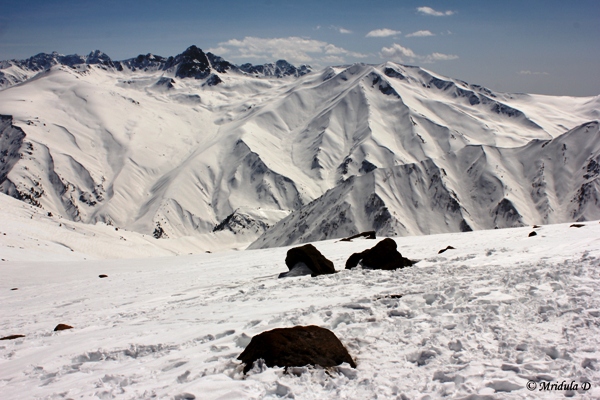 View at Level 2, Aparwath, Gulmarg Gondola
Aparwath was chilly because there was a stiff wind blowing. I was glad that I had my thick jacket. For a while I was content clicking pictures. Then the trekker in me wanted to walk up to the next bend. When I started walking, Mudassar joined me on the walk. I am sure he was worried about me breaking a limb by falling on the snow. I just slipped once but I did not fall. Thank god for the small mercies. He then told me about the concept of Heli Skiing. So in Heli Skiing people get dropped on the peaks by a helicopter and then they ski down! How does that sound to you? To me it sounded pretty incredulous.
We also had a long chat about Kashmir and its situation but it is going to be a separate post someday.