Panorama Route in the Mpumalanga region of South Africa is a spectacularly scenic drive. For me the first attraction was the road itself. On the route our first stop was Tufa waterfall and we ended up at God's window.
There are various stops between Tufa Waterfall and God's window like Bourke's Luck Potholes, Three Rondavels, Berlin Waterfall etc and all are nature's wonder. However the road is so enchanting itself. I was fascinated by the never ending stretches of the road. If I could have it my way, I would ask Sam (our driver for the day) to pull over every few kilometers. It is a pity that there was no chance of having it my way. And if you are from India or any other part of the world where traffic means nightmare, these open stretches and light traffic would be soothing to your eyes and nerves.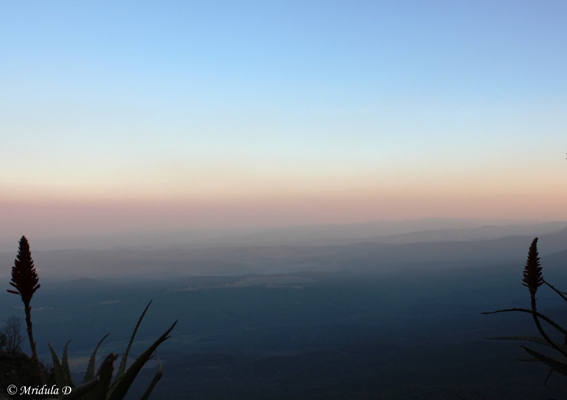 God's Window, Mpumalanga, South Africa
God's Window offers uninterrupted panorama, up to as far as eyes can see. It was a pity that we reached there when the light was fading. I had no tripod (and I could have kicked myself for forgetting it at home on a trip to South Africa) and these pictures are all I have to show. Well, if all that feels like an excuse to you, my photography skills are pathetic compared to the destination and what my eyes could see. It was pure grandeur.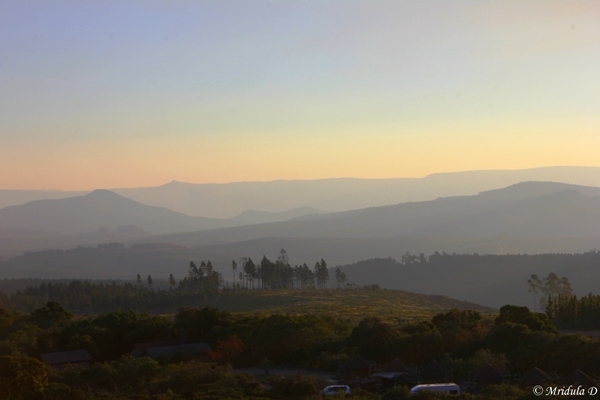 View at God's Window, Mpumalanga, South Africa
This picture was taken a little earlier when there was still some light. We walked through the car park to the various viewing points at God's Window. One of the viewing points involves climbing a few stairs. That was fun for our group. Someone counted the number of stairs too and told us they were more than 100. Some of my colleagues took this opportunity to quiz me about my treks after walking those stairs. Sam counted them as a way of digesting the excellent pancakes we had for lunch. This was the last stop for us on the panorama route. This was also the last major excursion we took in South Africa. I sincerely hope there is going to be another time for me, if not to the same exact place then to the country at least.
Panorama Route is an excellent way to get close to the nature. All the stops feature souvenir shops too, where bargaining is the rule.