Along with my husband and two nephews, I trekked in Goa, in the month of December through YHAI. The photo is of the Devil's Canyon and it is from an era when I did not have a digital camera.
Goa is a fabulous place but gets too crowded for words in December. But by trekking, we avoided the crowds most of the time. It was a first for both my nephews! They had never trekked before. For us too, we associated trekking with mountains and not with a place like Goa! So we went to Goa in December but with a difference!
There was a point on this trek when we got lost. The saving grace was that we got lost in a big group! My younger nephew, my husband and I got a lift in a truck for part of the way but Dilip my elder nephew had to walk it all! But the good kids they are, they never complained!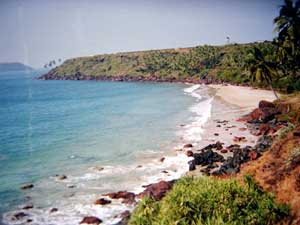 But then, I wrote about this trip and it got published at GoNOMAD's website. Do go and check it out. The story is narrated there in detail.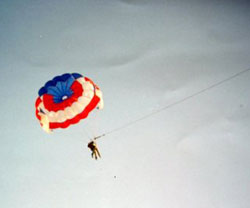 This is my first published travel story and I hope I will be able to write a few more. The best part is GoNOMAD pays for every article it publishes. I am relishing my experience and I thought I would share it on my blog too. Here is a short excerpt from the article-
For my nephews, it was quite an experience to walk through the dark and mysterious tunnels that they previously had crossed only by sitting inside a train. We arrived at Dudh Sagar waterfalls near midday. After spending an hour and a half at this scenic spot we went ahead. Further on our way was a huge pond where we sat by watching fish swimming in its shallow waters. From this spot our campsite was only one and one-half hours away.