I was sitting at the dining deck of the Ken River Lodge (on invitation by Pugdundee Safaris) after the evening safari at the beautiful jungle of the Panna National Park in MP India. My eyes felt good as they had seen a river, so much greenery and wild animals, birds and butterflies in the jungle.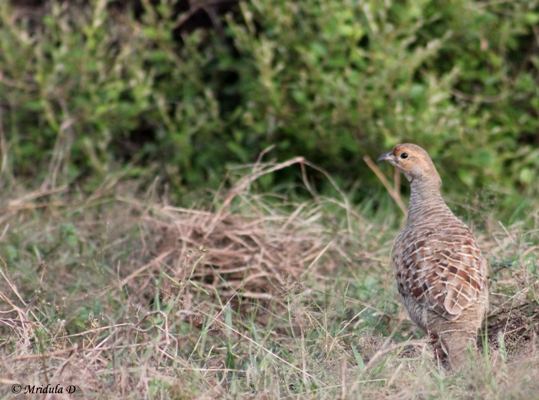 Grey Francolin, Panna National Park, MP, India
By the time I reached back to the lodge it was getting dark. All the guests were slowly converging on the deck for their dinner. None of us had seen a tiger and yet all the groups were involved in their own animated conversations, till someone decided to pay loud music on their cell phone, right in the middle of the jungle. And that loud music prompted this post. So why do we go to the jungle? Here are the types that I could identify. If you think I have missed out on someone do add them in the comments.
The City Brats: These days experiential holidays are a rage. Pardon me but I don't know what they exactly mean, for me every holiday is an experience. But apparently trekking is an experience, jungle is an experience and so is rafting. So these city brats decide to go to the jungle. Only they are very mystified why the lodge doesn't have high speed wifi and where is the air-conditioning? It would not dawn on them that they are miles away from civilization and procuring everything is an effort. They miss their own brand of marmalade, or whatever else they eat. By now they might be left wondering what is about this experience that others rave about? I try to maintain my distance from them and it is not difficult as they never manage to get up early. But I get pretty annoyed when they try to play loud music on their cell phones. Usually one of the serious natives (see below) come to our rescue to hush them up!
The Tiger Shooters: You will find them in every jeep. They are the ones who go to the Indian jungle to see just one thing- the tiger. They may find the most beautiful beautiful bird literally staring in their face but they will look the other way. The butterflies can be seen in the garden and that giant spider? Why should they even bother? Now there are two varieties within the tiger shooters. And when I say shooters I mean shooting with a camera. There is a nicer breed which is simply interested in tigers or other big cats. They really do not care watching other things but they respect the jungle, big cats are their personal preference. They also know tigers can't be sighted on a whim on their very first safari. One gentleman once told me he doesn't like bird watching because he has a poor eyesight. Tigers are easy to spot for him!
Then there is the second variety that wants to see the tiger, only the tiger, on their very first safari. If it does not happen the naturalist is an idiot who is out there to fleece them. They can get angry about the money they wasted while coming to the jungle when they can't spot a tiger. I have a suspicion that they can safely be merged with the city brats. I suspect the tiger or nothing is also the group that thinks playing loud music in a forest is a done thing because it is so quiet and boring out there!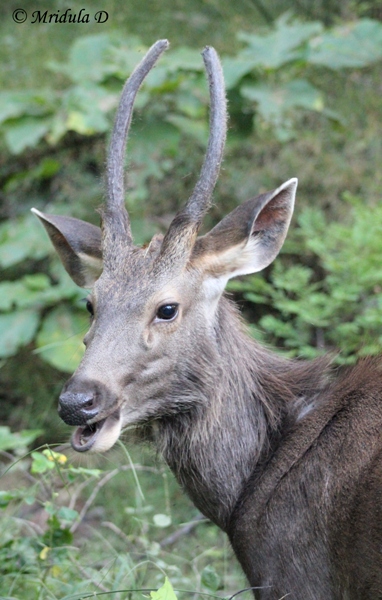 A Sambar Deer at Panna National Park, MP, India
The Jungle Dabblers: This is a group that lives in a city, tolerates the city somehow till they can run away to the jungle next. They go bird watching in their measly cities. They can name the common city birds easily. They like all things jungle. They want to see the tiger but they accept that it cannot be produced on anyone's whim and fancy. It goes without saying that they also enjoy the jungle a lot. But they are not the natives. Whatever commitments they have in the city, it keeps calling them back. They say bye to the jungle with a heavy heart, with a promise to come back again at the first opportunity.
The Serious Natives: You can spot one from a mile. The male of the species usually sport a beard. They would wear the proper jungle attire all the time. Their conversations are animated, they love their forest and they try to live by it. Some of them are pretty young and become naturalists with the lodges. These young boys (for usually they are boys only) are not scary. The jungle dabblers can get along well with them. But the more serious natives (usually the bearded ones) have such a fervor in their eyes and such a forbidding look about them that they scare away the dabblers. They seem to be frowning at everyone and everything who is not following the proper jungle etiquette. And they define what is proper in a jungle! But they have their use. More often than not they are the ones to tell the city brats to keep that cell phone on silent mode, let alone playing loud music on it. They are the ones who would hush that screaming girl when 14 jeeps full of people are waiting with baited breath for that elusive tiger.
So why do you go to the jungle? Which type of jungle dweller are you?