I am fascinated by the bright colors people wear in Rajasthan. One theory is that they wear such bright colors to compensate for the bleakness of the landscape. I am not sure if it is true or not. I also doubt if the same chatak (Hindi for bright, only it has more flavor) colors would look good anywhere else but Rajasthan. It is not easy to do photography next to water with Chhavi. But I did manage to catch a few at the Ghats of Pushkar Lake in Rajasthan.
I visited Pushkar a few months back and I had another media person with me, Ambica. She was very fond of this shade of pink. Both of us wanted to buy duppatas in the same shade of pink. But we never found it. One of these days I am going to ask one of the ladies wearing this shade to tell me from where do they buy it.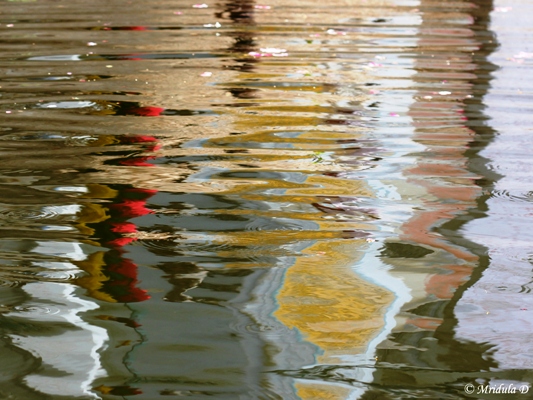 Colorful Reflections, Pushkar Lake, Rajasthan
Then there were the reflections in the lake. The flashes of yellow green and red on the left side were from the women standing on the ghat. Chhavi was sitting on the bank and kicking in the small pond accentuating the waves.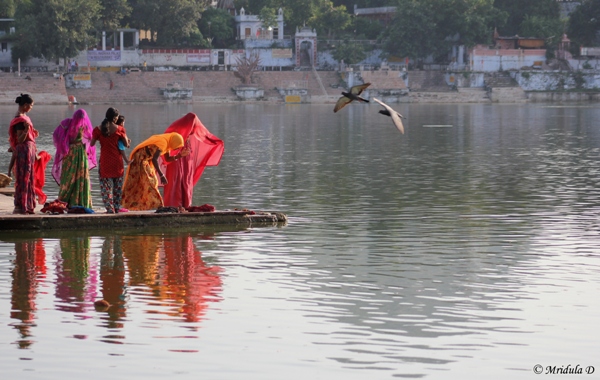 A Riot of Colors, Pushkar Lake, Rajasthan
Then on a far bank there was this group of women creating a riot of colors. They were quite far away but I was carrying every lens I own and they were there for a long time. So I could easily change my lens to 75-300.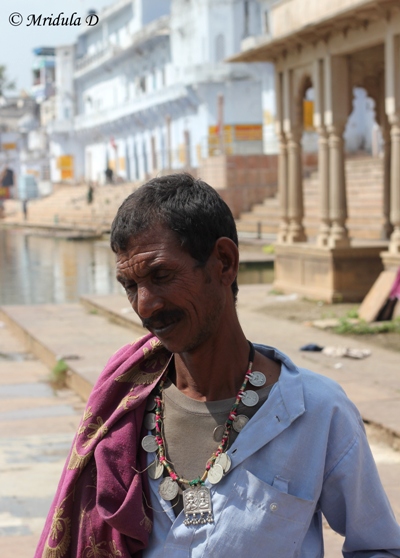 Chain for Men
This man was standing so close to me. His chain caught my eye. I have practically no fashion sense but still, this piece caught my eye. I was not sure how would he react if I pointed my camera at him. I don't know if he realized if I was clicking his picture. If he did, he ignored me royally, which suited me well. So if you have fashion sense what do you say about his chain? I thought it was cool, so was his purple shawl.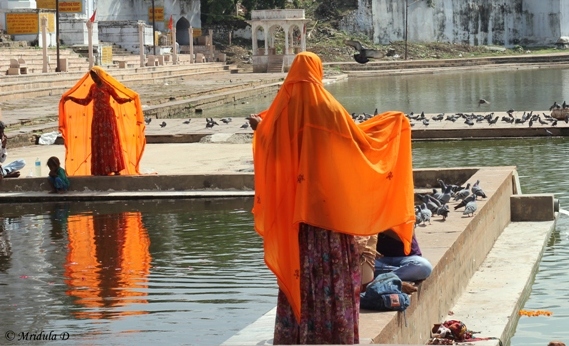 Flaming Orange at Pushkar Lake, Rajasthan
This was one time when I was not carrying all the lens I have. So I had to do with the one lens I had, 50 mm. The girls were trying to dry their orange duppatas after taking a dip. Even Chhavi liked this picture when I showed it to her on the camera display.