A day before the Oman Indian Roadshow 2015 I got a call from their office. Dency, the lady at the other end told me, "I want you to see how much Oman has to offer, and change the perception that it is just a desert." After attending the show yesterday night at the Hyatt Regency, I have to say they succeeded 100% in changing my opinion. In fact they have got me hooked.
Lubaina Sheerazi, the Oman Tourism representative gave a comprehensive presentation on Oman at the event. I found an old clip of hers on Youtube where she defines the vision of the ministry. Yesterday night she said, "Oman can offer you Arabian Nights in a modern context!" She also stressed that culture is an integral part of the experience and they cherish it. I got to experience a small part of the culture right here in India.
In the course of her presentation Lubaina mentioned frankincense and looking at the blank reaction of the audience she added, "people from the Christian fraternity would know about it."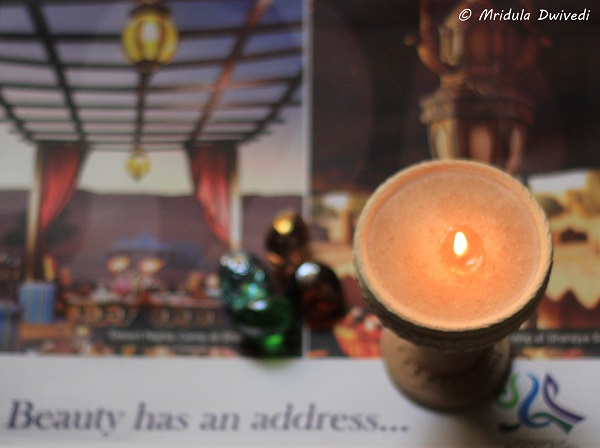 Today when I opened the information bag they gave to the attendees, I found a beautiful frankincense candle in the bag. Holding it in my hand made it so much more real. As I was one of those blank people, I went off to learn more about it.
*Frankincense finds a mention in the Bible as one of the three gifts given to baby Jesus by the three wise old men, the other two being gold and myrrh. I now understand the Christianity link mentioned by Lubaina. I read that is still burned inside the Vatican.
Made from the bark of Boswellia Sacra tree, it is said to have medicinal properties. BBC reports its use in cancer research as well. The tree is found in the region of Dohfar in Oman. The Oman Tourism website says for the people of Dohfar frankincense is life itself!
Humanity has known the frankincense tree since ancient times, and a special relationship has grown between the two. Frankincense is a symbol of life, or rather it is life itself, for the Dhofari people. It is not a mere tree, but an embodiment of culture, history, sociology and geography.
The history of frankincense trade makes for a fascinating to read as well. My introduction to frankincense has ignited my curiosity about Oman, the land of 'The Empty Desert', dunes, wadis, mountains, canyons, beaches and much more! I hope I get to go there one day.
* All the information about frankincense has been taken from the three sources (BBC, Oman Ministry of Tourism and Kew.org) linked in the post.
PS. I was invited to the roadshow by Oman Tourism.