How many times have you seen me doing a post on food? Almost zilch is the answer. My umpteen years of hostel food have killed all my taste buds. But this time at Suryagarh there was something about food that I could not ignore. So here I am, trying to pen some food thoughts. I have also been encouraged my reading The Young Bigmouth's posts on food.
This was my second visit to Suryagarh and even on my first visit I was impressed by food, I remember their dahi ke kabab quite fondly. They are still as good. But something has changed. Food has become a religion at Suryagarh now. And guess what? When I tried saying no to a few dishes, the young man who was serving me said, "Ma'am that is not possible, you have to taste the food!" And taste I did, a lot of food, much more that I ever ate in such a short visit.
For me this much food is enough for the lunch (sedentary life and all) . But the rice dish was part of nth course of the late lunch I had after I arrived at Suryagarh. And when I tried to say no to some of the dishes you know what I was told! I should have actually clicked all the courses and I could have done a post with 50 different food items at least.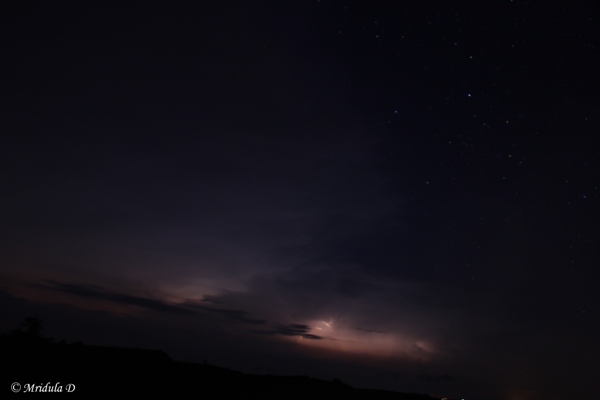 Evening Drinks at a Hillock in Jaisalmer
At Suryagarh they are an expert at arranging for drinks and food at exotic venues. So our wine and cheese platter was served on a hillock, which was a short drive away from the hotel. There was a musician too. Sometimes life can be good. I could have sit back and enjoyed. Instead I tried to capture the lightening and the beautiful night sky along with a glass of wine. I have not given night photography a serious thought till now.
I often get to exercise my camera only on my trips. So, here I was instead of sitting and enjoying the breeze, wine, cheese, and music (in that order) I was struggling with a tripod, f stops, and manual focus. And to top it all even the best picture that I managed to capture (squint and see that faint lightening) turned out to so flat. I should have left the camera at the hotel and enjoyed the drink (the voice in my head tells me not happening).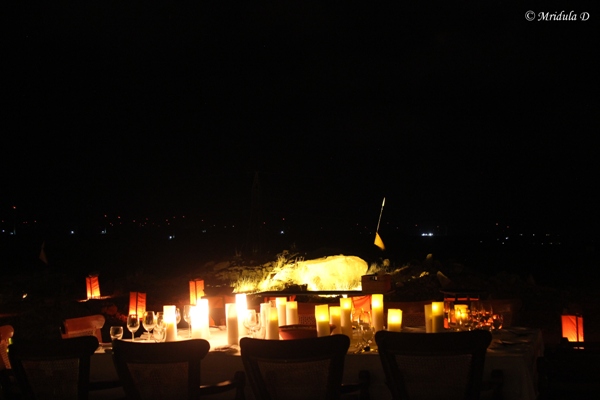 The Dinner Setting, on Day 1 at the Hillock near Suryagarh
While I was roaming around the premises earlier in the evening. I saw many hotel staff walking up and down the nearyby hillock. It dawned on me quite late that this was actually our dinner venue. And this was not all.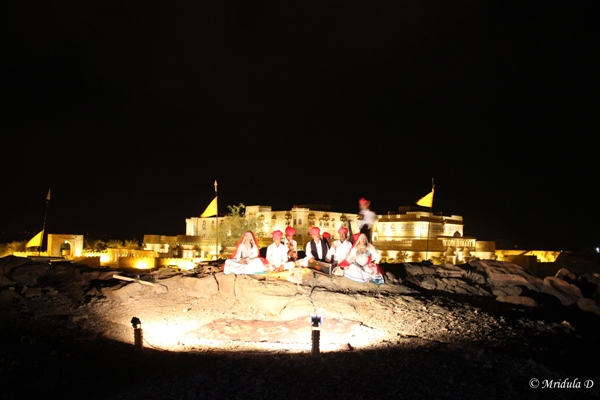 The Musicians at the Hillock with Suryagarh as the Backdrop
There was music by Mr. Mehboob Ali and his group. You can see Suryagarh in the background. The food was more than 2 hour affair which was course after course after course of good food. And guess what it was not over, after food we went on the haunted trail.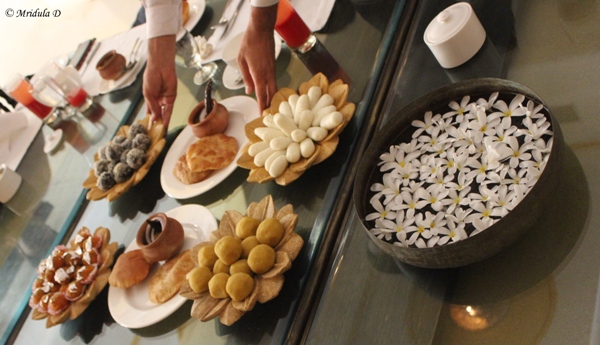 The Halwai Breakfast, Suryagarh, Jaisalmer

The next day morning it was the Halwai breakfast. Have you ever seen so many sweets at a breakfast ever? And guess what? I have a sweet tooth too. Yet I had only one bundi ka ladoo (sedentary lifestyle once again, when I was active in sports I would eat as many as I could, I miss those days). Then what looks like Besan Ka Ladoo is not Besan Ka Ladoo. It is bundi ka ladoo only, beaten to pulp and then disguised as besan ka ladoo. There were seven women bloggers and one woman PR personnel and we shared one disguised bundi ka ladoo between us. Nakul, the operations manager at Suryagarh said it was a pity that 8 of us could not finish one ladoo!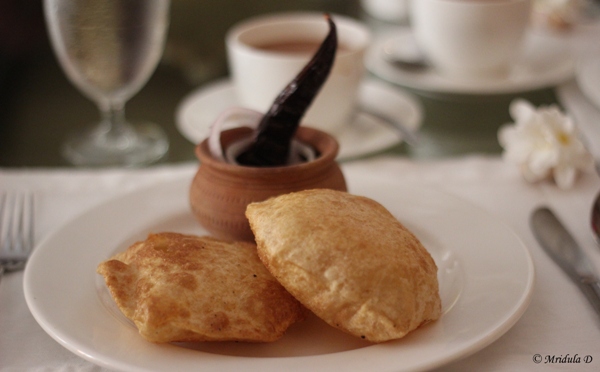 Puri and Chana
I can't remember when was it last that I had puri for breakfast. Sure it is deep fried. But so what. I told all the calories to be damned and gobbled it up. It was good, finger licking good. After many hours of eating breakfast we set out for exploring the temple trail (see here). We converted it into a exploration around the Desert National Park. That way I finally managed to skip lunch and I was happy for it.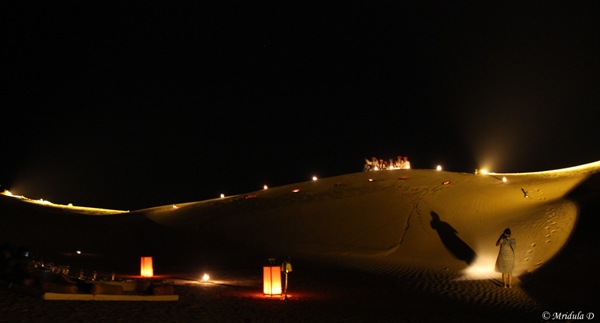 The Dinner at the Kanoi Sand Dunes
This was the setting for our dinner on the second night at Kanoi Sand Dunes. Do I say anything more? It was a Rajasthani dinner and the kadhi was out of this world. The music was out of this world and the setting was out of this world. Looking at this shot I am thinking I need to give night photography a serious try!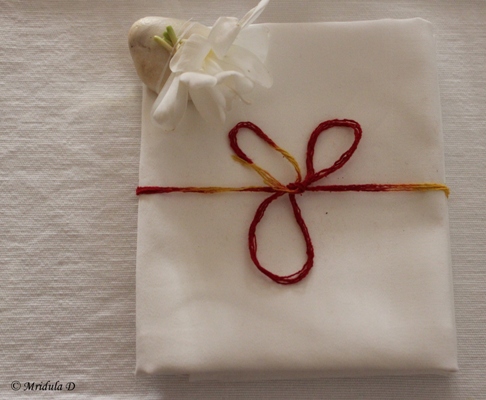 The Napkin Setting
Next day I again managed to skip breakfast. I went to my favorite place instead. I convinced Karan, the GM of the property to let me do so. That he agreed was a small miracle.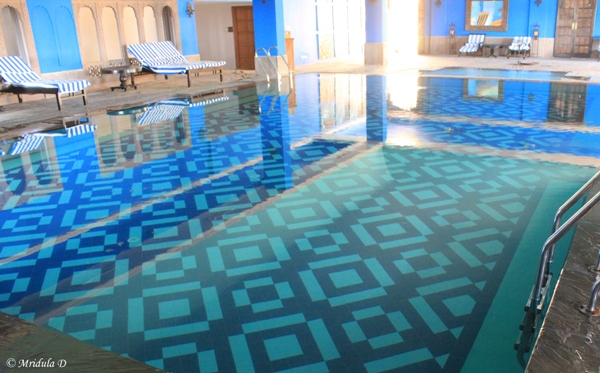 Swimming Pool, Suryagarh
My favorite place was the swimming pool. I managed to swim everyday while I was there. Even then I am sure I gained every kilo back that I lost on trekking. Most of the times I had the swimming pool to myself. Once there was a music concert for a few foreign guests was going on. So that is the connection between the swimming pool and food at Suryagarh.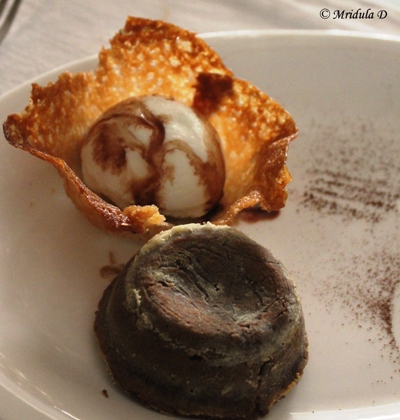 Desserts in the Desert
This was the very last bit of indulgence at Suryagarh. It was as delicious as it looks. I am not an ice cream person at all but I finished the ice cream. Enjoyed every bit of it. With this I come to an end of the food odyssey. In the end I did enjoy doing this post.
Late next week I am heading out to Thailand and Cambodia courtesy Tourism Authority of Thailand. And this time I am looking forward to doing a food post from that trip too.