What do I say about food? Food should be an integral part of travel but if you have been following my blog you can see that I hardly ever talk about food. Food and me, food is not my forte! There are many reasons for this. I will tell you my food story along with the food from Narendra Bhawan, Bikaner.
I have stayed for long in hostels, with bad mess food. Then I'm a vegetarian too. Gradually I realized that the world is not a vegetarian place, in India I am spoiled for choices but it is not true for other corners of the world. I have to admit it is getting better with time, as more people are turning vegetarians around the world. But with bad mess food which killed all my taste buds and vegetarianism, I hardly ever talk about food. But then I click food pictures diligently, almost of everything I eat, only I do nothing with it.
At Narendra Bhawan (and Suryagarh) they feed you a lot of good food and it would not be fair to keep all the food pictures to myself. So for starters, I am making a collage of the food I ate at Narendra Bhawan, Bikaner. Mind you, I ate much more. There was a gala dinner where my phone was dead, the power bank was dead, so I clicked no food pictures. I missed out on clicking a lot of drinks that I consumed! What you see above is some of the food I ate! And I ate it all in my 3 night 4 days stay. You can see that it is a lot of food!
In my daily life I am a light eater, the food at my home has hardly any spices or oil. Then suddenly on my travels, I eat a lot of rich food. I am a big fan of desserts though, even at home. I have a huge sweet tooth.
I learned the art of not finishing everything on my plate (only when I am on trips) simply because my stomach cannot take it! But I finish almost all my desserts (both home and away).
And while I am traveling I do not exercise much. If the itinerary includes a lot of walking, I am happy. But there are times when we travel by car, get down and walk a little and then sit down to eat, again and again! How do I keep myself healthy is a big question, to which I do not have a good answer at the moment. I am one of those people who can't live without sleeping a lot. So I never manage to go to the gym while on a trip.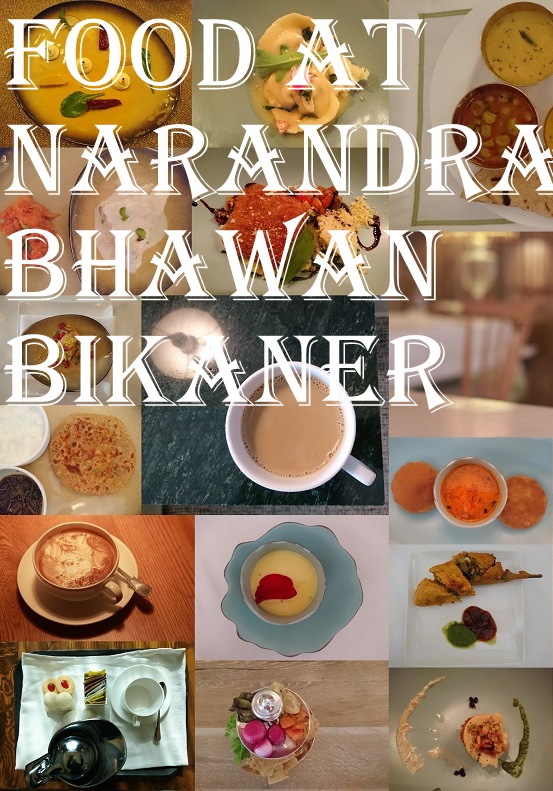 But here I am, I started with all the intention of documenting the good food (or at least some of it) I ate at Narendra Bhawan, Bikaner and I ended up discussing mess food, vegetarian food and my health. But this is a start, I have at least talked about food. Now the trick is to make it a habit and do it after every trip!
PS. I was invited by Narendra Bhawan to Bikaner as a blogger.