On my recent trip to Israel I was flying Mumbai Tel Aviv Mumbai with El Al, the Israeli national carrier. It was my first flight with El Al. If I will remember one thing from the trip, it will be the level of security they deploy. At the outset, let me state very clearly, I understand. I am not complaining, at all. I am just telling the tale, with a smile on my face!
When you wish to board a plane what do you do? You get inside the airport, you queue for check-in and you get the boarding pass, right? Wrong if you are flying El Al. The area for check-in is roped off. You stand outside the rope and staff attends to you individually. They ask you to answer a long list of questions. In my case my visa clearly said 'invitation by Ministry of Tourism.' I still had to answer a lot of questions. Some of them were- how many countries you have traveled to? How did you find the PR firm that invited you to Israel? For the first time in my life I said, "it is the other way round, the PR firm found me, my blog is popular!" The lady asking the questions went away with my passport finally to a hefty guy (with 'don't mess with me' itched on his face) who nodded his head. I was then allowed to proceed to the check-in queue. Truth be told I was rattled by the questions simply because no one else does it. I was not expecting it.
The check-in was relatively easy and straightforward. Almost all airlines ask if you packed your bags yourself, so did El Al. However they asked me to report at the gate half an hour early for security check. I was wondering what more security checks were there! I was curious now.
I was flying out from T2 at Mumbai for the first time. The airport looks impressive but their immigration was a pain. It took me hours to clear it. Mumbai Airport Security clearance took less time. Then I proceeded to the boarding gate for El Al.
How do other airlines board passengers? They ask the first and business class passengers to board at their convenience. Many airlines ask people who need assistance and those traveling with kids to board first. And then the general boarding starts. Not with El Al. While I was in the queue I heard people saying they had business class tickets and why were they not allowed to board? Apparently boarding was according to security rating.
This was my first trip to Israel and I was flying economy. I had to undergo another check at the boarding gate. They took out almost everything from my hand baggage (and I carry a lot of electronics) and passed it through a scanner. They did this to every bit of chargers, cords, power banks and what not. Then they asked us to sit. There was water and chips for us. After a while we were asked to board.
Some people found the procedure stressful. Someone said they have traveled to the USA and even they do not do so many checks. I didn't mind at all. It had a lot of novelty value!
I was given a paper by the Ministry of Tourism to show to the security at the Ben Gurion Airport at Tel Aviv on my return. The security is tight at Ben Gurion too but I thought they were extra conscious at Mumbai. Maybe at Tel Aviv everything is under their control and they feel more confident about the security measures.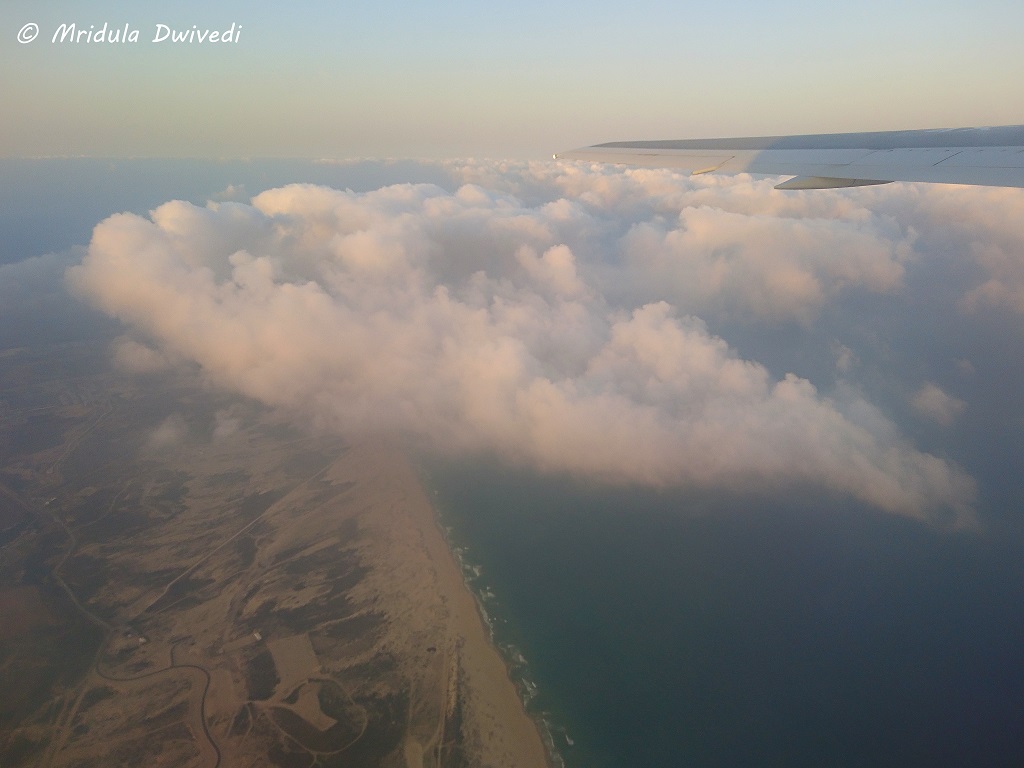 Once inside the plane, the flight was like any other flight. In the Mumbai Tel Aviv Mumbai sector you need to download the entertainment app on your phone to watch movies. I did it using my mobile data after boarding the plane. You need your head phone too as the app mutes the voice automatically. The headphones on the plane are quaint. They barely worked with my phone. The plane was old but clean. There was a blanket on the seat and I used it in the flight.
I watched three Israeli moves through the app- Apples from the Desert, The Band's Visit and Sodom. If you use Netflix you can watch The Band's Visit, it is a beautiful movie.
The food was OK. On the Mumbai-Tel Aviv flight they gave me vegetarian food. But on the Tel Aviv Mumbai flight I was not booked as a vegetarian and I got almost nothing to eat. I only got an energy bar. I had to ask for the tea and water to be given to me as it was vegetarian anyway.
Other than not getting vegetarian food my flight back was fine too. On board the El Al promotional video says at a point "El Al it is not just an airline, it is Israel!" I think I understand the sentiment!
PS. I was invited to Israel by the Israel Ministry of Tourism