I am not much of a spa or pedicure, manicure person. I have never had a facial in my life till date. Thailand and Cambodia are full of massage parlors but I was not really looking for a massage. I have been to a few spas in the course of my travels but I really do not seek them out.
We had one night in Cambodia and after the official dinner hosted by Ministry of Tourism Cambodia, many of us decided to give the Pub Street and the Night Market a try.
Sankara (of the Be On the Road) was our unofficial guide, he has extensively traveled through South East Asia. Once we got to the pub street in various tuktuks, it was time to regroup and explore the area. Some of us found a watering hole quickly. Lakshmi and I decided to take a stroll. And then I spotted them, the fish massage tanks. Almost every shop had one! It went for 1 dollar for 10 minutes. In Siem Reap every shop will accept US Dollars.
The price was right, the amount of time was right but I am slightly phobic to all kind of animals. However there was not much to lose so I decided to give the fish foot massage or pedicure if you like, a try.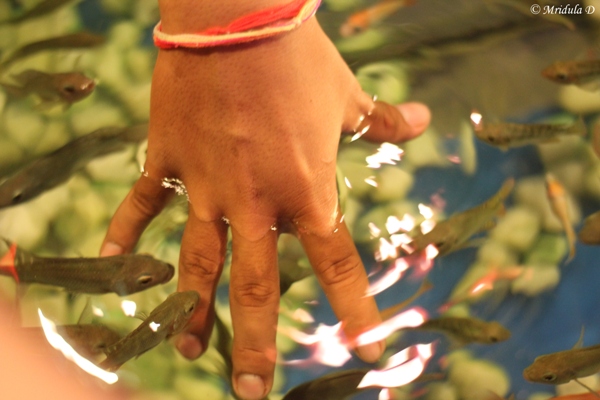 The Fish Spa Tank
There were two tanks. One had slightly bigger fish than what you can see in the picture above. The young boy who was handling the tank wiped out the water from the ledge of the big fish tank and I was all set.
As soon as I put my foot in the big fish tank I let out a big yelp of surprise. The boy came running and asked me to try the small fish tank instead! I was out of the big fish tank pond in less than 30 seconds. It was just not for me! I lasted less than 10 minutes at the small fish pond too. I can't remember when I last giggled so much and drew such attention to myself! I usually do not like attracting attention, I guess it is a part of my Indian upbringing. But I screamed and giggled to my heart's content. I was not even aware that Lakshmi was clicking my pictures!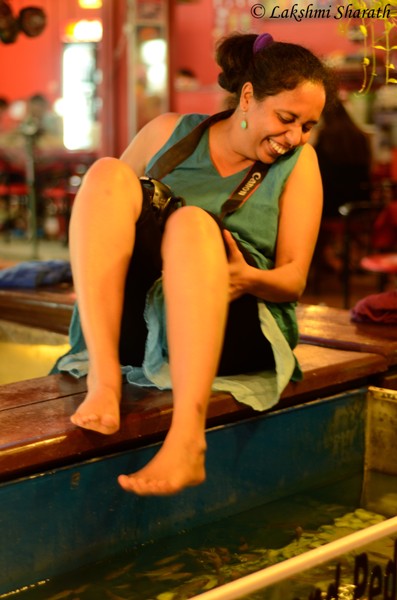 A Giggling Me, Siem Reap, Cambodia
The whole pedicure experience went like this. I would gingerly lower one foot in the water tank, keeping the other on the wooden ledge. I would then start either giggling or yelping! I would pull out my foot within a few seconds of lowering it! This was repeated I don't know how many times. At one point someone else put their hand down in the tank (the second photo) to show it was safe and I immediately came to my senses and clicked a picture. But when it was my turn, I gleefully created all kind of fuss. I didn't like the tickling sensation the fish created. I tried my best to brave it but it was an utter flop as far as the pedicure was concerned! I hardly ever kept my feet in water!
In less than 10 minutes I decided this was not for me. It was fun trying, I had a gala time creating a ruckus and a riot (which I normally don't do) but the actual fish pedicure is just not for me! While doing an internet search I also saw some health warnings but I am only passing it on to you. It is not the health warning that will deter me from trying it out the next time, if there is ever going to be a next time! The whole experience was a laugh riot and so much fun. But I don't like that ticklish fishy sensation one bit!