On and often people ask me how do I get to go on many FAM trips for bloggers. And before you wonder FAM is a short form for familiarization. They are know by various other names like media trip, junket etc.
There is a short answer to it and there is a long answer to it. The short answer is that I am an awesome blogger 😛 However, since you already know that I am sure you are more interested in my long answer 😀 So here I go.
I have a Bit of a Head Start
Go to my archives, the link is in the sidebar just above the Facebook like widget. Scroll down and see when I started blogging. Tell me the answer in the comment box if you wish, that is why I say I have a head start (which also means I am old).
However, in that era there were no freebies. We blogged because we wanted to. Things changed over the years, and FAM trips happened. However, I have seen people getting established quickly too! So if you have started recently it doesn't take away anything from you!
Check Your DA and PA
DA stands for domain authority and PA stands for page authority. It is determined by a company called MOZ. For a lot of services you have to pay to use MOZ but you can check the scores for free. The good bit it you can check it out for any site, including mine. So go ahead and have fun comparing all the sites you want. The higher your DA the better it is. Maybe the people who invite bloggers for FAMs check it too?
And while we are talking about authority there is Alexa too. Once again you can check it out for any site, but here the lower it is, the better it is.
There used to be Google Page rank but looks like Google no longer puts emphasis on it. Also, all these figures change frequently.
A word of caution though, if you put a .blogpost domain chances are your DA will be 70 (at the moment) which could be due to the generic blogspot domain having a DA of 70!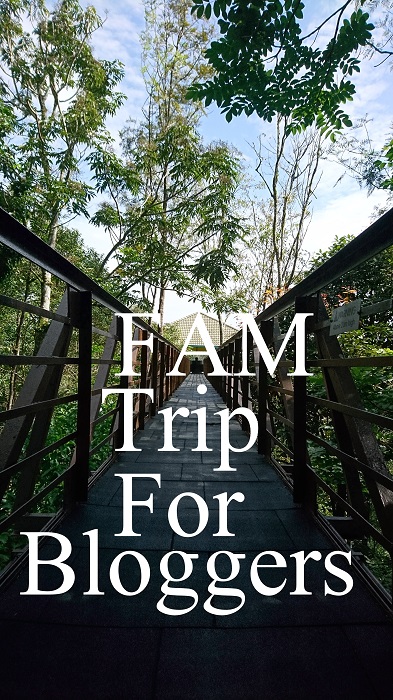 Install Google Analytics
Google Analytics gives us an idea about the traffic we are generating for our blogs. It does a lot more but to start with, knowing the total number is good enough. If you are curious you will anyway figure it out. But you can only check your own analytics and not of other bloggers. Companies ask for the traffic figures and most of them go by analytics.
Social Media Platforms
In addition to blogging data, sponsors usually ask for the number of followers at Twitter, Facebook and Instagram. So it helps you have a following on those platforms as well. Once again if the user has not kept their profile private you can check anyone's numbers.
Learn Some SEO
I resisted it for a long long time. I still do not know much, but I am better than before. Learn a bit of SEO. It can not hurt. It can on the other hand help in getting more traffic to the blog.
Be Professional
When you get invited, or when you are contacted for work, it pays to be professional. I know it is obvious but it is crucial to deliver on the results that you promised for. Acting up (behaving like a diva is closer to what I want to say) after the trip is over is not in your long term interest.
Also going back to the head start bit once again, it pays to be consistent too. There were many awesome bloggers when I started. But only a few kept at it. I am sure it is true for the present time as well.
In conclusion, none of the metrics work in isolation. A company may want a blogger with the DA (or Alexa) in a particular range but with X number of Twitter followers as well! And this is anyway an educated guess on my part about the matrices that may matter! In the end only the people who sponsor us can give a definitive answer.
I hope you will find some of the tips useful. And the next time someone asks me how do I get to go FAM trips for bloggers, I am going to send a link to this post as well!