Ever since I realized I have explored very little of my own neighbourhood, I have been trying to set it right. So, when I got a new phone, Infinix Note 4 to review, I decided to get out and explore, both the phone and a monument (Safdarjung Tomb)in my own vicinity.
Metro is my preferred mode of transport if I have to go to Delhi from Gurgaon. I got down at Jor Bagh Metro Station and exited from Gate 1. Then I powered up the maps on my phone. I realized that Safdarjung Tomb was less than a kilometre away. I was happy to walk that short distance. There is a decent footpath all the way along to the monument.
I located the ticket window quickly at the monument. The entree fee for an Indian visitor is 15 rupees. It is 200 rupees for a foreign visitor. There is a videography fee but no photography fee at the monument. I didn't bother much about the photography fee as I was not even carrying my DSLR. Sometimes it is fun to travel light and shoot just with the phone and I was looking forward to test out the Infinix Note 4.
The display is large, 5.7 inch to be precise. It is easy to hold, never gave me the feeling that it will slip out of my hand. I received blue colour of Note 4 and the design feels so premium with metal paint finish. Hence, I quite like it when a phone doesn't feel slippery in my hands.
But before I go ahead with this story it happened again. I confidently plonked 15 rupees, the exact change, at the ticket counter. The person on the counter looked at me, then at the money. I looked at him and then at the money. This went on for a few times! Then I laughed and said in Hindi, "Sir which IDs do you want to see? I have many". He also smiled and gave me the ticket, somehow convinced that I am not a foreigner.
Once inside, I got my phone out and started clicking away. Infinix Note 4 is an easy to use, fun phone which runs on Android. It uses Android Nougat with a customizable XOS UI layer for enhanced user experience. For me it worked well as I could easily find the most used apps.
Another thing I would like to mention here is the fact that an Infinix Note 4 has multi-slot 2 SIM card slots and 1 SD card slot for expanding the internal memory of 32 GB storage for a shutterbug like me. Definitely welcome with the number of photos and videos that I take.
The monument was not at all crowded on a Monday, which was a pleasant surprise. The crowd consisted of mostly couples and friends. I spotted only two lone warriors, a foreigner lady and me!
Mirza Muqim Abul Mansur Khan, popularly known as Safadarjung, was an independent ruler of Avadh, ruling in the name of the Mughal King Muhammad Shah. With the death of Emperor Muhammad Shah, he came back to Delhi. When Ahmed Shah ascended the throne of the Mughal Empire in Delhi in 1748, Safdarjung was made the Chief Minister of the empire.
As Vizier he had taken all powers under his control, the king being reduced to a mere puppet. But he overestimated his powers with the result that the Emperor's family called the Maratha confederacy to help them get rid of Safdarjung. A fight ensued. In 1753 Safdarjung was driven out of Delhi. He died soon thereafter in 1754. After his death his son Nawab Shujaud Daula requested the Mughal Emperor to erect a tomb in his father's memory in Delhi. That is how the Safdarjung Tomb came into existence in 1754.
Today there is immense traffic on the road right outside the monument. But once you enter the premises, the place is still an oasis of peace, with well-kept grounds surrounding it. The tomb is at the centre of the building on an elevated platform. There are gates leading out from all the four sides. I climbed down through the stairs to explore the grounds as well. I was happy I was walking light with just the cell phone in the hot weather.
I walked around the monument, admiring the symmetry on all the four sides. I then spotted that one of the water fountains still had some water in it. There were steps on the side of the well, so I could walk down easily. I got out from there only when I could feel the sun burning my already badly burned skin to a crisp!
I played with all the filters on the phone on this scene. Infinix Note 4 gives you a live preview if you click on the filter option. It makes choosing the right mood easier. The camera tracks motion while you focus. You need to be aware of it or you might end up with blurred shots.
The phone has a 13 MP rear camera and an 8 MP front camera with flash for both. I rarely use flash for taking pictures as the flash washes out all the details in a picture. I hardly ever take a selfie but if you need flash for your selfies Note 4 has it all.
There is restoration work going on the premises. I chatted a little with the people working there. The lady was holding 4 bricks while I was talking to her! I asked if I could click her picture and she readily agreed.
Most of the labor was from UP, my own state. Then I saw the little one on the ground with his father. They too were happy to let me take a picture. I find that people are less intimidated by a cell phone when you approach them for a picture.
I loved the fact that Infinix Note 4 has long lasting battery, 4300mAh to be precise. I used it for 8 hours and it did not trouble me at all. I was not even carrying a power bank with me! The phone charges fast with the original charger. It has a unique Xcharge Technology with 18W Fast charger which enables you to charge more in less time.
The Safdarjung Tomb #Delhi pic.twitter.com/oYthdsOmh4

— Mridula Dwivedi (@mridulablog) October 23, 2017
I made a small video too, just to see how it comes out. While I have done very little work with videos, I liked what I saw. If you are looking for a smart phone priced at under 10K with power packed features, you should definitely go for Infinix Note 4.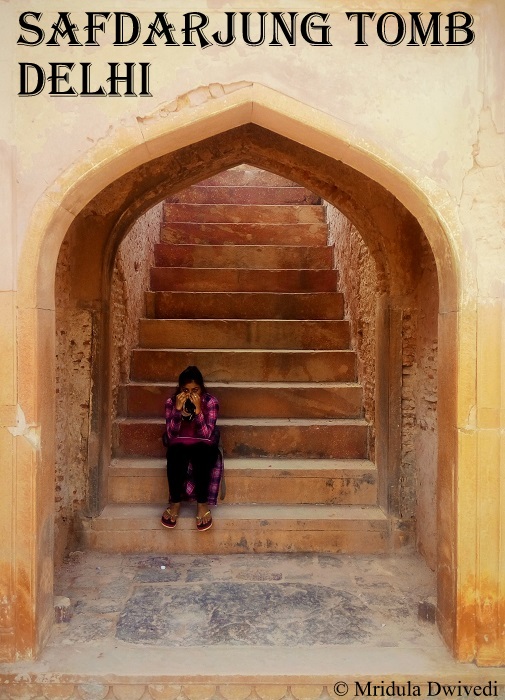 While I was walking back to the metro station, what I found most heartening was the cleanliness of the monument. The premises are clean and the graffiti is less on the walls. This is how our monuments should be; this is how our country should be!