I never thought exchanging Indian rupees would turn out to be such an adventure in Sri Lanka. I was carrying Indian rupees and some British pounds left over from previous trips to UK. I have a credit card and a debit card that work internationally. I thought this was enough for me to survive in Sri Lanka. I was right on every count except for the ease of changing Indian rupees. I am a little surprised as Indian rupees exchanges favorably with Sri Lankan rupees. You get anywhere from 1.90 to 2.20 Sri Lankan rupees for every Indian rupee.
Our first stop for trying to change the Indian rupees was the Bandarnaike International Airport . My nephew went in search for the hotel taxi that we had booked and I went to exchange money. I casually said, "can I change some Indian rupees?" And I was really surprised when I got to hear, "Sorry ma'am we don't change Indian rupees, you can change it in the city." The problem was we were not going to the city but straight to Unawatuna. Then I asked him to change some British pounds and that he readily did.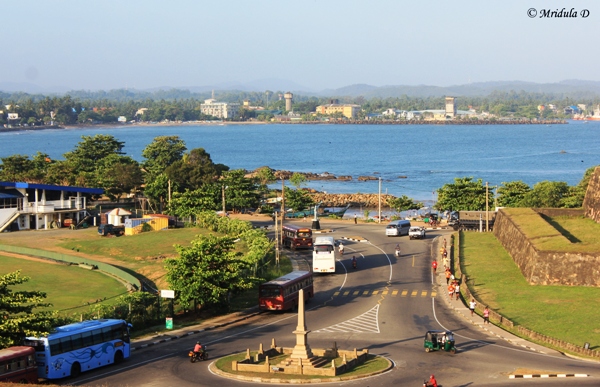 Galle, Sri Lanka
Galle is a big city near Unawatuna, it is approximately 8.5 kilometers away. We headed there on our second day and we were having a late snack in a restaurant near the fort (which is ruins of the fort actually) area. We asked if we could exchange Indian rupees anywhere in the city? And the young boy who was waiting on our table said he would exchange it but only 5K, they didn't have more than that at the moment! I was reminded of Shantaram and the illegal money trade in Mumbai but I did went ahead and exchanged the money. We got the rate of 2.20 and I was not complaining.
Then my nephew tried to change the money at the bank at Unawatuna and once again he was told that they would exchange pounds but not Indian rupees! I wonder what was the reason. Informally we were told by many people that the jewellery shops would exchange money. I wonder why this was the case.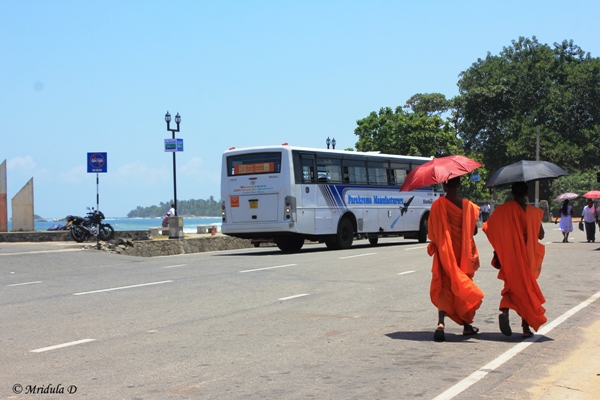 Matara, Sri Lanka
Our last try was to try and exchange money at a jewellery shop at Matara, another big city but we once again got a blank. They told us of other places that would exchange Indian rupees but we had money so we did not try any further. In the end my nephew did exchange Indian rupees at a jewellery shop in Unawatuna but overall this made for a strange experience.
I don't think this would happen in a city like Colombo but it is beyond me that the airport and the bank didn't exchange Indian rupee when a lot of cars/trucks on the Sri Lankan roads are Indian!