After completing my Everest Base Camp trek in Nepal, I have been asked a few questions by friends and through email sometimes. So I decided to make a post of FAQs. That way I can refer to this page for some questions at least.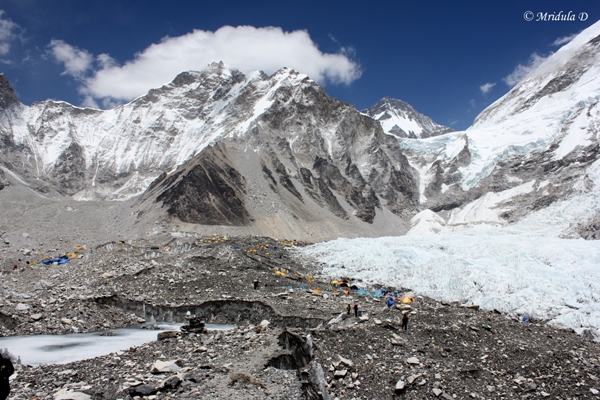 Q1. How should I prepare for the trek?
This is my personal take but I feel it is better to be fit than just turn up. Having said that I didn't had much time myself but I just walked for 45 minutes every day for two months. But I have trekked previously and used to be pretty active in sports up to a point in my life.
Q2. I am 30, 40, 50, 60 whatever, am I too old to do this trek?
I don't think so. I saw people well into their 60s doing it and walking much better than me! And remember the oldest lady to climb Everest was 73 when she did it.
Q3. Should I do this as a first trek?
This was not my first trek. However I met people who did this successfully as a first trek. I personally feel do an easier one first and see if you enjoy it.
Q4. Did you use Diamox?
Personally no, I have never used Diamox on any of my treks. So I can't really comment on this one.
Q5. Will I get Acute Mountain Sickness?
I have been lucky, I never got it. I have been thoroughly uncomfortable but I never had AMS. If I get it I will surely head down and not risk my health. At Gorek Shep I had head ache and I would wake up every 15 minutes at night because I would get breathless. But nothing worse than that.
By going slowly and taking plenty of fluids you increase your chances of not getting it. But then seek a doctor. I am not a professional to say anything beyond what is common wisdom.
Q6. Can I trek as a solo women?
When I say solo I mean me with a guide. I did and I never faced any problems. Only my fellow Indian trekkers would be a little surprised. But I went with an agency rather than picking up a guide randomly at Lukla. Recently Nepal government has been thinking of making it compulsory to trek with a guide or porter.
Q7. Can I drink the water locals drink?
I used chlorine tablets and used the same water as locals do. However bottled water is available throughout but the prices keep going up as we go higher.
Q8. Can I charge my gadgets?
Yes you can after paying extra to the lodge owner. The price goes up as we keep going higher.
Q9. What are the tea houses like?
The ones that I stayed at were basic but clean. Up to Namche Bazaar I had attached bathrooms. After that I used shared bathrooms. The food was good and people friendly.
Q 10. What about hot water?
You get it if you pay extra and you know by now, the prices increase as you go up!
Q11. Will my flight take off from Lukla?
No one wants to get stranded after getting back from the trek but Lukla flights are weather prone. They will not take off if the weather is bad. I was lucky I was not stuck but I know someone who was for 4 days.
Q12. What if I do not want to fly in to Lukla.
The nearest road head is Jiri which is roughly 8 days of trek from Lukla one way.
Q13. Will I see Everest from Base Camp?
No the base camp is too near to give you a view. However you can see the top of the Everest from Namche and when you are walking to the base camp. The best views are from Kala Patthar. The sun rises over the Everest so the best light over the peak is in the evening. But in the evenings many a  times clouds will rule.
Q14. Is the view from Gokiyo Ri better?
I have not been to Gokiyo Ri but my guide has trekked to both the places and he says the views are very similar.
Q15. Can I buy a Sim Card in Nepal and will it work on the trek?
I used a Ncell sim which I could buy after showing my passport and giving a passport size photograph. It worked at most places except for Dingboche and Lobuje. It worked from the Base Camp itself. I didn't try calling anyone from Kala Patthar as I was there at 5.00 am and anyone I would have called would have cursed me for waking them up!
Q16. What type of medical insurance should I take?
Take a better one than I had. Mine didn't had air rescue. Make sure your's covers helicopter evacuation.
Q17. How cold will it be?
I trekked in May 2012 and it was quite bearable. I would trek in a T-shirt most of the time. One day it was cold and I used fleece while walking too. I used a down jacket at night. But I get cold easily.
Q18. Do I carry a sleeping bag even though it is a tea house trek?
I did and I was happy for it. Only on one occasion I didn't find the linen clean and I was happy to use by sleeping bag. After that at every stop I would use it. But I had a guide cum porter so weight was not that big a concern. That doesn't mean my bag was heavy. My guide said my rucksack was lighter than his own!
Q19. Which trekking agency I go with?
I went with Above the Himalayas and they were recommended to me by an online travel forum called Indiamike. The cost of the trek will vary by the level of comforts you want. For example I stayed in a guest house instead of a 3 star hotel at Kathmandu. But there are many trekking agencies in Kathmandu.
Q20. Will you do it again?
I will certainly go back to Nepal but there are other treks to do. But I hope one day I will go back with my daughter if she wants to do it!
If I have missed out on something you would like to know, do drop me a line and I will try to answer that as well.
Please use these guidelines with caution. These are my personal experiences and I am no expert. More so if you need any medical advice please seek it from a qualified doctor.