At breakfast at Lobuje we were comparing notes and it looked like I was the only person who could sleep decently, my head ache was gone by now and I was really thankful for that. Today after all was the day when we were headed to Gorek Shep (5164 meters, 16942 feet) and the Everest Base Camp (5364 meters, 17598 feet)! Deepak was showing me the places on a map the previous night and Groek Shep didn't look far away! Even though Base Camp did look far away at least the height gain was not much, that meant it would be flatter to walk. But at these elevations anything felt tough.
We started off from Lobuje at 7.00 am so that we could reach Gorek Shep early, dump our luggage, have lunch and set off for the base camp! On the way to Grek Shep I was this big fat mountain mouse, not too far away from me.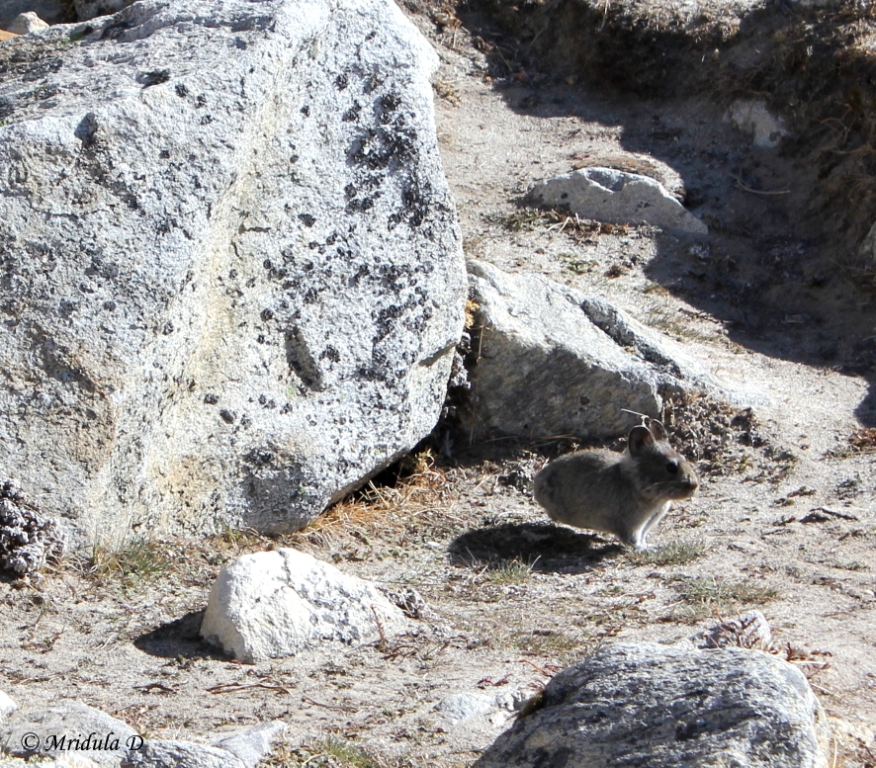 The journey to Gorek Shep was not too tough and soon I had a room again. This was one time when I did not flop on the bed after arriving but I went down to have a very early lunch and then head off to the base camp. I went to eat the soupy noodles once again with tea.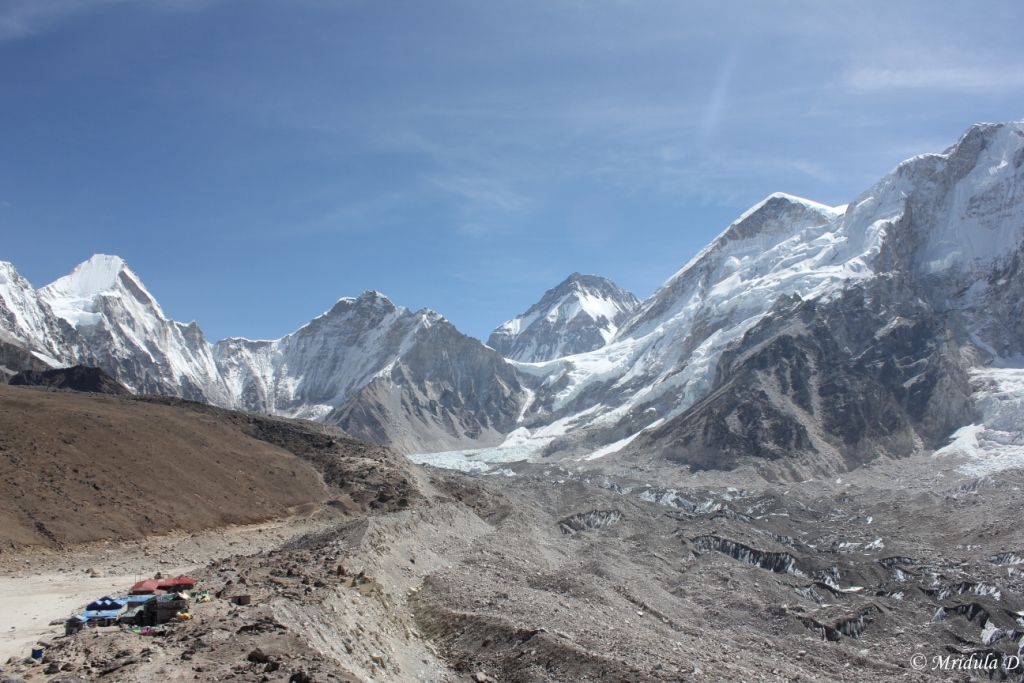 And soon it was time to go and try to reach the base camp. On some bends and curves Deepak pointed out the Base Camp in the far distance. The ice immediately ahead of it (part of Khumbu Icefall) didn't look inviting at all. But it was still quite far away and just like dots in a distance.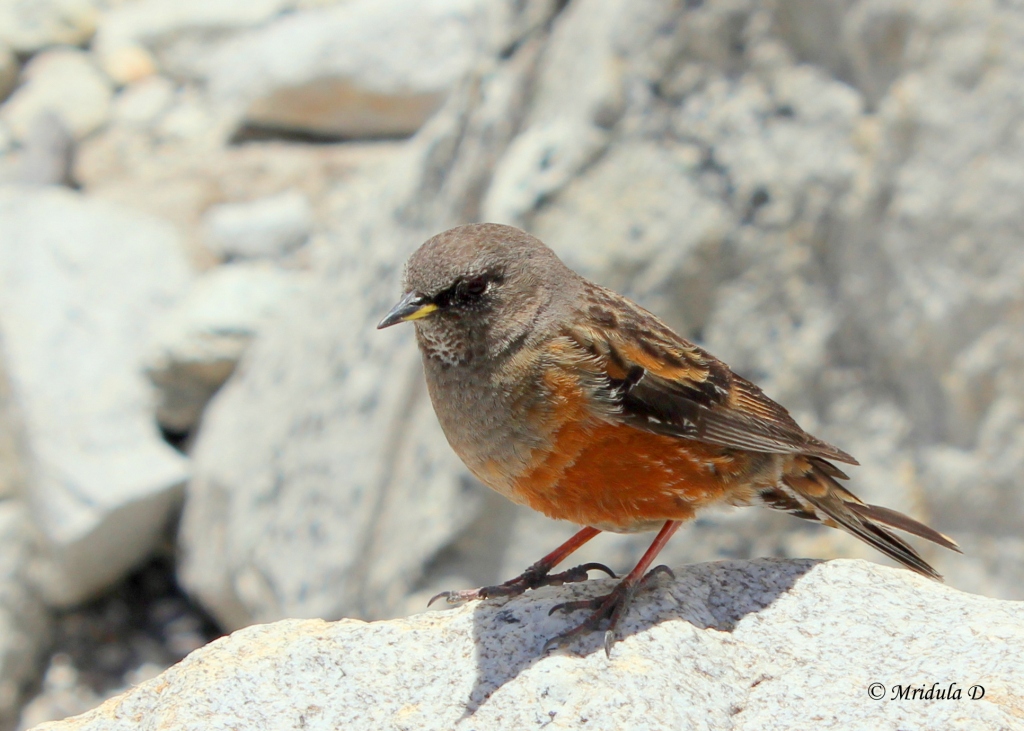 On the way I met this one brave Alpine Accentor bird that was not camera shy, this has been taken by 18-55mm lens and then cropped. You can imagine how close it allowed me to come. I could see much more ice and snow around me but thankfully there was almost none on the trekking path.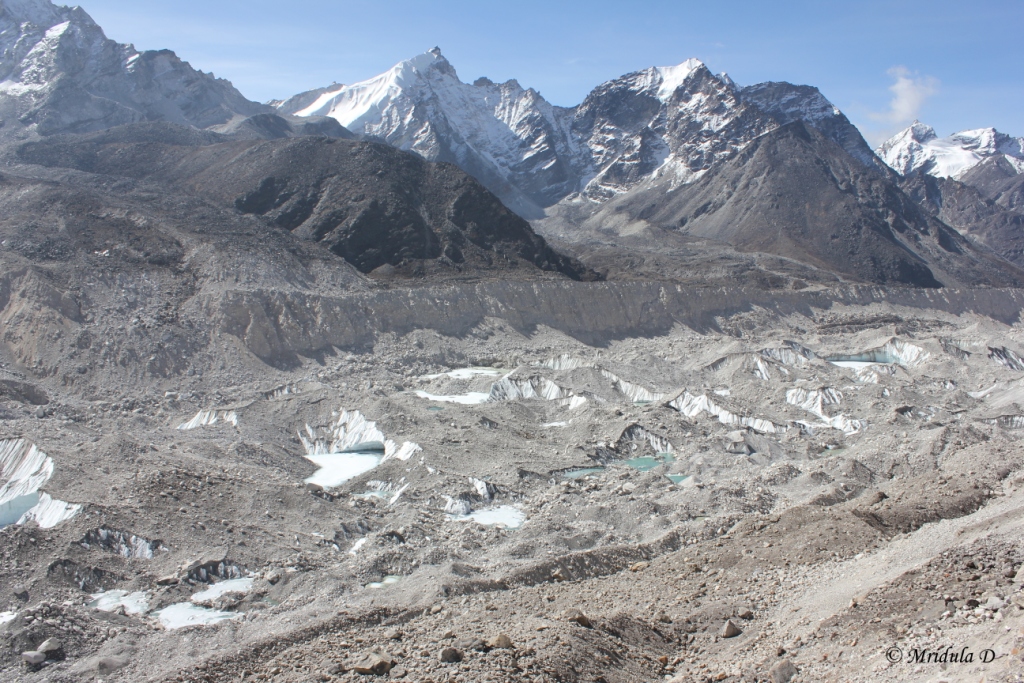 And then there was the trinity of Lhotse (left) with just a hint of Everest (center and looks lower than Lhoste and Nuptse here) and Nuptse (right). You know, before doing this trek when I would look at the pictures I used to think Nuptse was Everest because it looked the biggest. But as Nuptse is the closest to us on this route, hence it looks the tallest. And this is true from Kala Pathar too. I have not done it but I am told you get a similar view from Gokiyo Ri as well.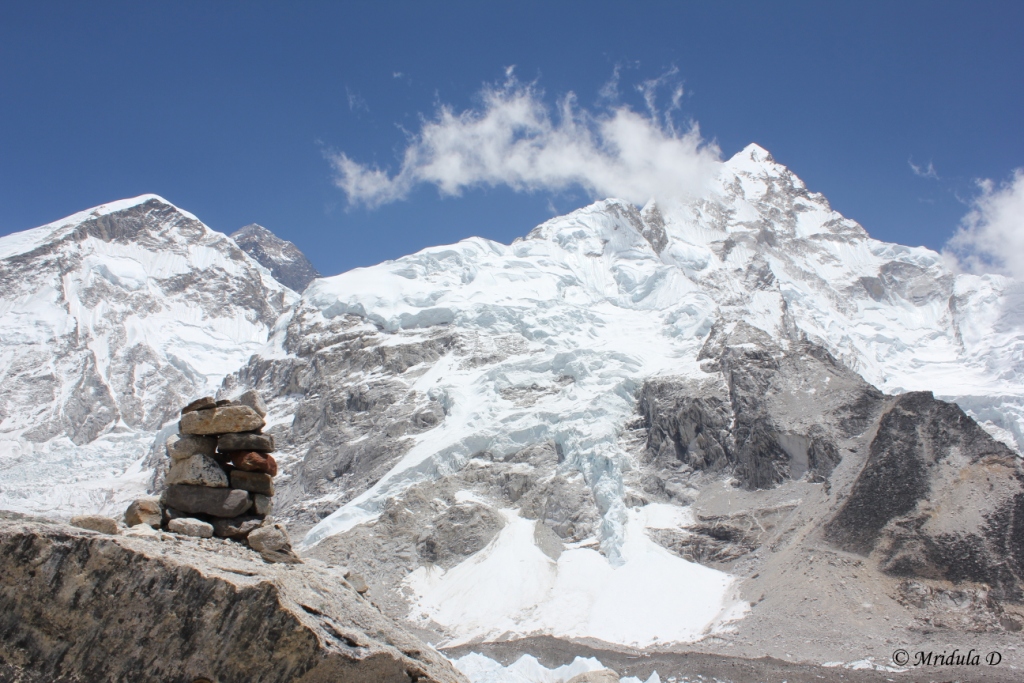 It is not that I was not tired while walking on this day, it was probably the excitement that made it bearable. Still, I remember I would count how many steps I could take before I would stop panting. It was usually 30 small steps before I would come to a grinding halt gasping for breath! There was a point where small stones were falling from above, Deepak and I rushed through that area. I met a group of men who looked Indian and we chatted a bit in Hindi too, they also found the going a bit slow. Then they told me they were from South Africa, surely they were of Indian origin.
Thus taking small steps and gasping for breath I finally reached there, I was at the Everest Base Camp. I cannot describe the feeling in words and I will not even try. I think my tears got mixed in my sweat but thankfully no one saw me making a fool of myself, I recovered quite soon though. And then there were celebrations from every quarter.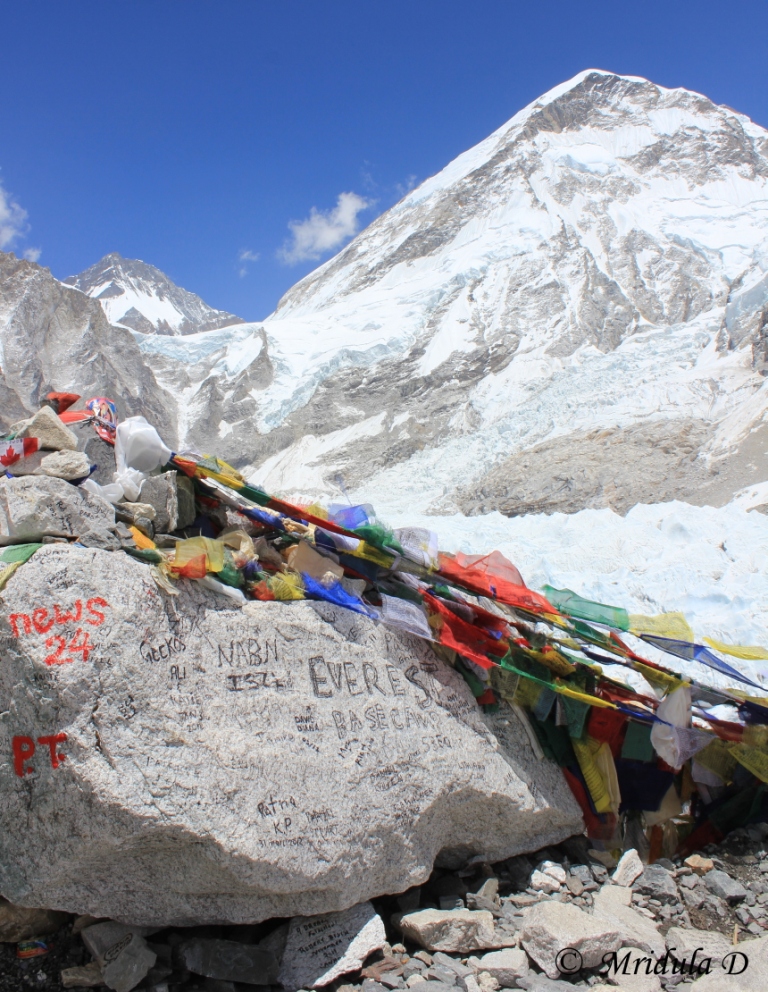 I saw a young man getting his picture clicked with a sign which said, "With a little help from my friends." I met Diana and Gokarna there and here is our picture.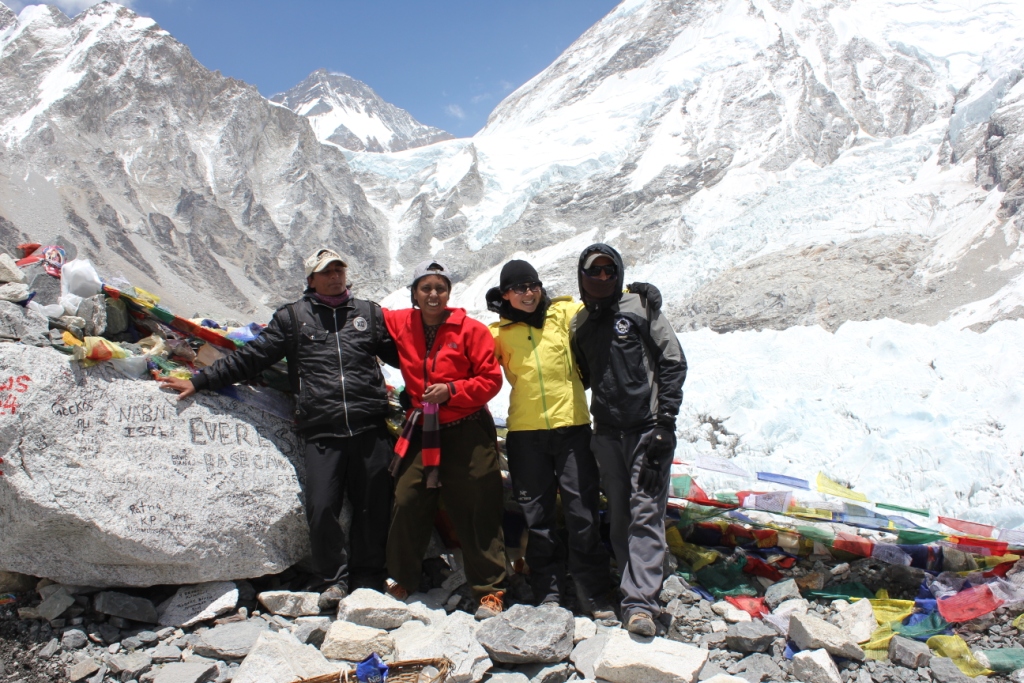 I was there, after all the doubts and tiredness and what not, I did manage to haul myself all the way up there! Sometimes I have been asked it I felt accomplished or did I feel like conquering it. I will be honest, I never did, I felt I just managed to stumble across the last stone and stand there stunned for a while. Also, in the mountains they say it is the mountain that decides whether you can complete a trek or not, I was glad they decided in my favor.
Below me was the base camp and how I wished I could go down but we were told not to go beyond the milestone and I didn't wish to interfere.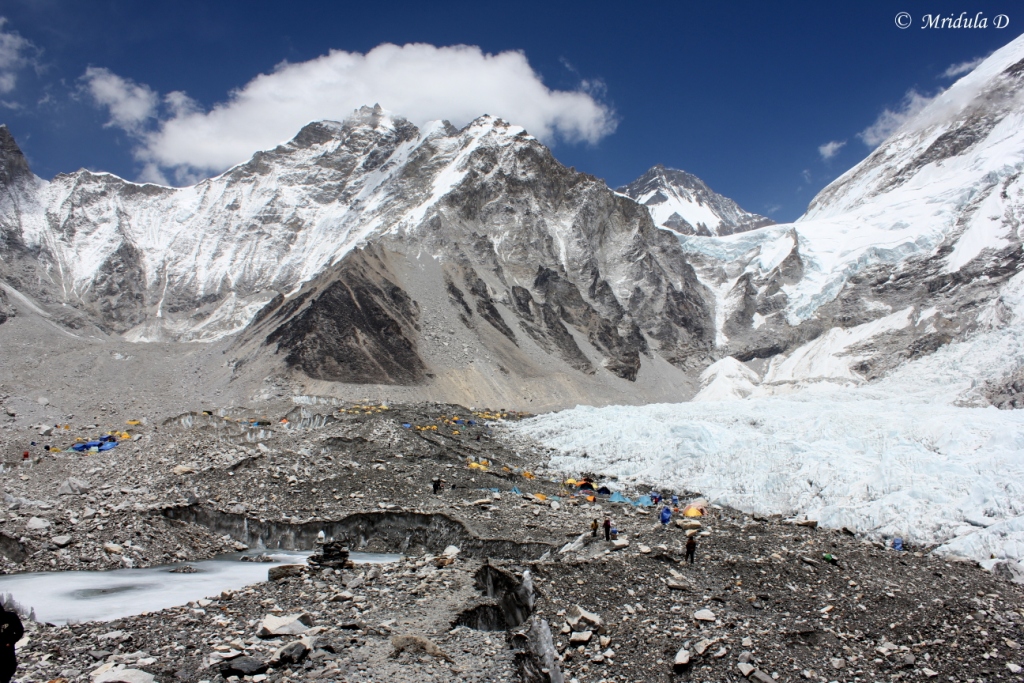 There were shouts of joy all around but Deepak and I decided to descend after a while, it was quite cold and wind was very strong and also we had to walk all of that way once again to reach back to Gorek Shep. I think I did the walk in a daze, I don't remember much of it. Finally, I could see Gorek Shep once again.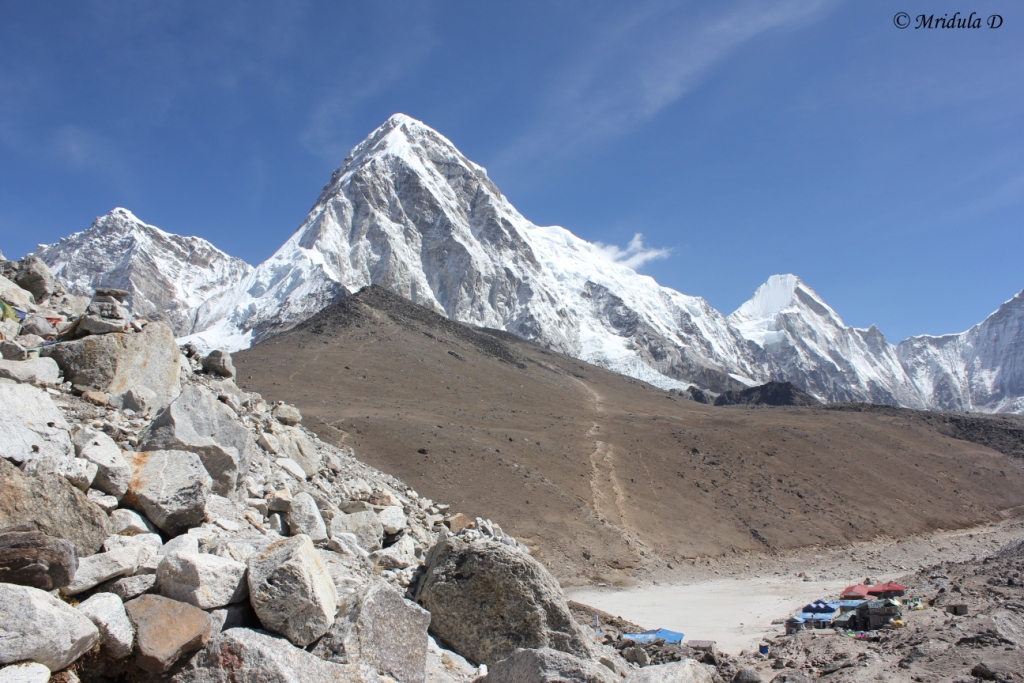 At the lodge, over tea, Deepak and I were discussing Kala Pathar. Deepak said the sunrise was around 5.00 am so we should start at 2.45 am for Kala Pathar. It felt so early, gradually we negotiated 3.15 as our start time. I asked him, "What if I cannot climb up all the way?" He assured me there were views to be seen from the mid way too and we would stop whenever I wanted. With that assurance I ordered Potato Wedges (more like thick French fries) for dinner. I could finish four wedges before I decided I could eat no more. The only comfort was that others around me were also chasing their food across the plate. By the time I was heading for bed, I caught a glimpse of this from my bedroom window, it was a beautiful end to a very tiring but memorable day.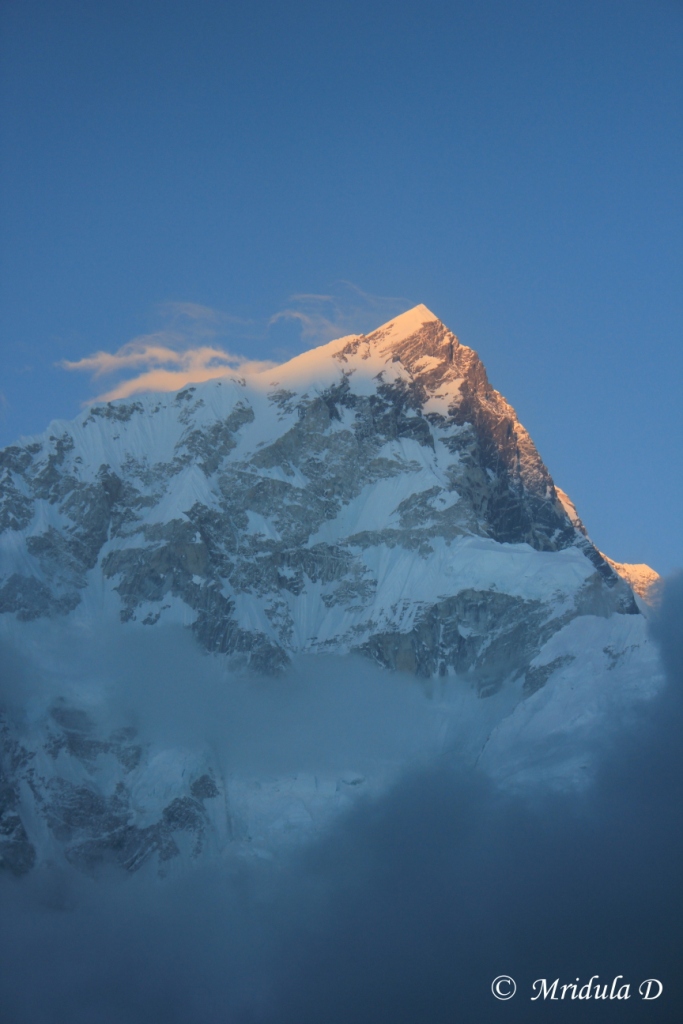 It was the night that was another matter! While twisting and turning and waiting for sleep to come, I realized how thin the walls separating the rooms were. If the person twisting and turning on the other side would hit their elbow on the wall, the reverberation would go through my head. I would fall asleep in fits and starts and then wake with with a gasp completely disoriented in a dark room on the verge of panic. After 4 or 5 times I decided to switch on the room light so that I would at least know where I was when I woke up. I would not even like to talk about my head ache but I knew this was the last night at such a height and from tomorrow I would always be sleeping at a lower height. I think I fell asleep for 2-3 hours and I am thankful for that. I was quite awake by 2.00 am and by 2.30 I decided to get out of the bed too. I was out at 3.14 waiting for Deepak with my torch to start the climb to Kala Pathar.
You can read the account of the other days of the Everest Base Camp Trek too-
Day 1 of the Everest Base Camp Trek: Kathmandu Lukla Flight, Lukla Phakding Walk
Day 2 and 3 of the Everest Base Camp Trek: Phakding to Namche Bazaar and Rest and Acclimatization at Namche
Day 4 of the Everest Base Camp Trek: Namche Bazzar to Tengboche
Day 5 and 6 of the Everest Base CampTrek: Tengboche to Dingboche, Rest and Acclimatization at Dingboche
Day 7 of the Everest Base Camp Trek: Dingboche to Lobuje
Day 9 of the Everest Base Camp Trek: Gorek Shep to Kala Pathar, Descent to Pheriche
Day 10 of the Everest Base Camp Trek: Pheriche to Namche Bazaar
Day 11 of the Everest Base Camp Trek: Namche Bazaar to Lukla