As I said in the last post, we woke up to a light snow at Dingboche and I was wondering if this would be our day of bad weather on the trek. We started as usual around 7.30 am for Lobuje (4930 meters, 16174 feet). I had oats with milk for breakfast, I had arrived at the conclusion that it was easier to gulp things with liquid by now.
And then there was mist: The walk that reminded me of Ladakh on my acclimatization day was all covered in mist. I had an extra layer of a thin sweater below my fleece and it felt good initially.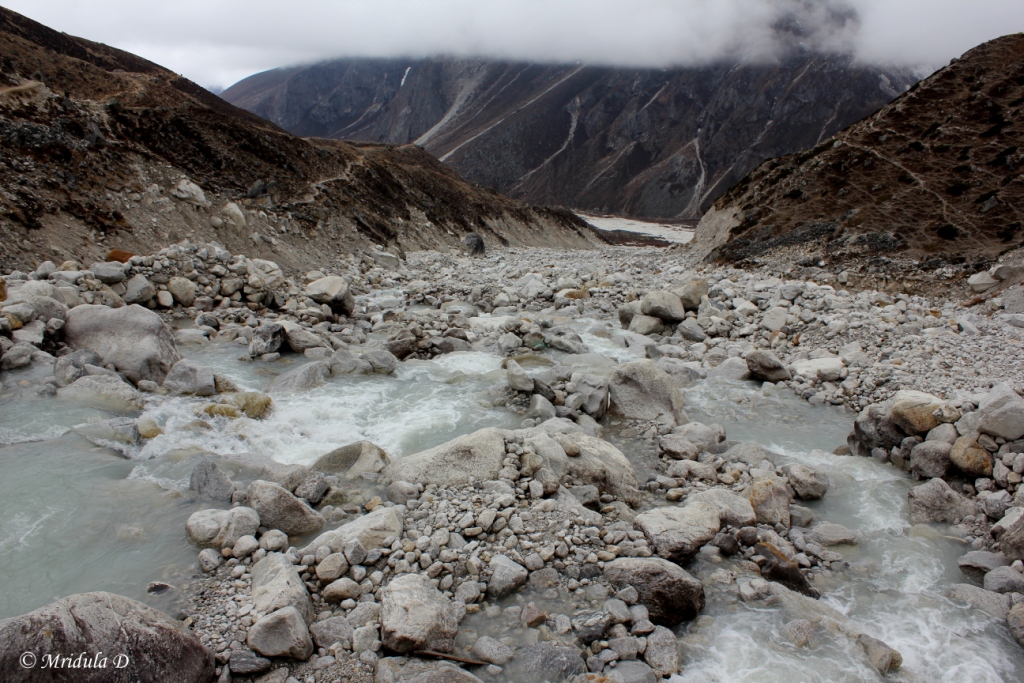 There was no sun. Sometimes we could see the path for a long distance and a bit of peaks were also visible through mist. It reminded me of the Lord of the Rings and I felt as small as a hobbit surrounded by over sized peaks and a noisy wind for company! But it still did not rain nor was there any fresh snow. We were above the tree line by now.
The tea point: The walk up to the village Thukla was fine. Deepak asked if I would like to have lunch there but I said I would be happy with just a tea, I could wait for lunch till Lobuje.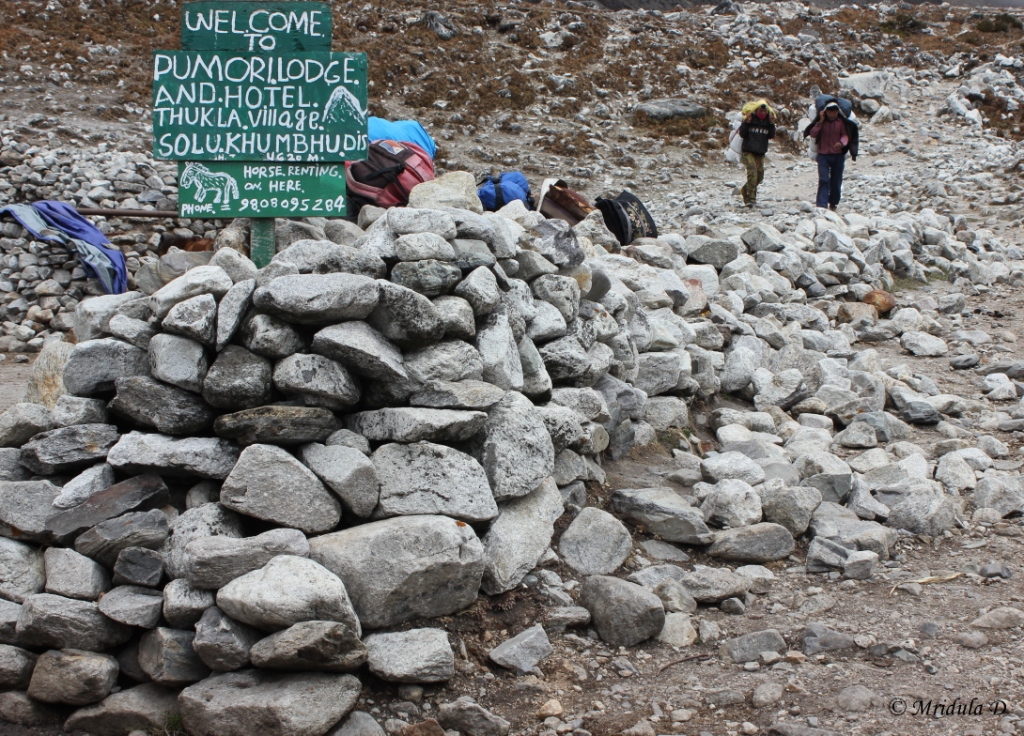 If you look closely at the second sign in green above it says 'horses available for hire'. I would often wonder if I would need one while getting down and at the same time dreaded something like that happening to me. I wanted to complete this trek on my own steam. But as I said that by now the mood was cautiously optimistic, I had come this far, it would be a pity not to be able to complete. At some point I met the lone survivor from the West Bengal lot. I think he didn't rest at Dingboche. He said with a tired and happy grin that he made it to Kala Pathar which was his dream and he was now headed down. I didn't had the heart to ask if he did the base camp too but I was happy for him.
EBC or Kala Pathar: Now that I was heading to Lobuje, the Everest Basce Camp/Kala Pathar debate was playing out in my mind. People who trek in September season may skip Base Camp as there might be no expeditions going on so no tents and other sings of life at EBC but that was not the case now.  Some people feel it is the Everest Base Camp trek so if you miss out on the base camp what kind of a trek is that?And then there was Kala Pathar from where the views to the Everest were said to be spectacular. I wanted both but I would dare not think that I could do both. If I had to choose, I thought I, would settle for the base camp.
On this route I saw the beautiful Pumori for the first time, though through mist.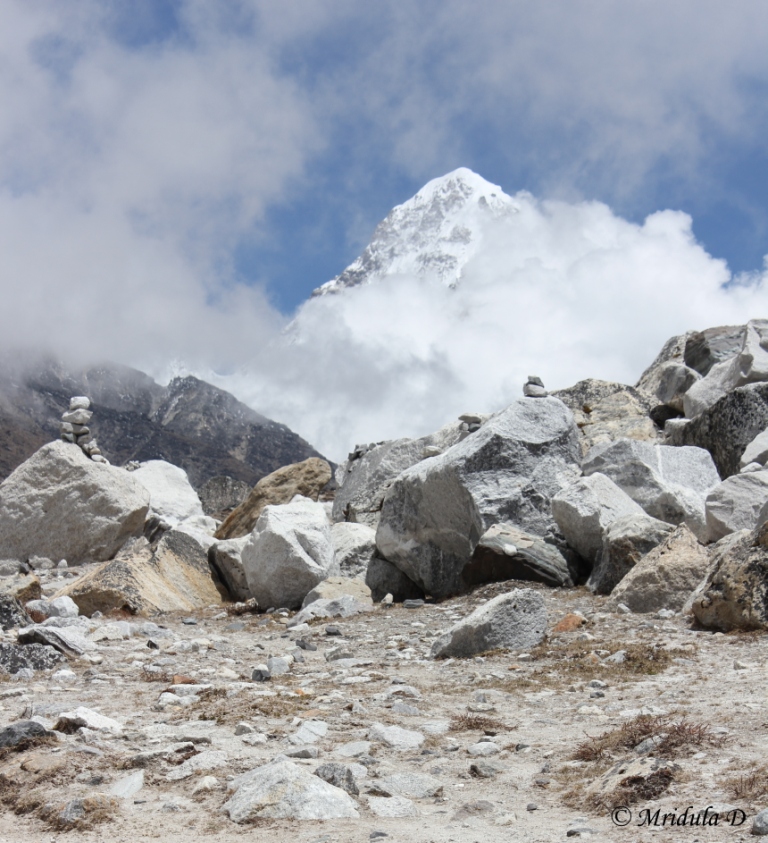 The climb again: However such thoughts were pushed aside as the climb for Lobuje started shortly after tea. The inside sweater had already come out. It took one hour of solid climbing to finish it but it at least it got finished in an hour, unlike Namche and Tengboche. When I finished it I reached a very somber place, a tribute to people who came from various parts of the world but never returned home from the mountains.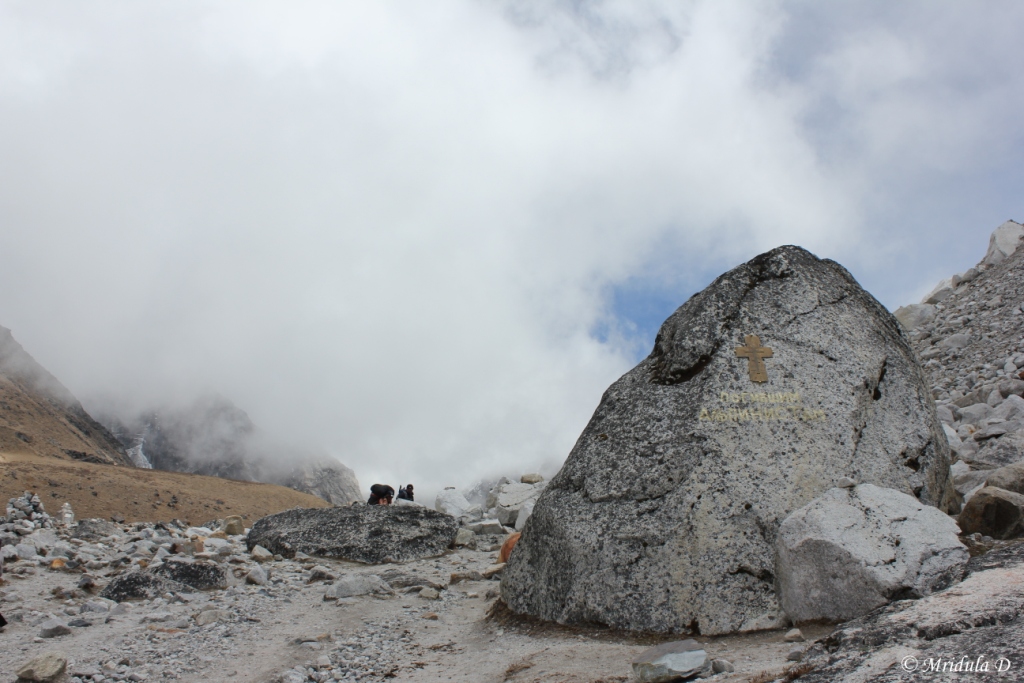 There were many such memorials at this point but I decided to say a silent prayer and then click the prayer flags and chortens instead.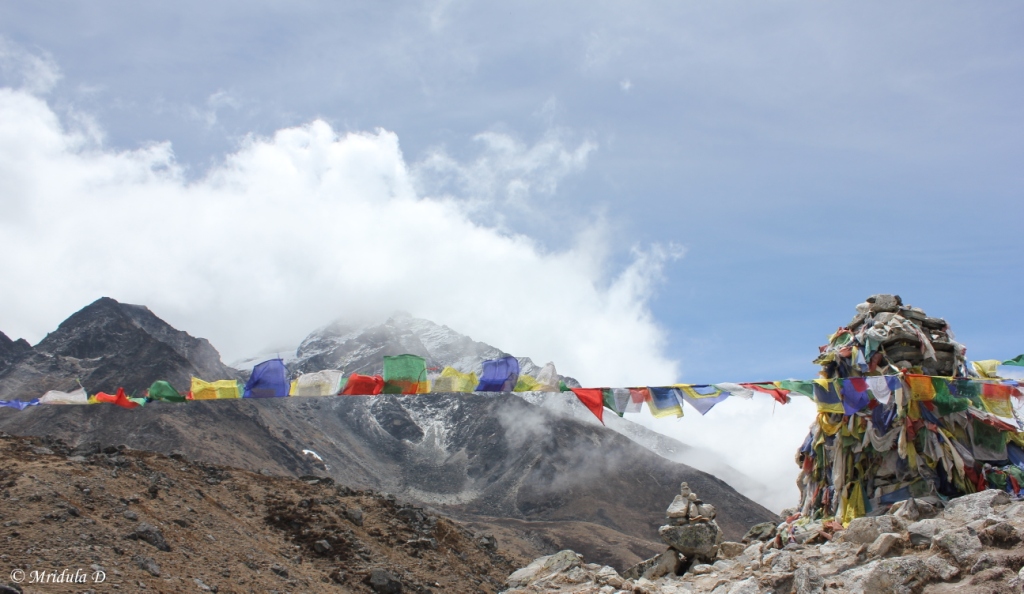 Lobuje finally: After this climb there were not too many challenges on the way, and it was a relatively straightforward walk to Lobuje and the Lodge Peak XV.  As usual after I got my room, I flopped for 15-20 minutes on the bed. But then I decided to get out and check for lunch or deepak would surely come looking for me.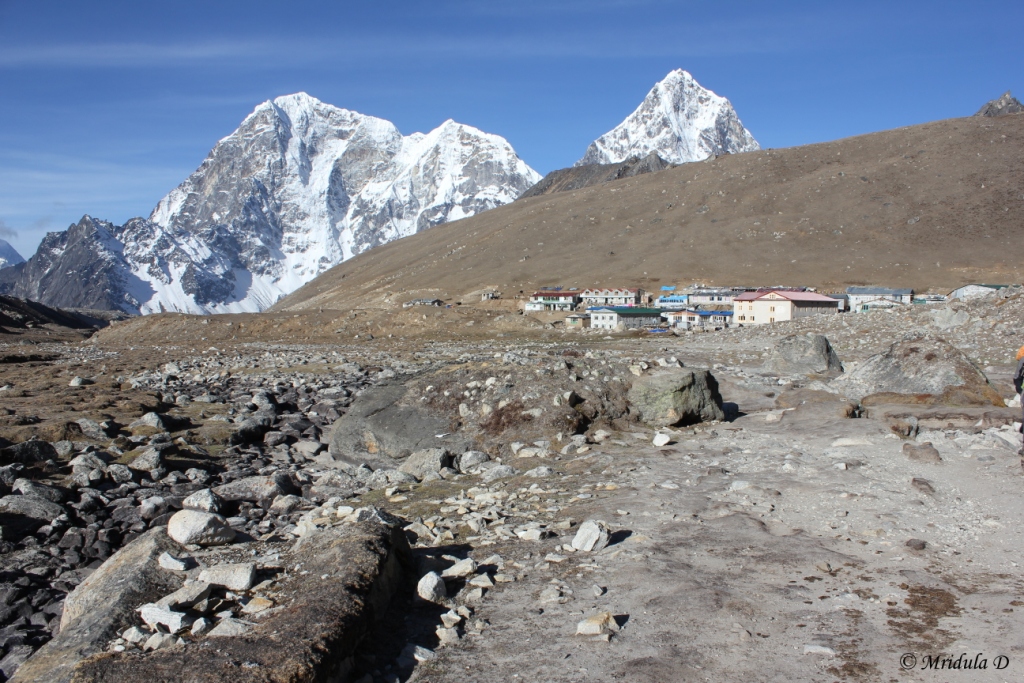 I realized that the lodge had  sun room (a dining area made of glass and hence got plenty of sunlight but no wind) and even though my knees were creaking I did climb up. There were many people lounging around, some sound asleep as well. There was a small girl with her mother almost Chhavi's age and throwing tantrums like Chhavi too.
Chai and lunch: The owner came up and may god bless him, he had masala chai on menu! I asked for one. Then Deepak reminded me that I still had not ordered my lunch. After a lot of thought I went with soupy noodles once again thinking that I would eat something more substantial in the evening. I will be honest, I was having a head ache (not too severe but not that mild) and I was desperate. I didn't want AMS this late. I kept my mouth shut about it.
I chatted with a mum and her two teen sons from the US. I was telling how my daughter was small and we didn't wish to drag her on treks. The mom said her sons were trekking since they were three. And it was more difficult for the elder one as he would had to walk because the younger one would be in the basket! I said we fear that if we do this she may start disliking it when she grew up. The elder son readily agreed to it! But then there he was, happily trekking with a grin.
Soon the sun room got full and at least two tables (guides & co. and Diana & co.) were playing cards. I had a long chat with people who were on long term travel of at least an year or so. How I envy them! And with so much chatter around my head ache improved.
Diners and dinner: Around 4.00 pm I went down to the lower dinging area and found that they were about to light the fire. I went to the sun room and told everyone that I was moving down now because they were going to light the fire. 
Soon we all were gathered there for more tea and eventually dinner. I found Masala Chai a blessing. I looked at the menu and struggled to decide. There were so many things I didn't wish to eat. I eventually settled for fried rice. When it came I didn't want to eat it. The good bit about sitting in a communal dining space is that you can see other's going through the same scenario. So I ate whatever I could and apologized to the owner that it was my appetite and not his food which made me leave it. Food over it was time to think of sleep.
Diamox (for AMS) and other head ache analgesics were being talked about but I went to sleep without taking anything, I was also not carrying them but if I needed them they were available.
Next day we were headed to Gorek Shep and then Everest Base Camp, it was my day of reckoning or so I thought.
You can read the account of the other days of the Everest Base Camp Trek too-
Day 1 of the Everest Base Camp Trek: Kathmandu Lukla Flight, Lukla Phakding Walk
Day 2 and 3 of the Everest Base Camp Trek: Phakding to Namche Bazaar and Rest and Acclimatization at Namche
Day 4 of the Everest Base Camp Trek: Namche Bazzar to Tengboche
Day 5 and 6 of the Everest Base CampTrek: Tengboche to Dingboche, Rest and Acclimatization at Dingboche
Day 8 of the Everest Base Camp Trek: Lobuje to Gorek Shep, Gorek Shep to Everest Base Camp and Back
Day 9 of the Everest Base Camp Trek: Gorek Shep to Kala Pathar, Descent to Pheriche
Day 10 of the Everest Base Camp Trek: Pheriche to Namche Bazaar
Day 11 of the Everest Base Camp Trek: Namche Bazaar to Lukla