I was trying to take heart from Pankaj's comment that Namche and Tengboche were the worst climbs and it could be a bit easier to go to Dingboche (4360 meters, 14304 feet). When I asked Deepak he also agreed that today's climb would not be comparable to Namche or Tengboche. Deepak had never give me "thode door aur hai" (it is just round the corner) in the past so I was letting my hopes rise a bit. Up to now my constant chant to anyone who would care to listen was, "I wonder if I would be able to haul myself all the way up to the Everest Base Camp?" Everyone around me would say they were sure but I was not.
The day once again was clear and bright. After a short walk, I saw a Lama from the previous day's ceremony at Tengboche coming from the opposite direction with a horse. I pointed to my camera and raised a questioning glance. He nodded his yes and I gladly clicked the picture.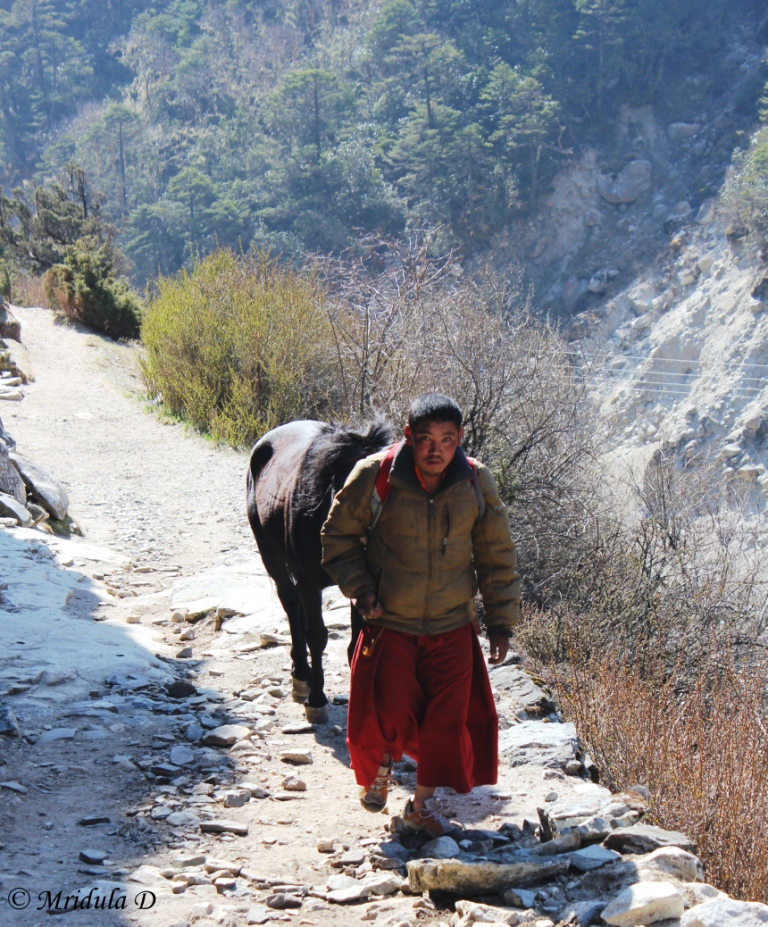 And then a small story unfolded. This charming women asked in sign language if I would click her picture too? I was surprised because usually people in this region are quite used to tourists but then the shutter bug in me was very happy. I otherwise do not click people readily because I do not want to offend them. But in this case since she asked, I clicked a picture.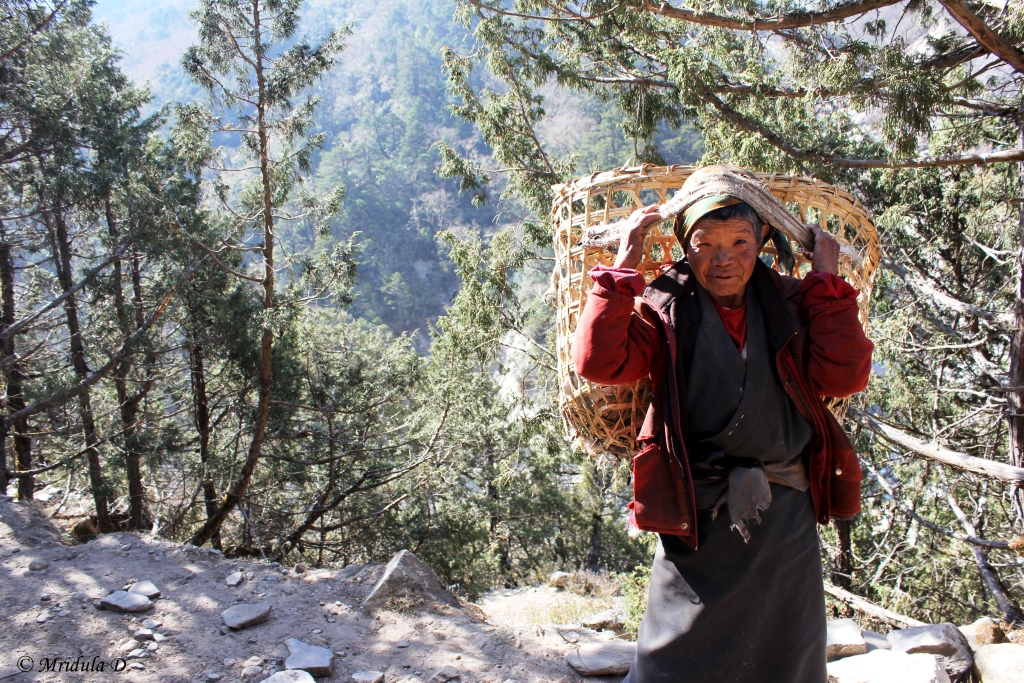 And even though Deepak was getting impatient, I decided to show her the picture on the camera screen. She looked and it and then signaled that she wanted money! I was a bit taken aback because she asked me to click a picture but I gave her a Nepali 10 rupee and walked on. I said to Deepak this is not the first time someone expected money for a picture but certainly a first when some asked to be clicked and then wanted money! But we walked on on a beautiful day in beautiful surroundings and this was a very small incident after all.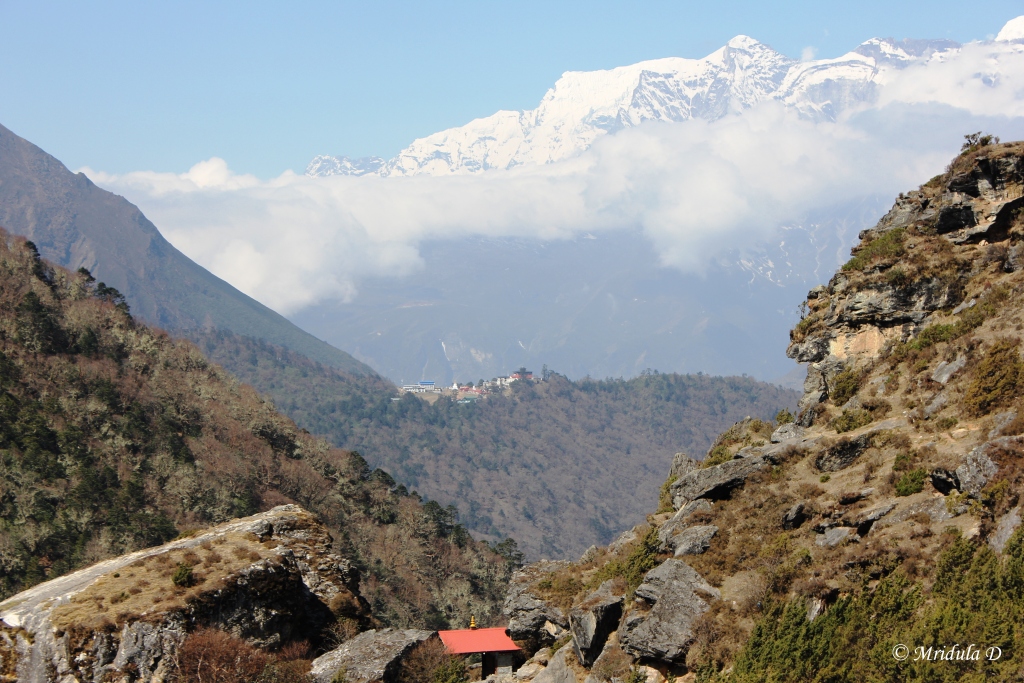 While all the walks in the nature are beautiful, this day was a bit more special because we could see River Dudh Kosi for a long time and the valley was equally beautiful. My pictures just don't do any justice to the actual scene.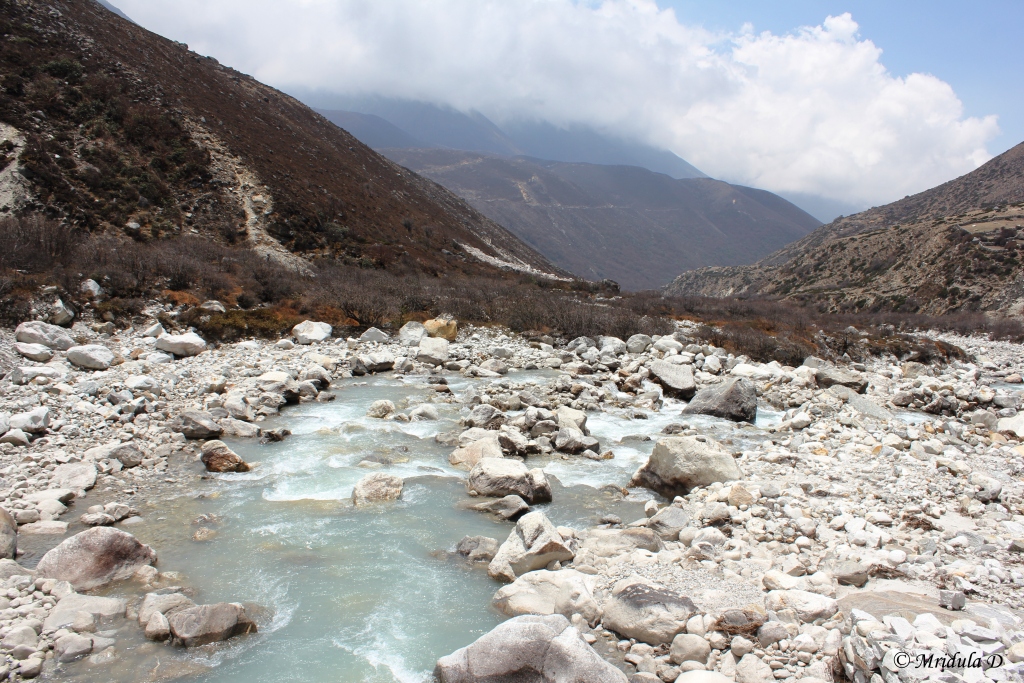 Then we started getting down to the river itself. I hate it when we have to get down before the destination, because that means only one thing, you will have to climb up all again! I had lunch on the way once again but now the enthusiasm for food was going down, the appetite was not the same.
After moderate amount of ups and downs on the walk, there was a climb of less than an hour and in about five and a half hours we reached Dingboche.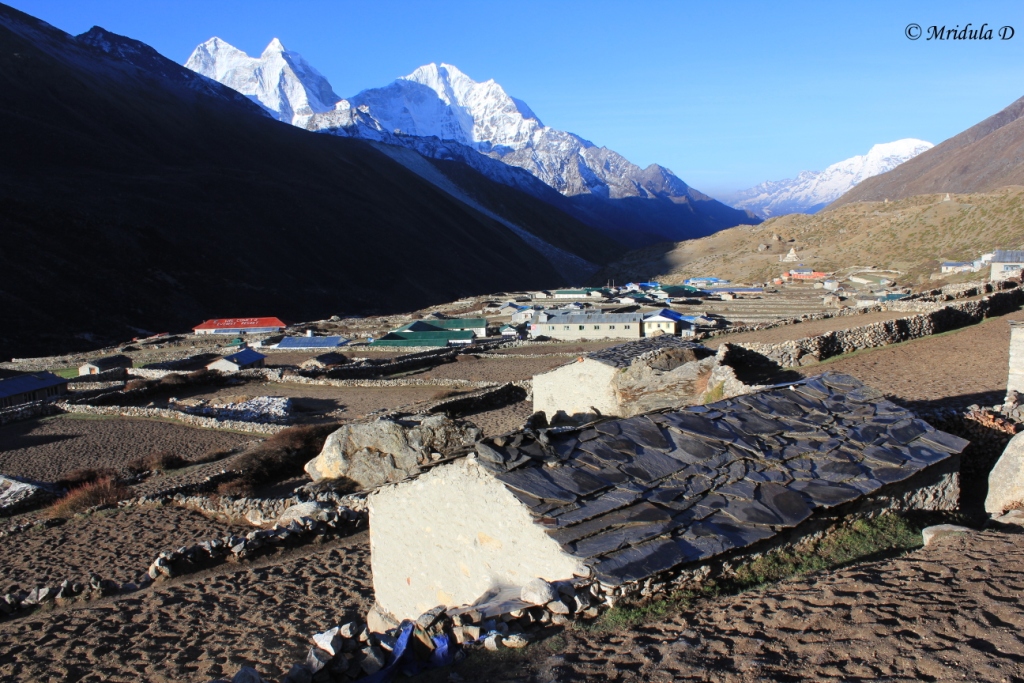 True to their form Deepak and Gokarna had picked up the Valley View Lodge, which once again was on the last ledge of the village. Also as usual Diana had arrived ages ago. I felt I was not as shattered by this day's walk. After my customary crashing for a while in the room (Diana and I had separate rooms once again, though in the same block) I went looking for tea. Then it was time for the afternoon nap. After waking up I was drawn to the dining area like a magnet because in the evening they would lit a fire. I was reading a Salman Rushdie book and it got some attention on this day. After all tomorrow was a rest day, OK acclimatization day.
By now choosing dinner had become a task, noodle like things would put me off because I could not stand the cheese and Dal Bhaat (rice and curry) became a no-no because of the accompanying spinach. I can now see that the altitude was slowly messing up with my appetite but it was not so obvious then. I decided to be brave and ordered a Mushroom Pizza which I like a lot on an ordinary day and at an ordinary altitude.
The sun was setting and Diana pointed out that it was a beautiful evening but I was not enthusiastic. However after looking at the scene for a while I got out and clicked Ama Dablam in the fading light.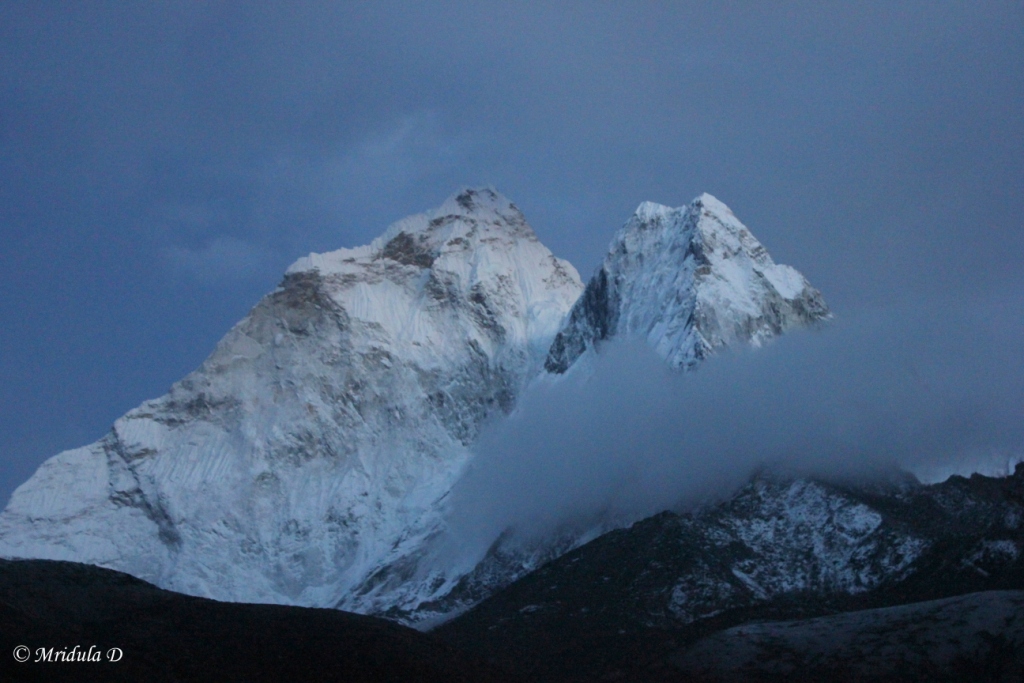 I got back quickly to the warmth of the dining hall though. I was wondering how do people climb mountains like Ama Dablam? I mean there I was, tired and doubtful on a mere trek and here was a mountain looking formidable and unapproachable without any weakness and yet people have climbed it and will climb it. I concluded that mountaineers are children of a different God!
My pizza arrived and I could have easily finished it at sea level. I ate 3 pieces and then gave up. Had milk tea and called it a day. When I went to sleep it felt as if my heart was beating in my mouth, it was so loud, it was the only thing that I could hear in the room! But I twisted and turned and ignored it. It took me some time to fall asleep. I put a pillow on the window sill and watched Ama Dablam from my room. Things gradually became quiet at the lodge. I at a later stage got out of my room and looked at the sky, there were a billion more stars out there than I had ever seen before. But it was so cold that I turned in soon. And a little later I fell asleep.
The next day also dawned bright and clear. Diana was going to Chukun for her walk which sounded very far away, I was climbing up to a nearby hill. Deepak said it would be enough and I had no reason to doubt him, his Namche acclimatization had worked for me after all. I was still eating (though with a bit of difficulty now) and sleeping fine.
When Diana and I got out in the morning ready for the walk I saw Deepak and Gokarna eating some yummy looking noodles in a soup for breakfast. We decided we were going to have the same stuff for lunch. My acclimatization walk was quite doable with very pretty views all around.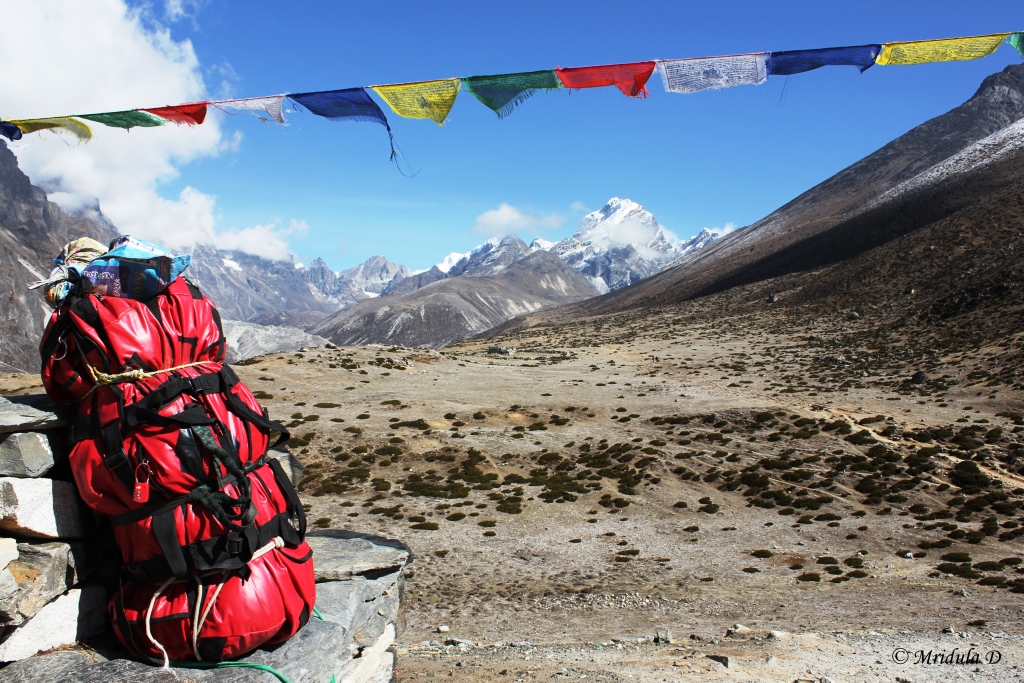 Deepak pointed out that the path in the picture above was our route for the next day and I told him it reminded me Ladakh. We walked some more and reached these prayer flags.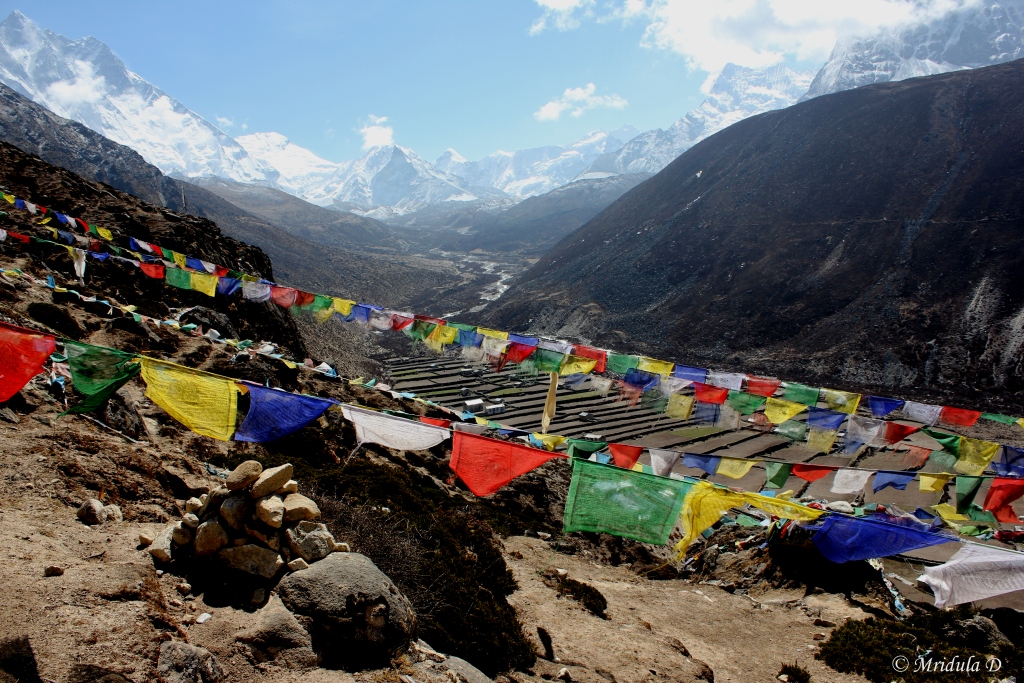 I met Parvinder again at this spot, we had briefly chatted while we were climbing to Dingboche. He also was planning to go higher up but Deepak said we could go higher if I wanted to but it was not necessary. So I decided to sit there for a while and then we headed back.
At the lodge as there was such good sun, I decided to sit out with my book. A while later Diana came and she looked quite tired. She said her stomach was bothering her. While we were sitting in the sun the lodge owner with the help of two young lads was washing blankets. I have to admit the lodges manage to keep all the linen very clean. It was such a task to wash the blanket with hand. Deepak mentioned that there are washing machines at Namche because they can be air dropped nearby. I had a brief chat with the owner and he said he had been running the lodge for the last 12 years and his hometown was in a different region.
Gradually it was time for lunch and we had our soupy noodles. We discovered that it was easier to gulp things with water and that became our quest in food from now on. After tea it was time for my afternoon nap. I thought I would not be able to sleep but I slept for 3 hours straight. Evening tea slipped into dinner which was Dal Bhaat but I didn't even touch the spinach. I met Pankaj again at tea. After meal we lingered in the dining room because of the fire but gradually it was time to hit the bed.
There were no stars in the sky today, it was completely overcast. As I had slept so much in the afternoon I was finding it difficult to sleep again. I slept in small bouts and then I heard thunder and there was lightening. But then I heard no more, gradually I drifted into deep sleep. And I woke up to this in the morning!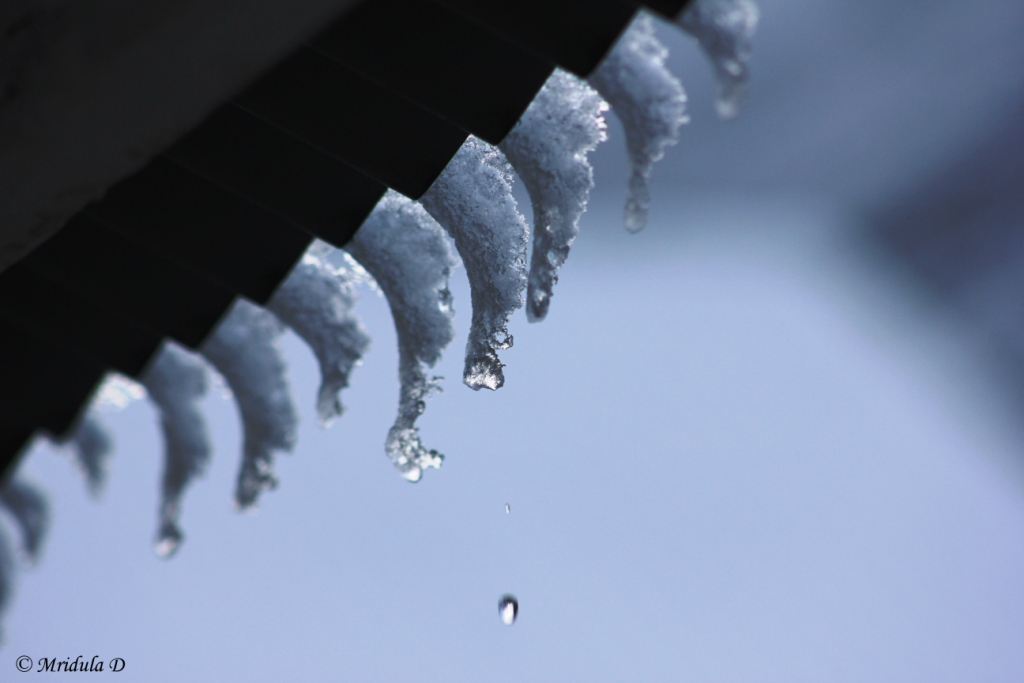 The entire landscape had changed and I ran out with my camera. The village had a layer of snow now.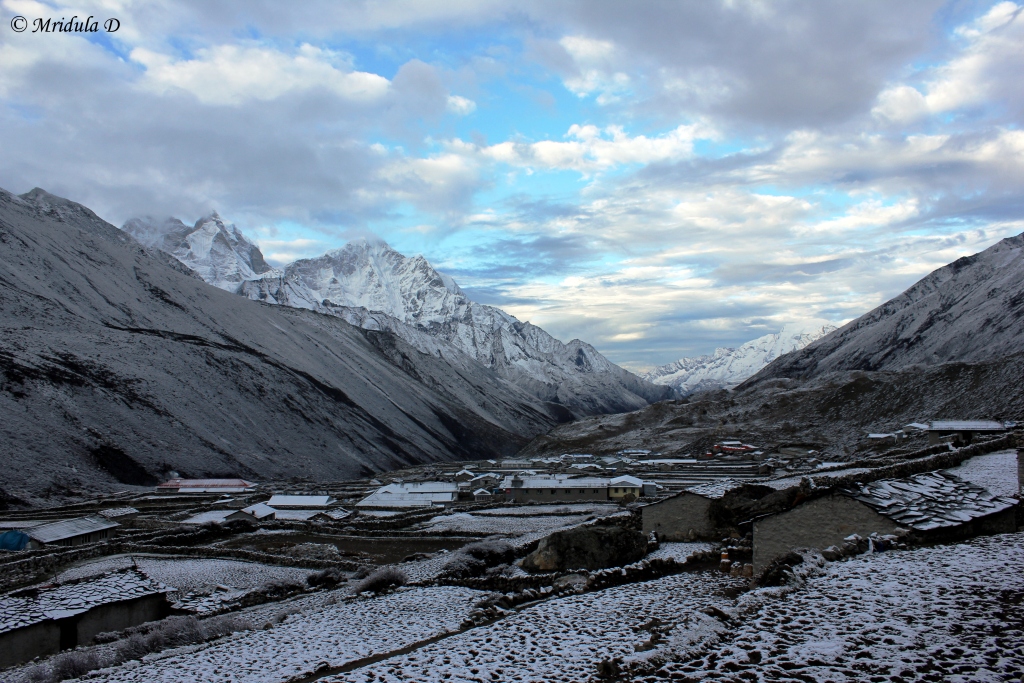 When I finally got to brush my teeth there was Ama Dablam in the mirror over the sink with a new coating of snow.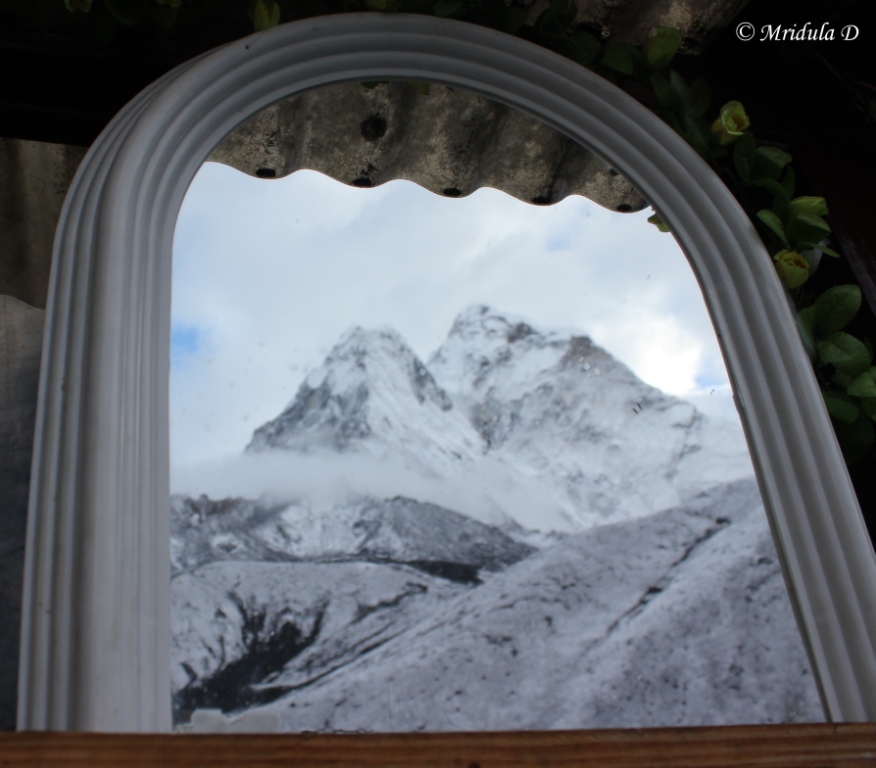 And soon it was time to walk up to Lobuje, our next stop. This was the first day when I didn't had blue skies for company and I was wondering if it would rain or snow on the way too? A mountain peeked out of the clouds and looked so pretty.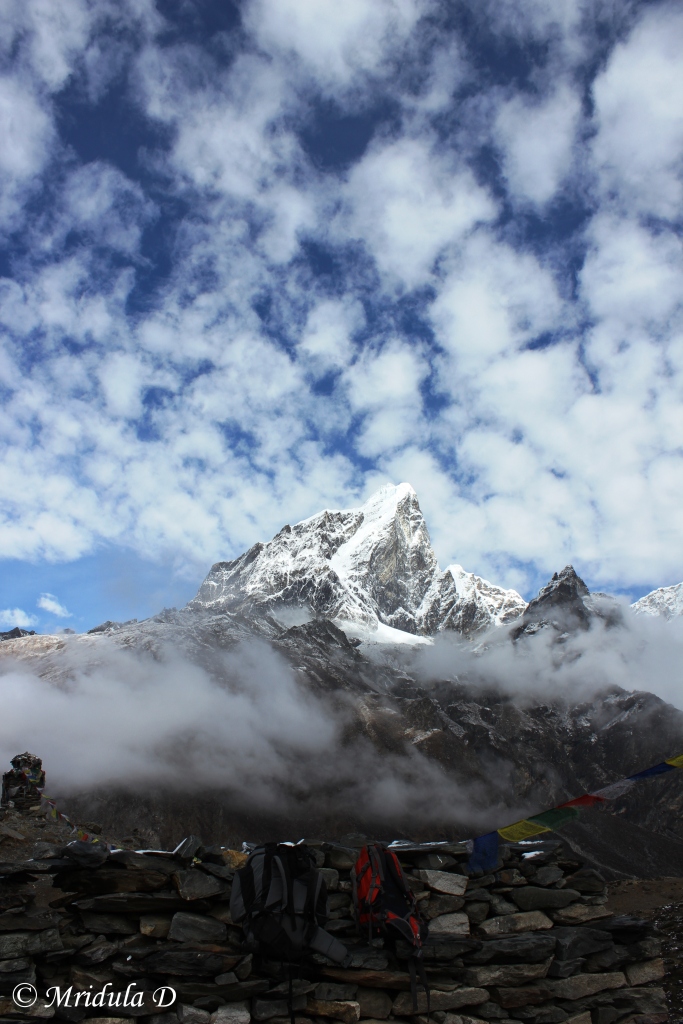 For the first time on this day my thoughts changed from, "Will I be able to haul myself all the way up to Everest Base Camp to, "It would be a pity if I could not complete it after coming this far". Even though the day was cloudy for the first time on the trek I felt I might be able to do it after all!
You can read the account of the other days of the Everest Base Camp Trek too-
Day 1 of the Everest Base Camp Trek: Kathmandu Lukla Flight, Lukla Phakding Walk
Day 2 and 3 of the Everest Base Camp Trek: Phakding to Namche Bazaar and Rest and Acclimatization at Namche
Day 4 of the Everest Base Camp Trek: Namche Bazzar to Tengboche
Day 7 of the Everest Base Camp Trek: Dingboche to Lobuje
Day 8 of the Everest Base Camp Trek: Lobuje to Gorek Shep, Gorek Shep to Everest Base Camp and Back
Day 9 of the Everest Base Camp Trek: Gorek Shep to Kala Pathar, Descent to Pheriche
Day 10 of the Everest Base Camp Trek: Pheriche to Namche Bazaar
Day 11 of the Everest Base Camp Trek: Namche Bazaar to Lukla