For me this was one of the toughest day of trek. Of course the last day of climb was even more strenuous but Namche Bazaar (3440 meters, 11286 feet) to Tengboche (3870 meters, 12696 feet) was also quite killing. I hope I am not giving the impression that this is an incredibly difficult trek. What I write is just how I reacted to the trek and a reflection of my own fitness level.
The start of another day: The start of the day gave me no inkling about what it had in store for me. As usual I had an early breakfast at Namche (roti and omelet with butter and a layer of sugar in my tea) and we started around our usual time, 7.30 am.  Part of the way was the same as the military museum which we had visited the day before. Deepak and I maintained a steady chatter as we started walking. After a while we stood aside to let a group of army men pass who I think were doing their routine exercises. The day was bright and sunny, I had applied my sun block and it looked like all was at peace in the world. After a while we had to stop again to give way to the same group of army men who were coming from their exercises.
The donation appeal: Deepak had told me beforehand about an old man making an appeal for donation to improve the trekking route and he believed in his cause. We reached that point also without much trouble.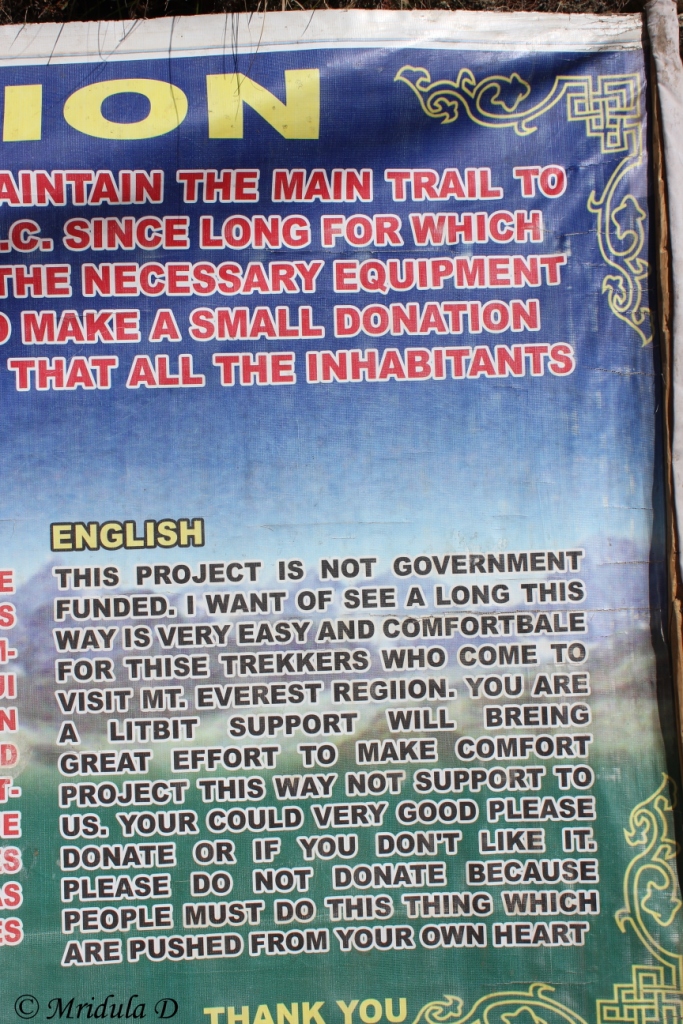 I did donate a small amount. I asked the old gentleman if I could take his picture as well? He agreed.
A merry walk till lunch: As we left this spot the way was still quite flat and I was having a happy time on the route. I was using the kit lens because other than that I have a 70-300 and 50mm prime. So managed to catch this moth on a wide angle because showed no interest in flying away.
And though there were not many, but still there were some Rhododendrons to be clicked as well. You can see from the pictures I was not in trouble till now, I was with nature and I was enjoying my trek.
Then we came to our lunch point. It was still early in the morning, I was not too hungry but if Deepak said this was the best spot for lunch then that was it! I once again ordered Daal Bhaat and had a bit of difficulty in gulping it down as I was not hungry. After that we crossed this bridge and then I had it.
Where the hell was Dingboche: I had been given the itinerary by the good folks at Above the Himalayas. If I would have looked at the height gain for this day even though it was less than Namche Bazaar it was still more than a 1000 feet. And it was at a higher alleviation. That would have given me a clue. But I chose to ignore it as I knew most of the times I didn't like what I saw! Also I am more comfortable with feet rather than meters and the itinerary was in meters so that was another convenient half truth for not being in the know of the demands made by the trek.
So after the bridge, the way started going uphill. Deepak casually said the way from here to Dingboche was all uphill, he just didn't mention for how many hours! At the beginning I was OK, I just kept walking up at my slow and steady pace. Then I walked some more, and more and more. And then I got desperate. In between Deepak once pointed out that my shoe laces had come undone and I should tie them.
Then I climbed some more even though I was desperate and then some more. The only solace was that a few others on the way looked as tired as me.
After climbing for even more time Deepak said Tengboche was now half an hour away! It didn't register at all, I was just way too tired and not mentally prepared as I was for the climb to Namche. Then after a while he said it was 20 minutes now. There were two Australian gentleman trekking together who got up when they heard this and started walking again. Later they told Deepak, "You were good man, it was just 15 minutes from where you said."
I reacted in another way, I sat down, saying, "If it is just 20 minutes away, I will sit for a while." And then I flopped on a stone. Then came Pankaj from behind and said a few kind words to me, like "you are doing well, you are no too far away" etc. His guide also said that it makes sense to walk slowly etc. I told him I don't know any other way and I am too old to care about how slow I am.
Finally there: After a while I got back and reached Tengboche, Deepak was right it took around 20 more minutes and the gate to the village arrived even earlier. Tengboche was a small village with the most imposing monastery and you see it as you enter the village. It took me around six and a half desperate (OK, the desperate bit came only in the end) hours to complete it. Diana did it in roughly three and a half hours!
When I reached I realized Diana and I was sharing a room on this day. There was a spare room but I was told that it was not yet clean. From this point, the days of the attached bathrooms were also over. I as usual crashed for about 20 minutes and then headed to the dining room for much needed tea. Diana told me that there was a ceremony in the monastery a little later and asked if I would attend? I said yes I would.
While I was waiting at the monastery gates I thought if I had internet access I would tweet, "Beat me with a stick if I talk about trekking ever again." I was that tired, away from creature comforts and still very doubtful about my capabilities to complete this trek.
I went inside the premises of the Tengboche Monastery and say this notice board. I wonder what prompted the lamas to put number 9 on the board!
We dutifully waited for the lamas to enter the monastery. I was remembering how many climbing books mention this monastery as their point of seeking the blessings for their expeditions. After a while we were asked to enter. You could see all of us wanted to stretch our legs, almost no one had the energy to fold them. For quite sometime the lamas said nothing. Then one of them requested us to fold our legs. My knees were hurting so bad that I decided to get up and go. I had asked beforehand if it was considered rude to leave in between and I was assured that it was not the case.
I wandered around for a bit but by evening the clouds ruled once again.
Ama Dablam should have been visible at the far end of this picture and I actually saw it in fading light but not otherwise. In the morning when the sky would be clear, the sunrise would be above Ama Dablam so there was no chance of getting a decent picture.
Still the next morning I got out with my camera and clicked Thamserku instead. I was very sacred of twisting and turning at night and disturbing Diana but I was more scared of not getting sleep and falling ill. So after twisting and turning for a while I had managed to fall asleep and I had a good night's sleep. Polite that she ever was Diana said I didn't disturb her. Also at dinner Pankaj had mentioned that he remembered Namche and Tengboche as the toughest days on the trek, apart from Kala Pathar. That gave me some courage, though I did not fully believe him, thinking that he was trying to encourage me. Getting back to Thamsekru this is the view I got.
I wandered around a bit more before it was time for breakfast and leaving again. The good folks at the Tengboche Guest House had put hot water in the containers meant for brushing our teeth and such. I can't thank them enough for that. Also before dinner they had given hot towels and you could see ecstasy on our faces.
To be fair, hot water bath is available on this trek throughout (prices vary according to the height) but I was not sure how would I react to it, so I took bath only after I completed the trek. There were brave souls who took a cold water bath as well but I could not even bear to think about it. You can also charge your mobile phones and camera batteries (once again prices vary according to height) at the lodges. My Ncell number worked fine till Tengboche. It went off at Dingboche and Lobuje but came back at Gorek Shep
If I have to sum up my journey so far with the advantage of hindsight I have to admit Tengboche was the toughest day for me. It is probably because I was not prepared for it. The climb is not steeper than Namche or Kala Pathar but I had advance warning for both. So now let me warn you, not only the climb to Namche and Kala Pathar are steep but so is the climb to Tengboche.
In spite of the surprise I was willing to march up to Dingboche as there was a rest and acclimatization day at Dingboche too. I was once again banking on it to recover and go further.
You can read the account of the other days of the Everest Base Camp Trek too-
Day 1 of the Everest Base Camp Trek: Kathmandu Lukla Flight, Lukla Phakding Walk
Day 2 and 3 of the Everest Base Camp Trek: Phakding to Namche Bazaar and Rest and Acclimatization at Namche
Day 5 and 6 of the Everest Base CampTrek: Tengboche to Dingboche, Rest and Acclimatization at Dingboche
Day 7 of the Everest Base Camp Trek: Dingboche to Lobuje
Day 8 of the Everest Base Camp Trek: Lobuje to Gorek Shep, Gorek Shep to Everest Base Camp and Back
Day 9 of the Everest Base Camp Trek: Gorek Shep to Kala Pathar, Descent to Pheriche
Day 10 of the Everest Base Camp Trek: Pheriche to Namche Bazaar
Day 11 of the Everest Base Camp Trek: Namche Bazaar to Lukla