How difficult could be getting down on a trek? That depends on how your knees behave and mine behave very badly. So even though getting down is not as tiring as going up, it actually becomes painful for me. On my last year's trek in Uttarakhand, I was almost unable to walk for the last bit of the trek, my knees were hurting that badly and I was very scared of a repeat performance.
But then the day had dawned fair with some clouds later in the sky. I had my Muesli and Milk for breakfast and we were ready to go by 7.00 am. After 10 days of trek, the mind starts craving for some of the city comforts. Diana had mentioned a bakery in Thamel called Pumpernickel! I was already dreaming of cakes and pan cakes. I needed such cheerful thoughts as while coming down I was covering two days worth of going up. So this was like walking from Dingboche to Namche instead of Tengboche. Being at Pheriche is roughly the same as being at Dingboche in terms of walking.
So off we went and it was a beautiful route. Many times on the trek I got to see helicopters. On Lobuje to Gorek Shep walk a helicopter had made a touch down as well quite close to us. Deepak would sometimes mention that already a certain number of trekkers had been air rescued. But my medical insurance did not cover for air evacuation.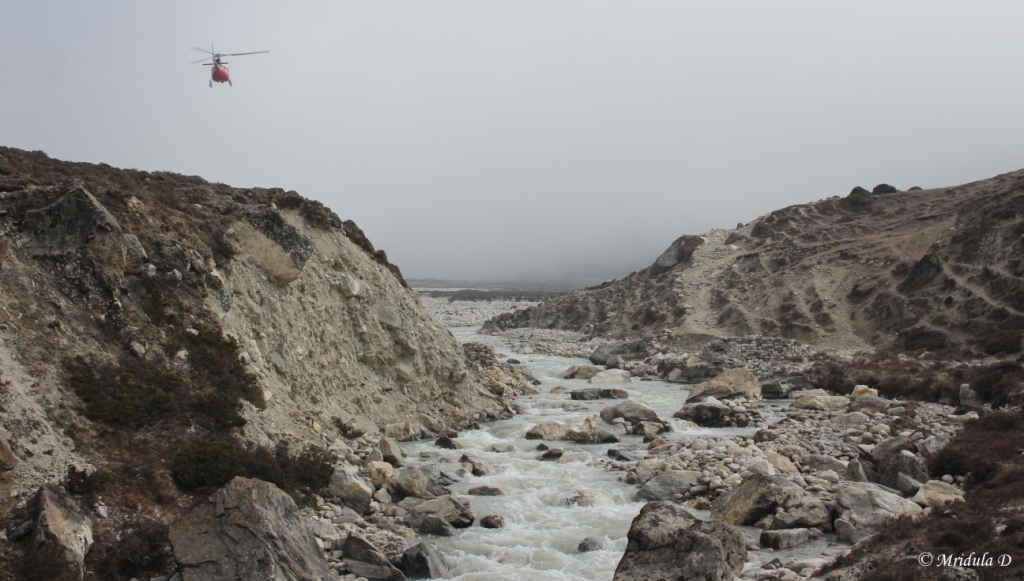 And then I met this caravan of animals that are a cross between cow and yak called Dzokios. The walking path was quite good without any sharp ups or downs. But I knew the climb down from Tengboche to Namche was waiting for me.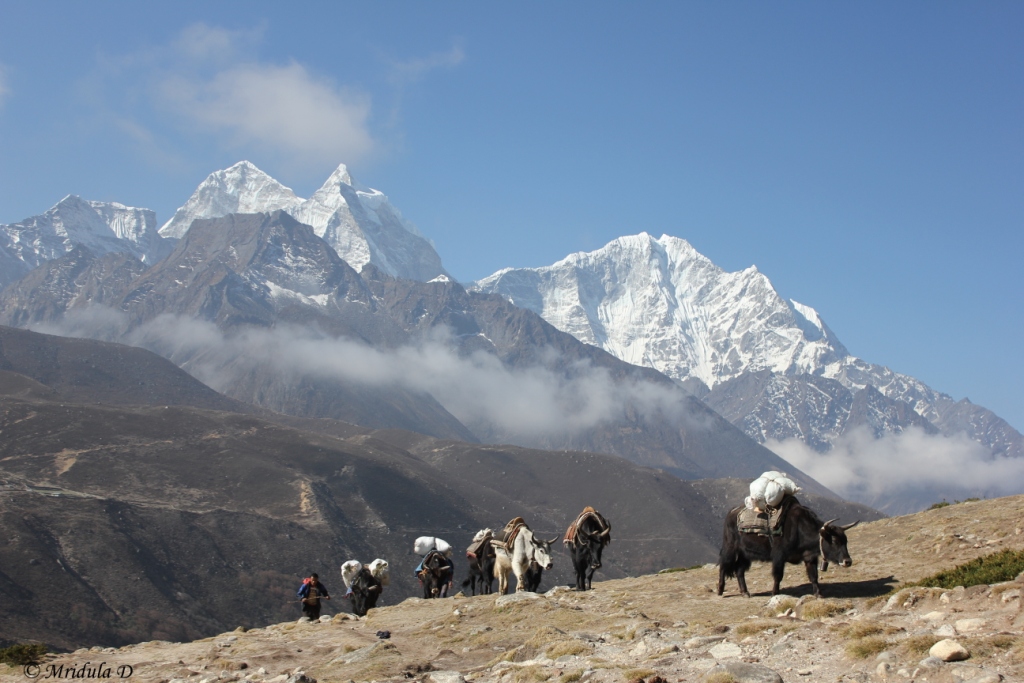 On this trek, I was asked many times why was I trekking solo, mostly by my fellow Indian trekkers. The answer is very simple. I could not get anyone to trek with me with whom I am comfortable trekking. My husband and I anyway take turn these days because our daughter is small. My young nephews have trekked with us in the past but Brat 1 is working now and Brat 2 is looking for a job so both of them refused. And in the end I prefer my own company to the company of complete strangers so I decided against joining a group. One of the Indian ladies at Pheriche commented, "You are brave, you are trekking solo." But the region was full of solo women trekkers and people are used to it. I never ever felt unsafe on the trek.
After walking for a few hours we were approaching Pangboche which is in between Tengboche and Dingboche. At a tea shop I saw the group of South African gentlemen once again. They asked if I would like to join them for tea but I told them I need to go as Namche was a long way from here and I walk slowly.
After walking for some more distance my 3 year old shoe which never gave me any trouble in all the 10 days suddenly started pinching above my heel! As if walking in itself was not tiring enough, this was the last thing I needed. I cursed my self for not keeping my jogging shoes as I could have easily used them on this terrain. But then as I do not carry my bag myself I am very conscious about carrying anything extra. Anyway I knew even with a pinching shoe I had to go and and after a while I would get used to it.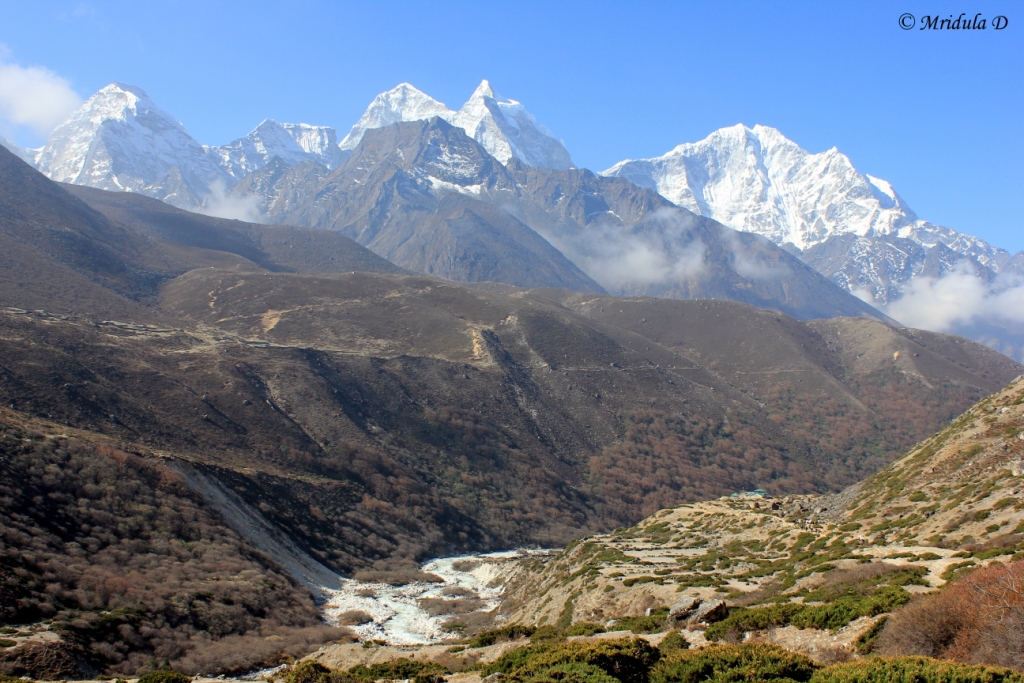 After walking some more, the South African group overtook me and one of them remarked with a twinkle in his eye, "If we meet this often, rumors are going to start." I had to laugh at that. I kept walking slowly and kept clicking pictures.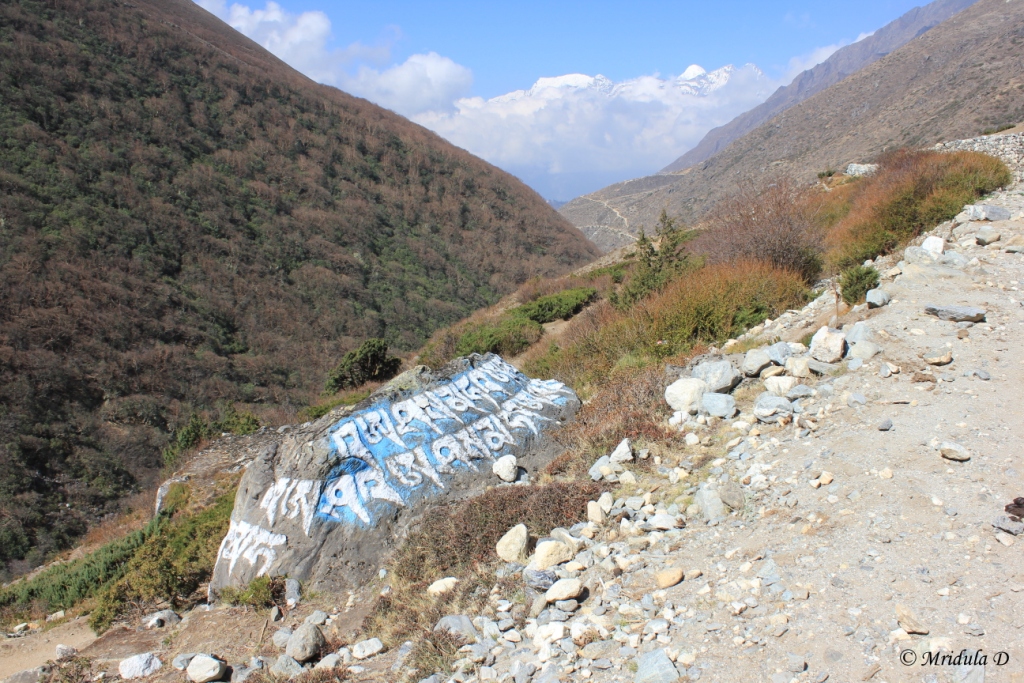 The prayer stones reminded me of a story from Dingboche. On the acclimatization day I saw a guide arranging stones in the prayer formation. So I asked him, "How do you know how many stones to keep?" He replied, "You keep one for everyone you want to pray for." It was that simple! My head was full of stories and walking next to the River Dudh Kosi was soothing in itself.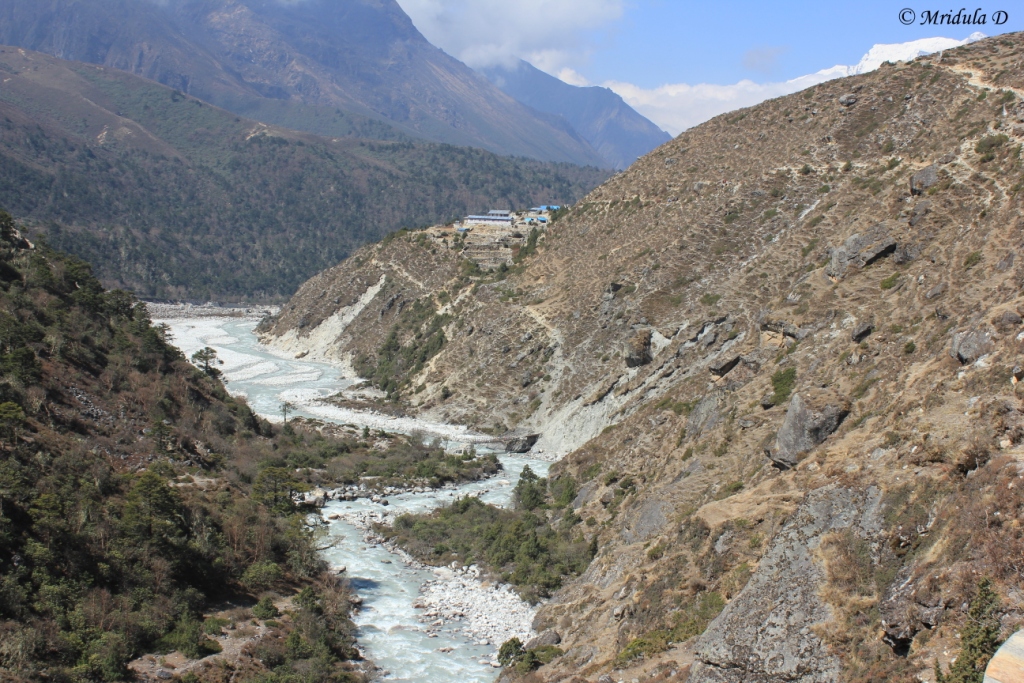 But my shoe and knee both were giving me trouble. However as so many of us on the trek used to say, "If you don't think much, just take one step after the other, you reach there in the end." And so I reached the lunch spot which was Tengboche. It was the same beautiful Tengboche and how I wanted to stop there and not go to Namche. But then our Lukla flights were booked and changing them could be tricky. By now I was saying to Deepak, "Let me meet Puru and I will tell him that he is running the return leg as a weight loss program. I will tell him when I need one but this is supposed to be a vacation. I am tired, I have vacations, I have money and I want to go no further, why am I being rushed down?" On cue Deepak received a phone call from Puru and even though he was speaking in Nepali I think he told him what I felt. Puru promised he would look into Lukla flights for a day later and for 10 minutes I was happy thinking maybe I will get the sunset light on Ama dablam after all!  Then Puru called back saying it was difficult to change flights.
So on we went again.
By now I was seriously tired but lunch made me feel a bit better. I assured Deepak that from now on I would not think of changing plans, not only would I walk up to Namche, we would do the Namche-Lukla bit as scheduled too.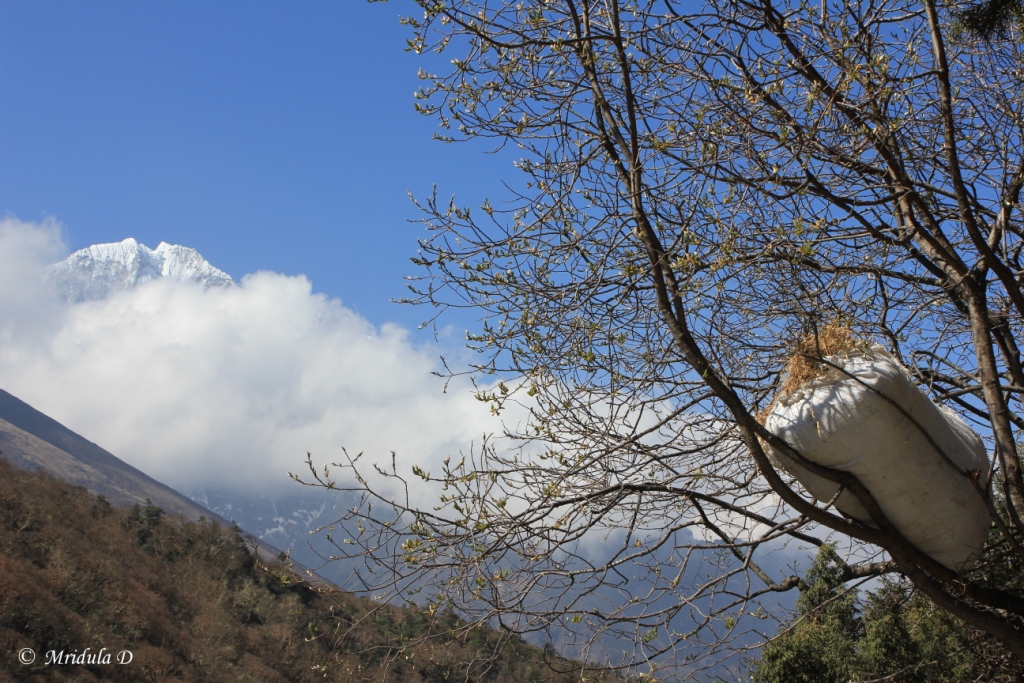 And then we started descending from Tengboche to Namche. And like the way up, it just kept going down and down and down. I was really marveling at how did I ever managed to climb it all the way! There were people going up on the route and their condition reminded me of my own a few days before! Of course it was not tiring while I was coming down but my knees were hurting. All the while the eyes would be firmly on the path accessing which stone would not move if I stepped on it. I was not only longing for a bakery, I was also longing for a road which had no stones and there was no decision to be made about where to put the next foot.
Deepak by now knew I like to watch birds. So whenever he guessed that I was very tired he would point out a bird for me and I would walk for some more time with a more cheerful face and then go back to feeling tired. We stopped twice on the way, once to drink tea and the other time to have soupy noodles! Even then I was making very slow progress. When we were getting closer to Namche Deepak pointed out these mountain goats to me. He had shown me one before with big horns on the way but by the time I put my hand on my camera it had vanished.
One of the predominant thoughts on this day were about trekking misery. I was really truly and completely miserable while coming down as my keens would hurt badly. I was moderately miserable if the way went up for a while as I was quite tired by now. And I was just plain miserable if the walk by some miracle was relatively flat for a while!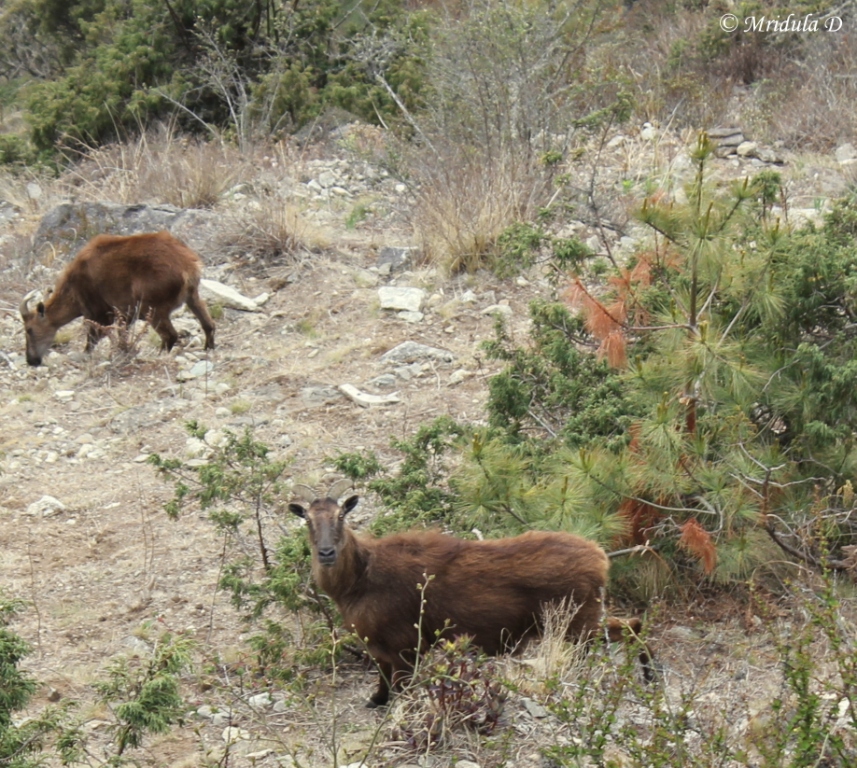 And finally at 6.00 pm in the evening I stumbled back to the Everest View Lodge at Namche again, it was a 11 hour day after a 13 hour day.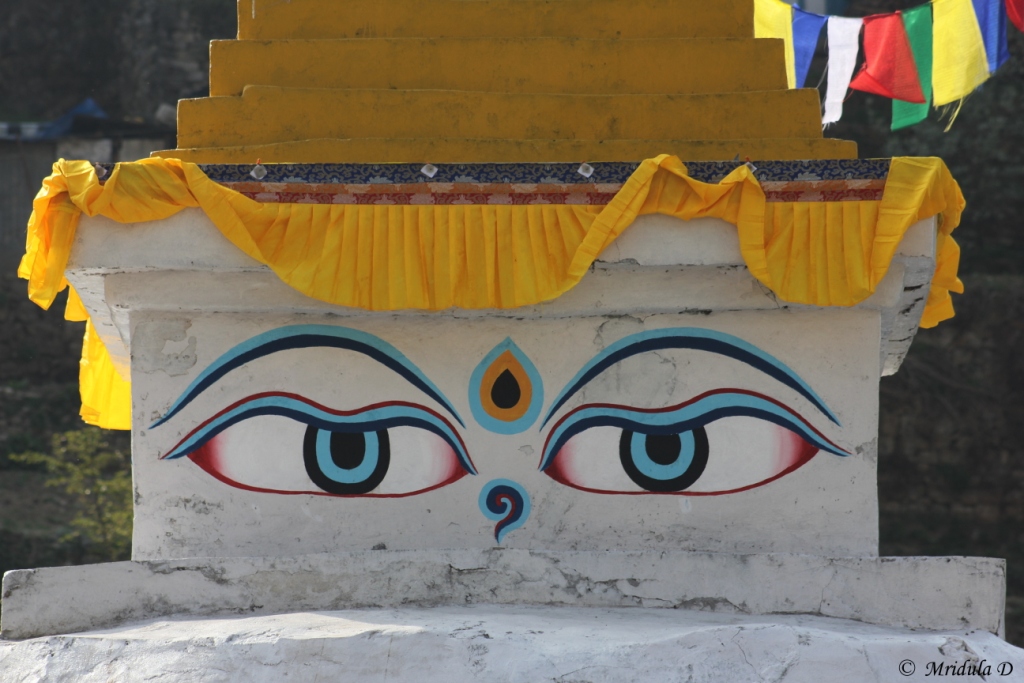 At the lodge I was a familiar face now. I stayed here while going up as well. I had another Apple Pie and tea and some more food. Even though I was tired I had appetite and my head was not hurting.
The only thing now standing between me and the bakery was the walk from Namche to Lukla and the Lukla flight.
You can read the account of the other days of the Everest Base Camp Trek too-
Day 1 of the Everest Base Camp Trek: Kathmandu Lukla Flight, Lukla Phakding Walk
Day 2 and 3 of the Everest Base Camp Trek: Phakding to Namche Bazaar and Rest and Acclimatization at Namche
Day 4 of the Everest Base Camp Trek: Namche Bazzar to Tengboche
Day 5 and 6 of the Everest Base CampTrek: Tengboche to Dingboche, Rest and Acclimatization at Dingboche
Day 7 of the Everest Base Camp Trek: Dingboche to Lobuje
Day 8 of the Everest Base Camp Trek: Lobuje to Gorek Shep, Gorek Shep to Everest Base Camp and Back
Day 9 of the Everest Base Camp Trek: Gorek Shep to Kala Pathar, Descent to Pheriche
Day 11 of the Everest Base Camp Trek: Namche Bazaar to Lukla