I have not traveled within Dubai (shall I say yet?) but my younger nephew, also known as Brat 2, has done a long internship in Dubai and I have heard a lot of tales! He is an excellent traveling companion and we have been chatting about visiting Dubai together but let us see when we are actually able to pull it off.
It is his conversations that made me think about the difference between knowing a country as a tourist and working there. Dubai tourism could be a very different as opposed to when we go there and stay for an extended period of time. It is not that he didn't like Dubai, he liked it a lot, but it is just that the sum total of his experiences is much more than what I would experience as a tourist. He obviously had to go to the Ferrari Park in Abu Dhabi and that is what he enjoyed most I think. That and a couple of beaches and some old mosques is all I can get out of him as his Dubai adventures. My own experiences so far have been only as a transit passenger at Dubai Airport.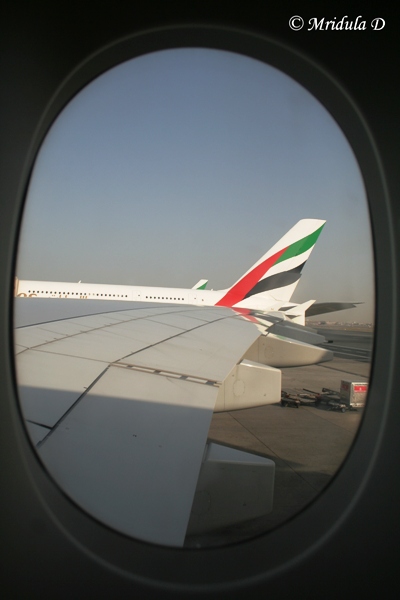 Dubai Airport
I have transited thrice via Dubai, once long back in 2001 to Athens and twice in more recent past twice to Manchester. But it is the Athens transit I remember most. I don't know how but while coming back I managed to have a 23 hour lay off at Dubai! I was new to international travel then and a broke Ph. D. student as well. In fact Athens was only my second trip abroad. For a while I enjoyed the airport, after all Dubai airport is huge and glittering. But when sleep started taking the upper hand I found a nice reclining chair and decided to doze off. Only to find the air-conditioning too strong. And a very cold lesson learned- to always keep a shawl/sweater ready in my hand luggage for airports whatever be the weather outside.
With both my nephew and I having itchy feet I think we should look at a Dubai tour in near future.