Maldives is a beach destination. And you need to read no further if you are visiting a resort island. At a resort island there are just tourists and no restrictions on dress. However, I was visiting a budget island, Maafushi and Maldives is a Muslim nation. On Maafushi there is a local population. So, I was wondering about the dress code before I left.
What I read on the internet about dress code for women in Maafushi, it felt like I should be conservative. It felt like even a swimsuit would be frowned upon so I left it behind. Well, it is another matter that I bought another swimsuit at Maafushi. I am from India and I anyway wear single piece swimsuits so I was fine with what I got in the local store. But now that I am back let me dispel a few of the myths about the dress code for women at Maafushi Island in Maldives. You can easily wear a bikini on the tourist side of the beach at Maafushi. Here is what I saw.
And not only just one or two women, a majority of the women on the tourist side of the beach wore bikinis. So, next time someone tells you you can't wear a bikini on the beach, show them some pictures! Having said that people would wear a sarong or a t-shirt or a wrap when they would start walking to their guesthouses. People would generally not walk on the village roads in a bikini. But make no mistake, on the tourist beach you can be in your swimwear. Do not leave your swimsuit behind like me.
This is a picture of two people walking back from the beach. Generally people covered up a bit more, but even if you did not and wanted to wear short shorts, that was perfectly fine.
On the other side of the island is the beach frequented by the locals. This is how local women at Maafushi go to the beach. If you plan to walk on this side it would be easier if you covered up a bit. I have no idea why this distinction is maintained but this side of the beach was quieter. There were hardly any tourists and who were there like me walked around in Capris and t-shirts in general, even though shorts were fine as well.
Before going I read something about not baring your shoulders at Maafushi. Well, I clicked this picture on the local side of the beach. The girl was having a photo shoot with her friend and no one bothered them. So, I figure that baring shoulders is not such a big deal on the Maafushi Island.
On the beautiful tourist side of the beach at Maafushi you can see people having a good time in the beautiful blue waters. As I said before on this side of the island wearing a bikini was common.
However, in the end it is your choice, women would wear what they wanted to wear, including a shorts and t-shirts. I wonder why there is so much on the internet about Maafushi that does not meets the ground reality when it comes to the dress code of women and beachwear.
Even though it makes for a huge contrast with the locals, I never felt any hostility directed at me for dressing differently. I always thought that the people were friendly and generally left you to your own whims and fancies. So, next time you head to Maafushi, click some more pictures of the beach and spread the word around that there is no need to leave behind your swimsuit.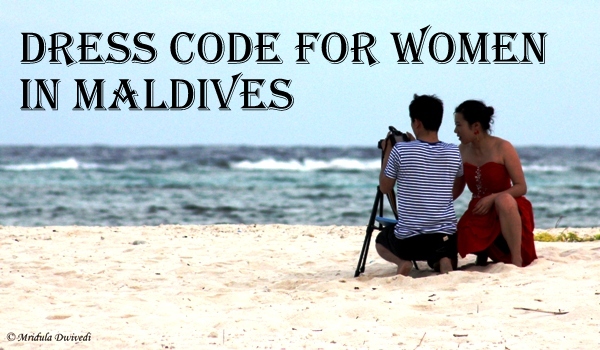 I would end this post with a word of caution though. This post is a result of my personal experiences at Maafushi only. I am not sure how other budget islands are. But anyway don't leave your beach wear behind, in the other scenario it will just not come out of your bag.