Before going to Jordan I was searching on the net to see what I could figure about dress code for women in Jordan. What I read, surprised me a little. I figured out that wearing sleeveless shirts was not such a good idea, neither was wearing shorts, nor a short dress. I was curious to see if this really would be true. I have now come back from Jordan and I have to say it is largely true. There are exceptions but you are better off dressing a bit conservatively. Resort beaches are an exception.
Jeans and T-shirt are a safe bet in Jordan, locals wear it, tourists wear it and no one gives a second glance. I once wore a capri too and never felt conscious. But I wore more jeans and full length trousers with T-shirts than anything else.
It is not that no one wore shorts and sleeveless dresses but they were really far and few in between. I can wear shorts in a few countries but I would surely feel out of place if I wore it at Jordan.
Once again I saw women wearing short dress as well, but I have to say it would be 1 in 10 who would dress like this. The good bit, nothing happens, you are not barred from entering many sites (but some religious sites would surely be off limits) but you might stand out a little.
This was on the day of the Pope's visit to Amman. I was sitting in the media bus which was moving too slowly when I saw this scene. I was wondering if it was more common in Amman to wear a dress but I doubt it. On the last day of my trip I was in Amman Mall for two hours. And all I saw was women in jeans and T-shirt. In two hours I saw one woman in a dress.
Even jeans and sleeveless shirts were mostly worn by tourists. I wore a sleeveless shirt in flight but when I got down at Amman Airport I put a warp around. And I was not out of place by doing so. I would have been more out of place if I didn't do it.
This well dressed woman was walking on the streets of Madaba, Jordan. Many local women use head scarf but dress quite stylishly. They drive cars in numbers.
In spite of the weather being warm full sleeve shirts are quite common. I clicked this lady during the pope's mass and she looked quite thrilled with whatever she captured.
As I said before people dress quite stylishly but cover up a bit more than what many are used to in their home countries. This woman was waiting for the pope to arrive, like everyone else.
Resort Beaches are an exception to the general jeans T-shirt cover up a bit more rule in Jordan. It is the norm to wear swim suites and bikini on resort beaches, you will not be out of place. But then some woman use the head gear on a beach too.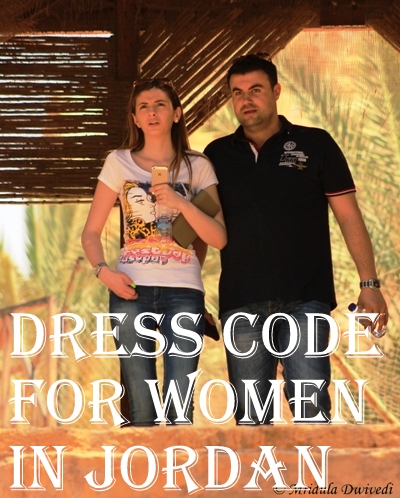 When I do a dress code for women post, I try to present what I saw people were actually wearing on the location. My own dress sense is dowdy so no point in showing what I wore. Even though tourists dressed pretty much how they dressed elsewhere, they were few in numbers. I would say pack a few jeans and T-shirts/shirts and you would not go wrong. Covering up is the norm in Jordan but in tourist places like Amman, Madaba and Bethany some tourists dress up the way they might anywhere else. I would say you blend in more easily with trousers and shirts with sleeves or full length skirts.