I became aware of the 'dress code for women' phenomenon because of my own travels. Gradually, I started doing such posts myself. There are two reasons for it, one I enjoy clicking the pictures immensely. Two, after reading the posts while searching for information and coming back from my trips to the same places, I thought, some authors were stating their personal opinions much more than what women were wearing in those countries. Now that is so natural, we all have opinions. So for the dress code posts I take a slightly different route. I click pictures of women and try to deconstruct the dress code via what I saw them wearing.
But this time in Hong Kong, I was the only adult traveling with two kids. So conscious photography seriously took a back seat, it actually took a severe beating! All the time the attention was focused on the two brats and what they were up to. So, for the dress code for women in Hong Kong I have to use accidental pictures. What I mean is that I was clicking a general scene and then I cropped those pictures to give you a sense of what women were wearing in Hong Kong.
I clicked this picture at the Disneyland Hong Kong. It was a hot and humid day. The attire reflected the climate. It was common to see shorts, t-shirts, capris etc all around. Even in the shops and malls, the scene was quite similar. I guess you can't go wrong in Hong Kong with all your western attire.
The brat in the foreground, in the picture above, is Chhavi. Everyone was in a rush to go to the Disneyland! Short blue dress, red shorts and pink capris, all looked good. I guess the trick was to wear cotton as it was a hot and humid day. After that any dress was fine.
In the city too trendy western attire was the norm. I clicked this picture while I was waiting to board the tram to go to the Peak. The wait time, you guessed it right, was 60 minutes. You can once again see that short and western attire in cotton was pretty much the norm in Hong Kong.
I visited only one beach in Hong Kong, the Lido Beach. It was at a walking distance from my hotel, The Royal View Hotel. It was a quiet beach and we had a great time. Swim suites were the norm but I surprisingly did not see many in a bikini. It is not to say that no one was wearing them, but more women were in shorts or swim suites.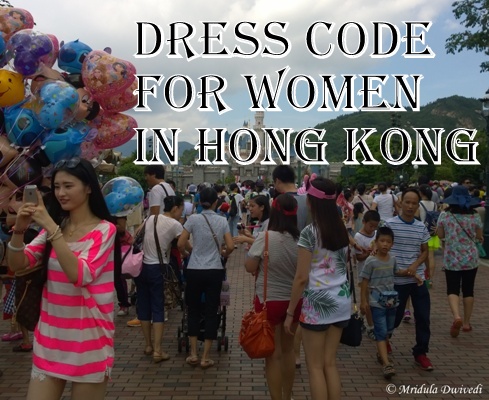 If you are traveling to Hong Kong I guess your packing is going to be uncomplicated, western wear is very common. Cotton is the fabric of choice particularly if you are visiting in the hotter months.