Is it really important to figure out what to wear when we go to another country? Isn't it that we are increasingly becoming alike in our ways of dressing up? To some extant yes we all are becoming alike in many parts of the world and yet I think we retain our quirks as well. So here is what I saw women wearing in Thailand. This is my personal take on the dress code for women in Thailand. I visited Bangkok, Nakhon Nayok, Prachinburi and Aranyaprathet. So I have been to smaller places in Thailand too.
Let us start with the temples. In Thailand temples do have a dress code. Which basically means they expect you to cover your shoulders and knees. Which means like Cambodia you are fine in a t-shirt and Capri like the girl below.
So you can enter a temple (but make sure you Google your specific temple, I hear some of them may want a full length trousers) in half sleeves t-shirt and a Capri. And I thought it was a reasonably easy dress code to follow, but then I am from India. I went to Wat Arun and Wat Pho and the above dress would work fine at both. It would work well in Ta Phrom, Bayon and Angkor Wat in Cambodia as well. I have personally visited all the above mentioned temples and a half sleeve t-shirt and a Capri is just fine.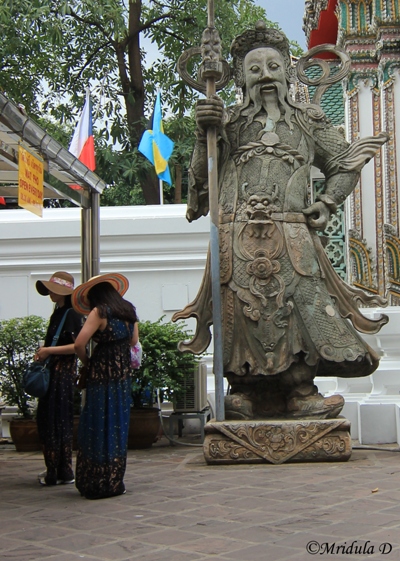 Sleeveless is a No in Temples in Thailand
The above ladies would have no problem in entering a temple except for the sleeveless top of the girl on the right. I suspect she is carrying a jacket on her right hand which she would put on while entering the temple. Otherwise some temples can provide you with a loose gown to wear over your dress for a fee.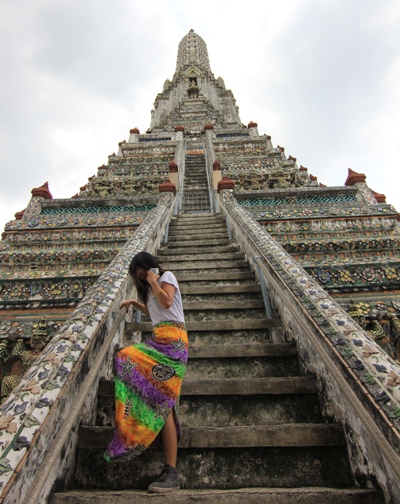 Wear a Sarong over a Shorts or Miniskirt
So if you ended up in a shorts or a miniskirt there are vendors selling sarongs on the premises. If you have one carry it. Some temples like Wat Arun will let you get in if you wrapped a sarong over the shorts like the girl above did.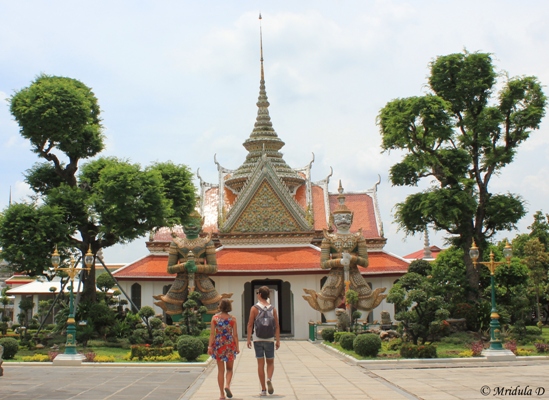 Not Suitable for a Temple Visit in Thailand
A short sleeveless dress and even the man in shorts and sleeveless shirt would be denied entry in most of the Thai Temples. I saw them for a while as they were on the same ferry but I do not remember seeing them inside Wat Arun. You can rectify it by covering up with wraps and sarongs but if you know you are visiting a temple, take a call. After all you want to see that temple and it has a dress code. The local etiquette requires that we cover our shoulders (which means no sleeveless as well) and knees. This applies both to men and women. The above dress would not raise an eyebrow in many tourist places other than the temples.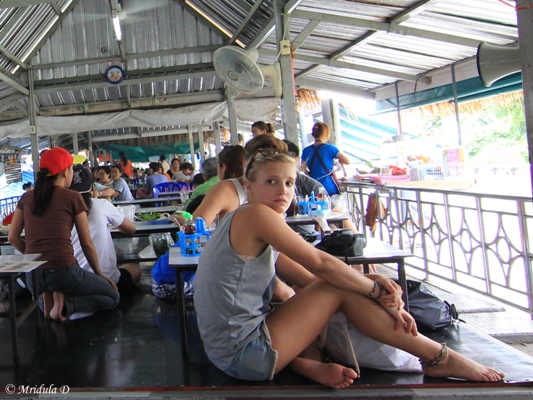 Shorts is Fine in Markets in Thailand
I clicked the above picture at Taling Chan Weekend Floating Market in Bangkok. And it was perfectly fine. At the market places and at restaurants a lot of women wear shorts and sleeveless shirts.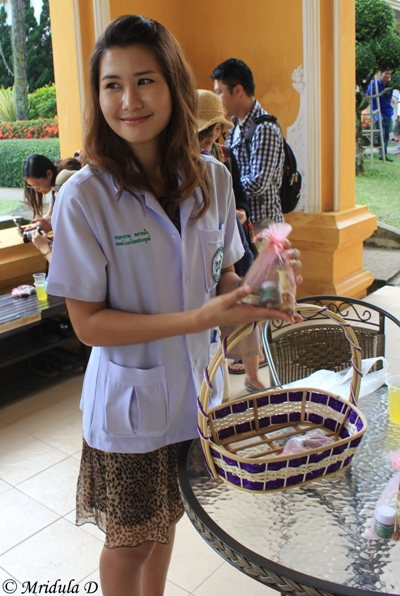 Short Skirts
This picture was clicked at Chao Phraya Abhaibhubate building located in Chao Phraya Abhaibhubate Hospital in Prachinburi.She worked there and it fine to wear a short skirt to her workplace. If you ever find yourself in the Prachinburi region do check this place out, they have awesome massage facilities and they offer it for the tourists too.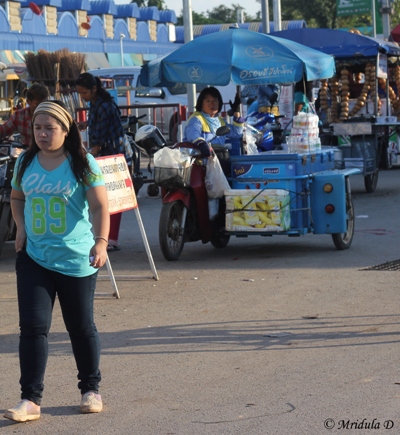 Jeans and T-Shirt
Of course, the good old jeans and t-shirt works here like everywhere else. The weather is hot and humid though in Thailand (like India so I was used to it) so you might be better off with cotton trousers rather than jeans.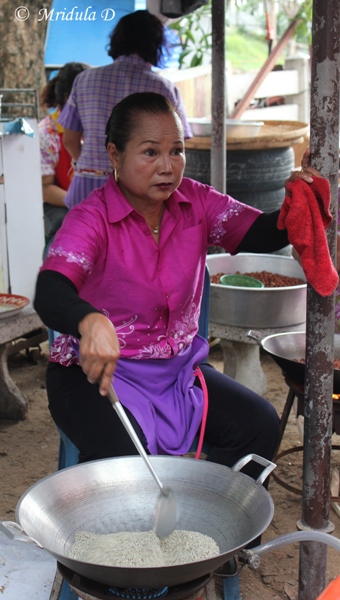 A Colorful Shirt
I liked the color of the shirt and her apron. I clicked this once again at Taling Chan Weekend Floating Market in Bangkok. She was roasting stuff to make what we call Chikki.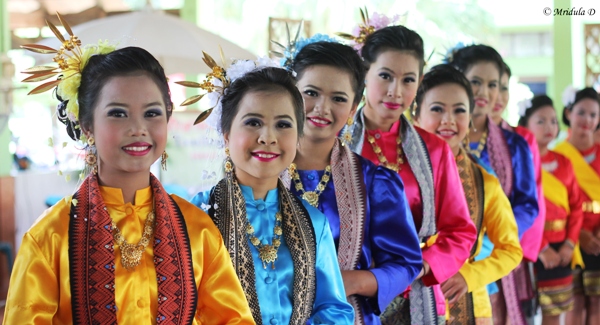 Traditional Thai Dress for Women or Chut Thai
And this is how colorful the traditional Thai dress for women is. But I clicked this picture at a dance performance rather than on the streets. Overall women in Thailand dress in a modern way. It is only the temples where a dress code is in practice. Even there a half sleeve t-shirt and a Capri is fine but do search for your exact temple before you go.