I often think of what to wear when I visit a new country. Being from India I would admit I am not very adventurous when it comes to dressing and in many places of the world I will pass off easily as moderately dressed. I did not bother too much before visiting Sri Lanka as I thought they would be quite similar to us and I was right in a way.
This is the Sri Lankan saree and a lot of shop assistants on the airport wear it. I requested this lovely woman to pose for me as I wanted to click her lovely dress as well. Now this looks quite similar to our Indian sari Of course women in Sri Lanka wear the sari the way we do as well.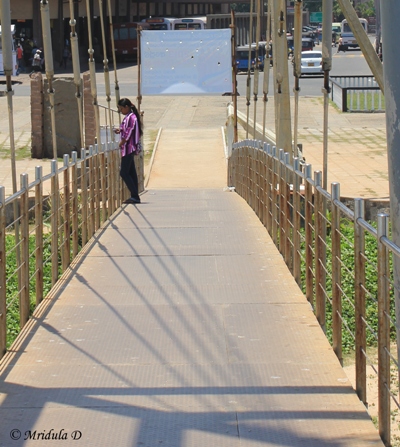 A Women in a Jeans and a Shirt at Matara, Sri Lanka
I clicked this picture at Matara at Sri Lanka but this could have been anywhere in India too. And it that sense I was right that women dress quite similarly to us Indians in Sri Lanka too.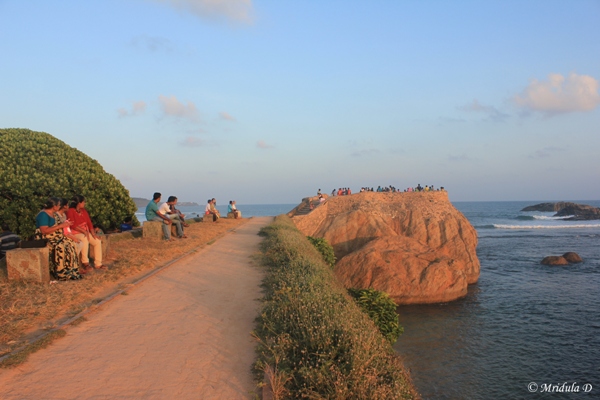 Women in Galle, Sri Lanka
And this was from our walk at the fort ramparts at Galle and once again salwar kurta and sari are very common Indian dresses too.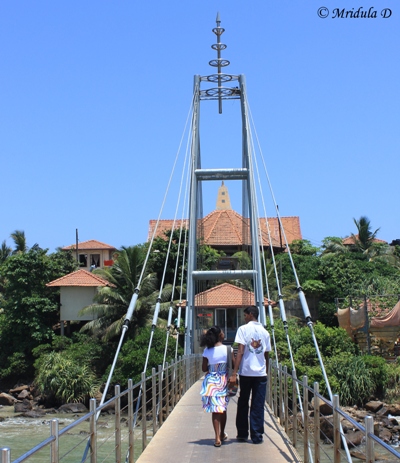 A Local Couple at Matara, Sri Lanka
But then there are some differences too. I thought a lot more women and women of all age wear skirts in Sri Lanka than I have seen in India. This is not to say that Indian women do not wear skirts but I have not seen too many people in their 50s or later wearing skirts in India barring say in some North East states.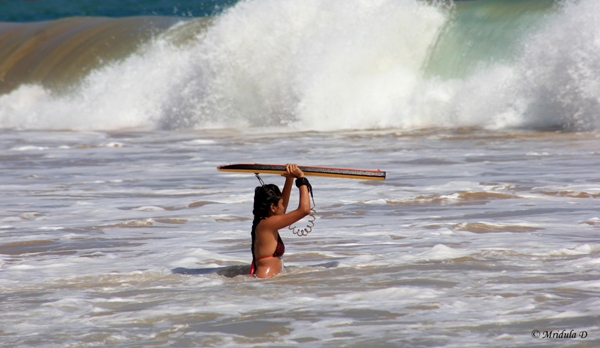 A Woman with a Surf Board at Mirissa Beach, Sri Lanka
But the biggest difference between India and Sri Lanka was about the women on the beach. A lot of tourists wear bikini on the beach and they were left alone. I don't think I can say the same for Indian beaches. I have seen women in bikinis in Goa and to some extent in Andaman too but they got a lot of attention, most of it unwanted too.
My nephew and I also noticed that the local people seldom visited the same part of the beach as the tourists. We were quite mystified by this as well. So I asked a young tuktuk driver that how did Sri Lanka (I can vouch for only the beaches I saw and that was Mirissa and Unawatuna beach. Matara had no tourist on the beach, there were only locals and no one, absolutely no, was wearing a bikini) managed to keep its beaches hassle free for women? How come the locals did not come to the same places as tourists even though there were loads of women going around in bikini? He told me that the shack owners severely discouraged locals to come and loiter around or cause trouble for women. They could of course come but they were not welcome to sit idle and harass women. He also said locals around Unawatuna and such places see women in Bikinis since they are babies and hence they get used to it. But otherwise loud behavior is discouraged on the tourist beaches so that they keep coming to Sri Lanka.
This explanation is based on one person account but I can certainly say that I thought women were left alone on the Sri Lankan beaches generally. I did not witness a single unpleasant incident in my entire stay. And I thought that was remarkable!