You can virtually wear anything and be comfortable in Singapore. The dress code for women in Singapore easy, there are no special requirements. Visiting places of worship would be the only exception. I am writing this post from a tourist's point of view. I would say dress according to the weather! It is hot and humid during the day and slightly cooler during the night!
As you can see women dress for comfort and style in Singapore. Shorts is fine, sleeveless is fine, basically you can dress as you dress at home! And it is cool to click the Marina Bay Sands.
It was equally fine if you wish to dress conservatively according to your religion. It was common to spot people who would cover up and that too was fine! I clicked this picture in the China Town.
Places of worship need a special mention. I visited a Buddhist temple in China Town and the Sultan Mosque, located at the Muscat Street. I was wearing a sleeveless top that day. At both the places they gave me robes to cover up. y Singaporean friend Sy was wearing shorts. He was also given a sarong. The rule applies both to men and women. So, the dress code for religious places is that you need to cover your shoulders and knees. This is true for most of the Asia.
By now you have a fair idea of how it goes in Singapore and what you can wear. The rest of the pictures are fun pictures of people. I loved the way mom and daughter were posing for the father!
Here is another one from the Bugis Street, close to which I stayed. I actually love places like Singapore where you can just be!
I would close this post with this picture from the Botanic Garden, which is the UNESCO World Heritage Site in Singapore. See Sy, I went there after all!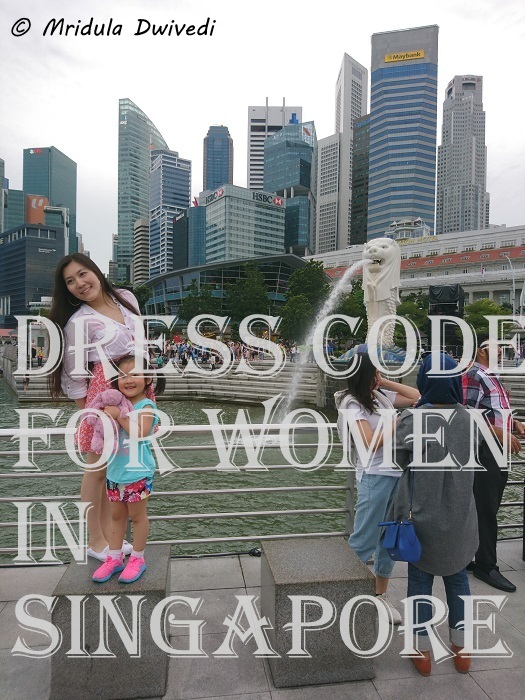 Singapore is an easy country when it comes to the dress code for women. You can dress the way you like. The only places that do require some attention are the places of worship.